Dancing Book of Margaret of Austria
Description
Dancing Book of Margaret of Austria
As restrictions on music and dancing were relaxed by the Catholic Church in the course of the Middle Ages, dancing became more common and the dances more complex. Dancing became an essential part of court life, knowing the right dances was an indicator that one came from the right strata of society, that one belonged. Therefore, instructive books became popular as learning aids and reference works, especially for young nobles learning to be ladies and gentlemen. The Dancing Book of Margaret of Austria is an especially rare and beautiful example thereof from the 15th century. It is not only significant in terms of music and cultural history, but also a particularly rare and beautiful example, as it is one of only seven so-called "black manuscripts" that have survived to the present day. Its magnificent gold and silver notations and letters unfold an extraordinary aesthetic on the dark parchment.
Dance Booklet of Margaret of Austria
The Dancing Book of Margaret of Austria was created ca. 1470 as an aid for dancers of the "Basses Danses ", which were popular not only in Flanders. These floor dances without jumps were an important part of court life in late medieval Europe. This outstanding Flemish example on black parchment was named after the music-loving Margaret of Austria, daughter of Mary of Burgundy (1457–1482) and Emperor Maximilian I (1459–1519), in whose 1523 inventory it is first mentioned. It is a splendid demonstration that masterpieces of book art do not always have to be richly decorated with miniatures.
Music in Silver and Gold
After an impressive page showing several coats of arms, the booklet commences with a brief theoretical section listing 59 different dances. Each page bears a golden lineation on which the titles of the dances, together with texts, musical notes and step designations, are written in both gold and silver. Beautiful cadels adorn nearly all pages, and their vigorous interlace identifies the manuscript as a courtly masterpiece. It can be rightly assumed that the work had initially been in the possession of Maria of Burgundy, the wife of Emperor Maximilian I, before she bequeathed it to her daughter Margaret, later Governor General of the Netherlands. Her successor Maria of Hungary is also identified by an engraved ex-libris as the owner of the dance booklet, which later passed into the hands of King Philip II of Spain. It remained in the Burgundian library of the Habsburg dynasty until it was transferred to the Bibliothèque Royale in Brussels.
A rare jewel
The Dancing Book of Margaret of Austria owes its singularity not only to its musical contents and its significance for European cultural history, but also to its masterly executed calligraphic decoration in gold and silver and, last but not least, to its unusual writing material. The landscape-format work is one of only seven surviving manuscripts written on black-dyed parchment. Outstanding in the history of book production, this gem impressively demonstrates the luxury of the Burgundian court – and all without miniatures.
Enchanting Golden Calligraphy on Black Parchment
The dark parchment creates an extraordinary aesthetic and makes the gold and silver used particularly shine. Especially the magnificent cadels are a real feast for the eyes. Created in gold ink, the intersecting and paralleling shafts and arches create a vibrant calligraphic interlace in which the letters almost artfully dissolve. However, the special charm resulting from this contrast is also a reason for the extremely fragile condition of the original manuscript, which makes the facsimile edition all the more valuable for the preservation of this small masterpiece.
Codicology
Alternative Titles

Les basses danses de Marguerite d'Autriche




Tanzbüchlein der Margarete von Österreich

Size / Format

56 pages / 12.8 × 21.0 cm

Origin

Date

Ca. 1470

Epochs

Style

Genre

Language

Illustrations

Notations, texts, and initials shine in gold and silver on black vellum; the calligraphic initials are artistically executed as cadels; the copperplate ex-libris with the coat of arms of Mary of Hungary is a later addition

Patron

Mary of Burgundy (1457–82), wife of Emperor Maximilian I

Previous Owners

Margaret of Austria (1480–1530)
Mary of Hungary (1505–58)
King Philip II of Spain (1527–98)
House of Hapsburg
---
Available facsimile editions:

Akademische Druck- u. Verlagsanstalt (ADEVA)
– Graz, 1987
Limited Edition:
500 copies
Detail Picture
Dancing Book of Margaret of Austria
Arms of Mary of Hungary
The coat of arms found at the beginning of the manuscript was not added until decades after it was created and belongs to Queen Mary of Hungary (1505–58), who later became governor of the Habsburg Netherlands. Her husband King Louis II of Hungary is represented on the left side while the noble inheritance of her parents is seen on the right including the distinctive castles of Castile, the fleur-de-lys and azure/gold bands of Burgundy, the red crowned lion of Limburg, and the gold lion of Brabant.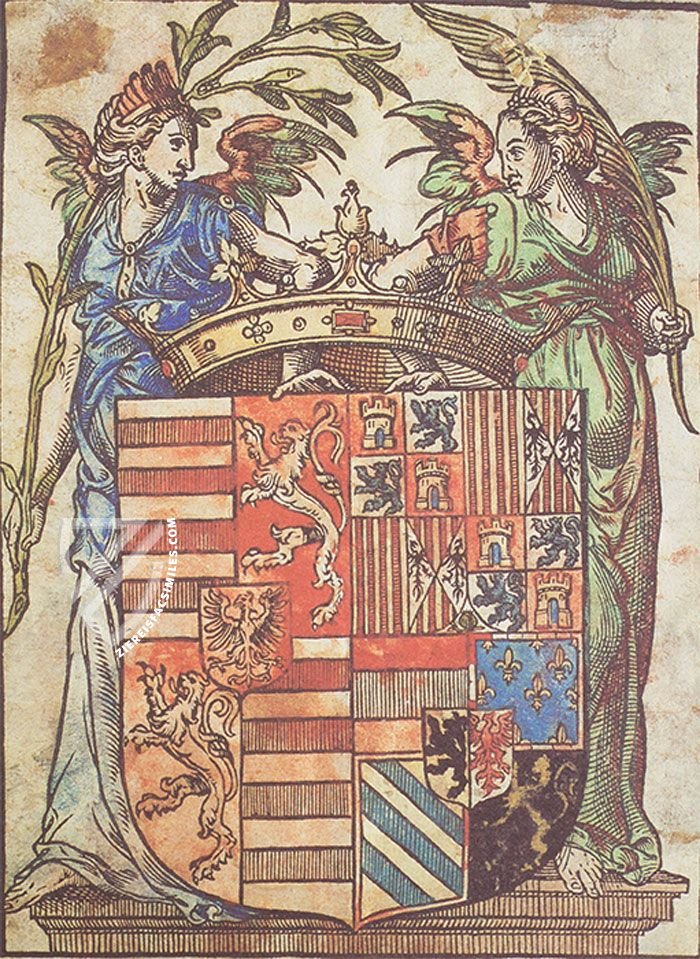 Single Page
Dancing Book of Margaret of Austria
La Danse de Cleves
Introduced by a gorgeous large golden "L" initial, La Danse de Cleves is an irregular "basse danse" of the type that was extremely popular among the European nobility during the 15th and 16th centuries. Unlike most of the other dances in the manuscript, it is not strictly processional and is accompanied by a complex rhythm.
The black page, created by soaking the parchment in an iron-copper solution, creates the perfect background for the gold and silver ink, the latter of which appears almost white. This is one of only three "black" manuscripts to survive intact as a codex because the same process that gives the parchment its rich black color also corroded it. Today, the manuscript is extremely fragile, which necessitated the creation of a facsimile.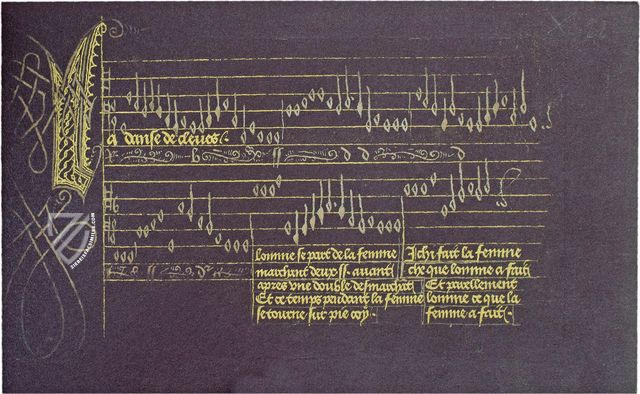 Facsimile Editions
#1

Tanzbüchlein der Margarete von Österreich

Limited Edition:

500 copies

Binding:

Half leather binding with wooden covers. All leaves are trimmed to the original edges. Facsimile and commentary volume in book case.

Commentary:

1 volume (76 pages) by Claude Thiry, Victor Gavenda, and Claudine Lemaire
Language: German

1 volume: Exact reproduction of the original document (extent, color and size)

Reproduction of the entire original document as detailed as possible (scope, format, colors). The binding may not correspond to the original or current document binding. All folios are cut according to the original.