Darmstadt Pessach Haggadah - Codex Orientalis 8
Cod. Or. 8
Universitäts- und Landesbibliothek Darmstadt (Darmstadt, Germany)
Description
Darmstadt Pessach Haggadah - Codex Orientalis 8
This fine Ashkenazi Haggadah originating from ca. 1430 is distinguished not only by the refinement of its script or the beautify its miniatures, but for the unusual nature of the contents that comprise a collection of biblical and homiletic verses, prayers, poems, religious observances, and songs relating primarily to the Book of Exodus and liberation from Egyptian bondage. Although the talented scribe identified himself in the text as Israel ben Meir from Heidelberg, the artist responsible for the enigmatic and sometimes sacrilegious imagery in the manuscript remains anonymous. This includes depictions of men and women holding books together, women with uncovered heads, a hunting scene, and a depiction of the Fountain of Youth with naked men and women bathing. The manuscript is adorned by 2 full-page miniatures and 24 framed decorative initial pages, some with human and animal figures.
Darmstadt Pessach Haggadah – Codex Orientalis 8
Like most Haggadot, the Darmstadt Haggadah was made for a private use and despite the sumptuousness of its artistic furnishings, it was not merely a display piece and has evidence of regular use at Passover. It appears to have remained in private ownership until 1805, when it became part of the Hessische Landes- und Hochschulbibliothek Darmstadt as part of the collection of Baron Hüpsch, an antiquarian collector in Cologne. Before that it was probably in the possession of Simon von Geldern (1720–1774), a German traveler, author, and great uncle to the famous poet Heinrich Heine (1797–1865) who spent extensive time in North Africa and the Middle East.
Defying Jewish Gender Norms
The enigmatic imagery of this unique work has been the source of numerous debates concerning gender, the collective body of Jewish religious laws known as Halakha, and medieval Jewish culture. Men and women are depicted holding books together and engaged in conversation under Gothic vaults and arches. For a Passover Haggadah, not only are the hunting scene and the Fountain of Youth depicting naked men and women completely unusual, but so are the multitude of depictions of women without head coverings or veils reading religious scripture in pilpul scenes that are unseemly for women. Male teachers were forbidden from instructing women and this equal and harmonious portrayal of men and women in a building that seems to be a beth midrash or "house of learning" where religious texts are interpreted would have been unacceptable to medieval Ashkenazi.
Inspiration for the Unique Illumination
There is no parallel in medieval Jewish art for these images of unchaste interactions between the sexes and the unkosher killing of animals for sport. It likely draws on a tradition going back to Rabbi Eleazar of Worms (ca. 1176–1238) but also reflects the contemporary tastes of the Christian nobility. The wealthy patron of this manuscript doubtless wanted secular texts and themes incorporated into the nominally religious manuscript. During the 14th and 15th centuries, the genre encompassing depictions of courtship, hunts, dances, feasts, battles, games, and baths was extremely popular among the nobility and the growing burgher class that imitated them. Judging by the masterful depiction of these secular and courtly scenes, it is believed that a gentile artist was given the commission for illuminating the Hebrew text written by the scribe Israel ben Meir.
A Glimpse of Paradise
While the inclusion of the hunting scene is easier to explain as simply being en vogue, the miniatures of men and women reading, debating, and bathing one another are more layered. Since it is improbable that a medieval Ashkenazi patron, most likely a man, would pay the large sum of money that this manuscript must have cost for depictions of sinful men and rebellious women, there must be a deeper explanation. An answer might be found in the olam ha-ba or "world to come", one of the most important texts in Judaism, which concerns paradise and the afterlife. Eleazar of Worms linked the recitation of the Haggadah with the olam ha-ba: "Anyone who retells the story of the Exodus and is happy about it is welcome to celebrate the festival of joy with divine spirit in the olam ha-ba". In the next life, the distinctions between men and women are eliminated, there are no temptations between the sexes, and therefore no reason to separate them. Thus, the joint recitation of the story of Exodus is a reminder of the joyful celebration in Paradise to come. Whoever the sophisticated patron of the manuscript was, they were able to have it both ways: a magnificently illuminated manuscript that was both fashionable and a proper representation of God's glory.
Codicology
Alternative Titles

Darmstädter Pessach-Haggadah - Codex Orientalis 8

Size / Format

116 pages / 24.5 × 35.5 cm

Origin

Date

ca. 1430

Epochs

Style

Genre

Language

Illustrations

2 full-page miniatures, 24 framed decorative initial pages, some with human and animal figures

Artist / School

Scribe: Israel ben Meir
---
Available facsimile editions: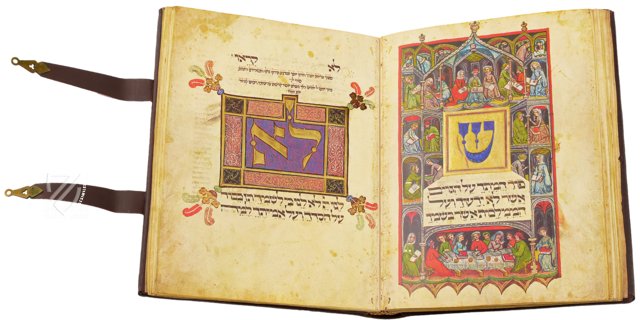 Propyläen Verlag
– Darmstadt, 1971/1982
Limited Edition:
50 copies
---
Propyläen Verlag
– Darmstadt, 1971
Limited Edition:
550 copies
Detail Picture
Darmstadt Pessach Haggadah - Codex Orientalis 8
The Fountain of Youth
This miniature shows men and women bathing in the fountain of youth, which was a popular artistic and philosophical theme in the Late Middle Ages among the secular nobility. It appears at the end of the manuscript along with a hunting scene that is equally out of place in a Haggadah (hunted meat is not kosher). A man with a crutch is shown entering a gate on the right seeking the healing waters, which are fed by two spouts in the form of animal heads, while people disrobe next to the Gothic fountain.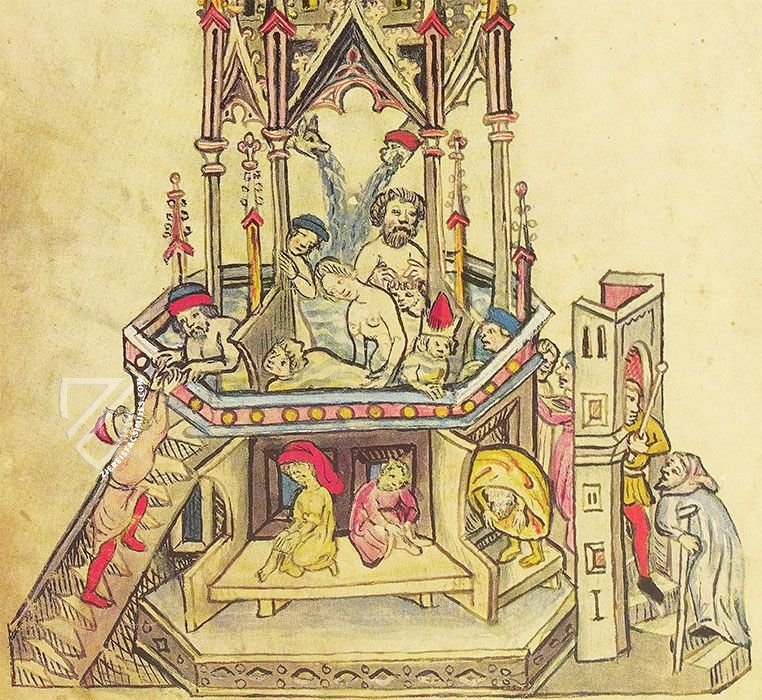 Single Page
Darmstadt Pessach Haggadah - Codex Orientalis 8
Men and Women Studying the Talmud Together
An artfully designed Gothic architecture with gargoyles surrounding a golden initial with a solid black background is populated by various elegantly dressed ladies and gentlemen. It consists of a series of rooms, some with vaulted ceilings, wherein people study the Talmud either alone or in pairs including a man and woman in the upper left corner who share a book and discuss it.
Above the initial, a man is shown flanked by two women with whom he is debating while below the opposite is true: a woman is shown flanked by two men, one with a green "Jewish cap" and the other with a fashionable black chaperon. To the right, a man holds his codex above his head with both arms and his head is tilted back, apparently frustrated by his debate with the woman across from him.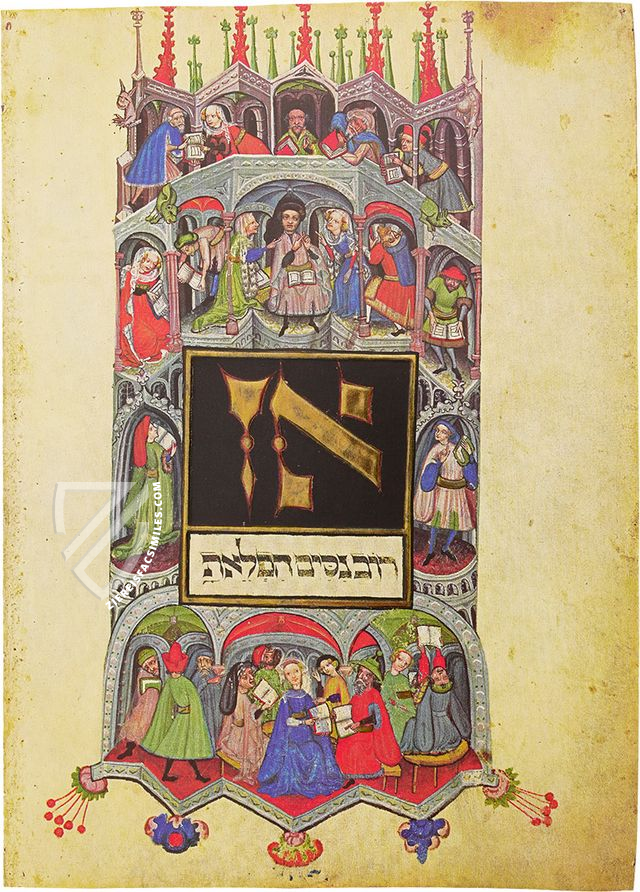 Facsimile Editions
#1

Die Darmstädter Pessach-Haggadah (Luxury Edition)

Limited Edition:

50 copies

Binding:

Hand-bound by the restorer of the Hessischen Landesbibliothek, after the original in calfskin over beechwood.

Commentary:

1 volume by Joseph Gutmann
Language: German

1 volume: Exact reproduction of the original document (extent, color and size)

8-color printing, gold plating with embossed printing using 24-carat gold leaf
---
#2

Die Darmstädter Pessach-Haggadah (Standard Edition)
Limited Edition:
550 copies
Binding:
Half leather in cloth slipcase