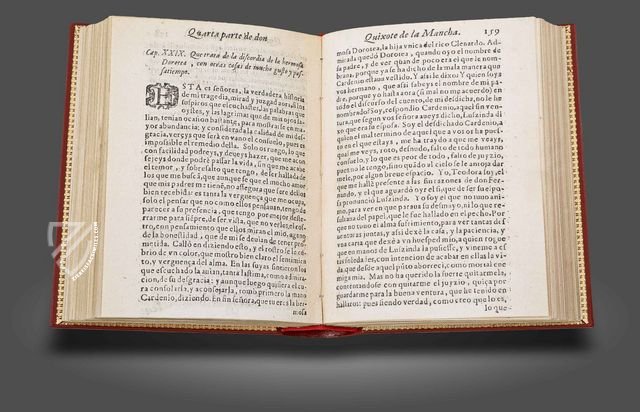 Don Quixote de la Mancha
The tragicomedy of the knight-errant from la Mancha was an instant success and remains popular today

The work, published in two parts in 1605 and 1615, made Miguel de Cervantes (1547–1616) famous worldwide

The precious first edition of the bestseller reproduced here survives today in about 30 specimens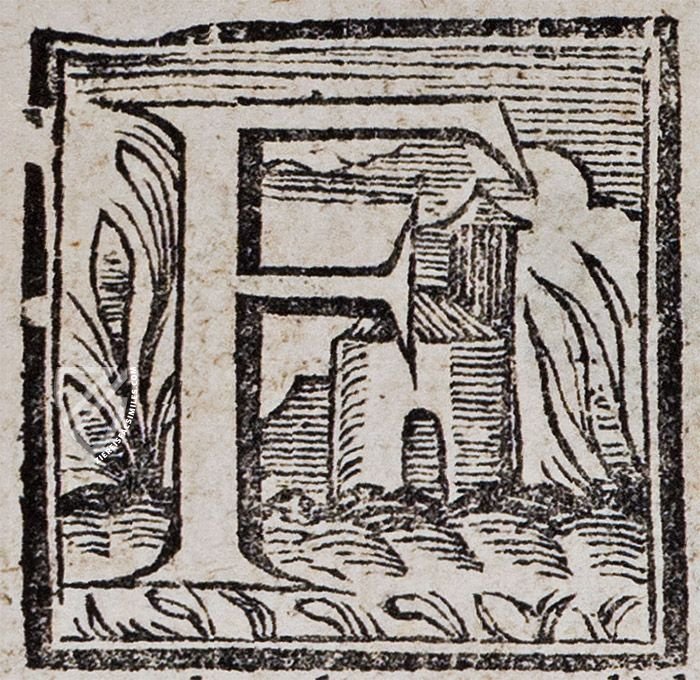 Don Quixote de la Mancha
KR1378
Biblioteca del Cigarral del Carmen (Toledo, Spain)
Short Description
As Miguel de Cervantes published the second part of Don Quixote, the first part was already huge success. The humorous adventure of the knight errand, who fought against windmills and took charge of his own destiny, enchanted readers from the beginning and is no less fascinating today. Thus, the two-part novel became one of the most significant works of world literature and a milestone of Spanish literary history! The first edition of both parts from 1605 and 1615 respectively allows one to comprehend this success story.
Don Quixote de la Mancha
Miguel de Cervantes' work El Ingenioso Hidalgo Don Quixote de la Mancha etc. El Ingenioso Cavallero Don Quixote de la Mancha was printed in two parts in the years 1605 and 1615 by Juan de la Cuesta in Madrid. Neither the author nor the printer could have anticipated such success from the two-part story. In the first few years alone, the first part enjoyed success with ten editions. The precious first edition of the bestseller survives today in about 30 specimens, including the one presented here from the Biblioteca del Cigarral del Carmen in Toledo.
Bibliophile Treasures from the Spanish Golden Age
The printed specimens of the first edition of Don Quixote present themselves as small book treasures, which are wonderfully designed and whose focus lies entirely on the literary content. The adventurous world of the knight errand from la Mancha unfolds on 321 and 280 pages respectively, the volumes are 18.5 x 12.7 cm. An exquisitely designed title page with a figurative woodcut as well as some elaborate initials make up the restrained décor of the precious first edition.
The Melancholic Knight
The author of the masterpiece, Miguel de Cervantes (1547–1616), became one of the most significant figures in history and one of the most famous authors of all time. His story, written in Spanish and later translated into numerous languages, describes a people who do not want to accept their fate. The character Don Quixote typifies these rebellious people who are engaged in the struggle for justice in the world. Thus, the story of the "melancholic knight", who fights against windmills and other adversaries, still has a morally instructive component. This belies the outstanding position of Don Quixote during the so-called Golden Age of Spanish literature, nay, in all Spanish literary history!
Codicology
Alternative Titles

Don Quixote de la Mancha

Style

Genre
1 available facsimile edition(s) of "Don Quixote de la Mancha"
Don Quixote de la Mancha Facsimile
Don Quixote de la Mancha Facsimile
1 volume: Exact reproduction of the original document (extent, color and size)
Publisher

Millennium Liber – Madrid, 2016

Limited Edition

995 copies

More Information

Reproduction of the entire original document as detailed as possible (scope, format, colors). The binding may not correspond to the original or current document binding.
Matching Background Articles
Literature

Much like today, medieval readers were looking for stories full of excitement and adventure that would take them out of...

Experience more