Exemplario contra los Engaños y Peligros del Mundo
Description
Exemplario contra los Engaños y Peligros del Mundo
This early printed book from Spain is the final result of numerous translations of a work that was written in India ca. 200 BC. This Sanskrit collection of tales has been translated into dozens of languages and appeared in hundreds of versions across the world. More than 1,500 years after it they were first written, a Castillian translation of the stories was printed in Zaragoza, only one specimen of which has survived to the present.
Exemplario contra los Engaños y Peligros del Mundo
Although incomplete, this is the only surviving copy of this incunabula, a book printed before 1501. The Calila e Dimna was published by Pablo Hurus (active 1484–99) in Zaragoza on March 30th, 1493 and is generously adorned with 117 woodcuts. It is a Castilian translation of the Fables of Bidpai, a Sanskrit collection of fables from ancient India originally called the Panchatantra. It is the most frequently translated work from India and now appears in 200 versions and 50+ languages ranging from Indonesian to Icelandic.
The Work of Many Translators
An Arabic translation of the work from ca. 750 by the Persian scholar Abdullah Ibn al-Muqaffa (d. 756/9) titled Kalīla wa Dimna, it is considered to be the first masterpiece of Arabic literary prose, and helped the fables become part of the body of universal literature. It has been translated into numerous languages, including a Hebrew translation by a certain Rabbi Joel from ca. 1200, when the work was also translated into Persian. A Latin translation titled Directorium Humanae Vitae was created from the Hebrew text by Juan de Capua (active 1262–69), an Italian translator and Jewish convert. This version became the source for all subsequent translations into European languages, although a Latin translation had previously been made directly from the authoritative Arabic version at the behest of King Alphonso X of Castile (1221–84) while he was still a prince.
Codicology
Alternative Titles

Directorium Humanae Vitae

Size / Format

200 pages / 28.5 × 21.5 cm

Origin

Date

March 30, 1493

Epochs

Style

Genre

Language

Script

Gothic

Illustrations

117 Woodcuts

Content

Castilian translation of a Latin version of Calila e Dimna

Artist / School

Juan de Capua (translator)
Pablo Hurus (printer)
---
Available facsimile editions: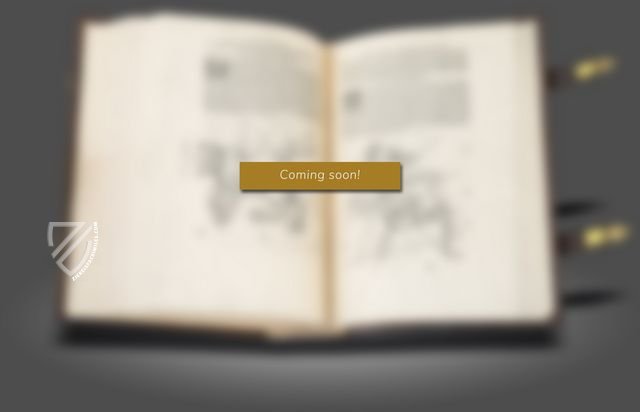 Vicent Garcia Editores
– Valencia, 1996
Limited Edition:
3160 copies
Facsimile Editions
#1

Exemplario contra los Engaños y Peligros del Mundo

Limited Edition:

3160 copies

Binding:

Parchment on wooden board. Comes in a cloth-lined presentation case with gold engraved leather spine.

Commentary:

1 volume by Daniel M. Arguedas
Language: Spanish

1 volume: Exact reproduction of the original document (extent, color and size)

Reproduction of the entire original document as detailed as possible (scope, format, colors). The binding may not correspond to the original or current document binding.
You might also be interested in: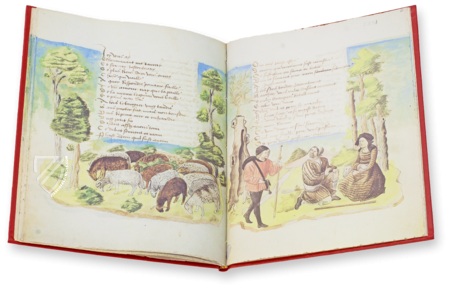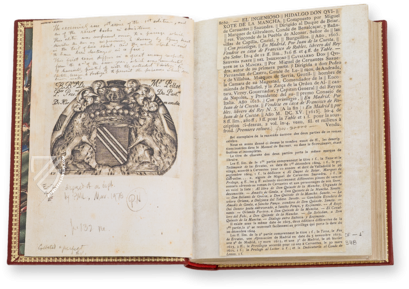 Don Quixote de la Mancha
Madrid (Spain) – 1605 and 1615
The first edition of Miguel de Cervante's worldwide success: one of the most important works in world literature and a milestone in Spanish literary history
Experience More
Blog articles worth reading