Family Book of Ernst Theodor Langers
Description
Family Book of Ernst Theodor Langers
The genealogy of one of the great figures of the Enlightenment: Ernst Theodor Langer (1743–1820). The tutor, bibliophile, and librarian had an eventful life and travelled across Europe, becoming acquainted with heads of state and great minds of the period like Goethe and Lessing. In 1781, he became director of the famous Herzog August Library in Wolfenbüttel and lead it through difficult times, including the Napoleonic wars, until his death in 1820.
Family Book of Ernst Theodor Langer
Ernst Theodor Langer (1743–1820) was a German private tutor and librarian who was the director of the Herzog August Library in Wolfenbüttel from 1781 to 1820. He was a friend and contemporary of great minds like Goethe and Lessing and moved among the uppermost circles of the Enlightenment. Langer worked intensively as a reviewer, especially in the book review journal Allgemeine deutsche Bibliothek, which was edited by Friedrich Nicolai (1733–1811) General German Library, but left no scientific work behind.
The Eventful Life of a Librarian
Born the son of a merchant in Breslau, Langer attended school in Oels (modern Oleśnica) until he left at the age of 16 to enlist in the flashy Zieten Hussar Regiment of the Prussian Army. Although promoted to the rank of officer, he was discharged after a gunshot wound left him unfit for duty. Langer then studied pedagogy in Züllichau (modern Sulechów) and came to the prestigious Berge monastery school near Magdeburg as a tutor to Count Hochberg and thereafter accompanied the young Count Lindenau to the University of Leipzig. It was here that he became acquainted with Wolfgang von Goethe (1749–1832), who fondly remembered the well-educated bibliophile in Book 8 of his autobiography. Between the years 1769 and 1780 Langer traveled to Frankfurt am Main, Lausanne, Saint Petersburg, Paris, Rome, and Holland. In mid–1773 he visited Braunschweig, where a pupil of his attended the Collegium Carolinum. It was during this time that he first met the writer and translator Johann Arnold Ebert (1723–95), critic and literary historian Johann Joachim Eschenburg (1743–1820), and the outstanding writer, philosopher, dramatist, publicist, and art critic Gotthold Ephraim Lessing (1729–81), who had been the library director in Wolfenbüttel since 1770. He revisited Wolfenbüttel in 1780, at which time Lessing introduced him to the ruling Duke Karl Wilhelm Ferdinand (1735–1806).
Director of the Herzog August Library in Wolfenbüttel
After Lessing's death and according to his recommendation, Langer succeeded him as director of the Herzog August Library and ducal council on August 20, 1781. The conservative Langer had extensive bibliographical knowledge and showed himself to be a good administrator of the library, even through difficult times. The library came under threat of being merged with the University of Helmstedt in 1795. In 1807, Langer was ordered to deliver ca. 400 valuable manuscripts and prints to Paris on the orders of the French intendant-general Pierre, comte Daru (1767–1829), and collection would be transferred to Göttingen, Marburg and Halle in 1813 during the French occupation. Most of these collections were returned in 1815 after the collapse of the Kingdom of Westphalia. In a final turn of fortune in 1815, the manuscripts and numerous prints from the University of Helmstedt, which was closed in 1810, came to Wolfenbüttel. Langer died in Wolfenbüttel in August 1820 at the age of 76 after a long and prestigious career.
Codicology
Alternative Titles

Ernst Theodor Langers Stammbuch

Type

Size / Format

298 pages / 18.6 × 11.8 cm

Origin

Date

1769–1776

Epochs

Style

Illustrations

Several marginal drawings, one of them colored
---
Available facsimile editions:
Facsimile Editions
#1

Ernst Theodor Langers Stammbuch

Commentary:

1 volume by Paul Raabe
Language: German

1 volume: Exact reproduction of the original document (extent, color and size)

Reproduction of the entire original document as detailed as possible (scope, format, colors). The binding may not correspond to the original or current document binding.

Facsimile Copy Available!

Price Category: €€
(1,000€ - 3,000€)
You might also be interested in: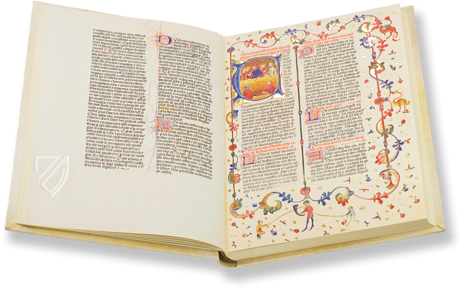 Consolat de Mar
Valencia (Spain) – 1407
The "Golden Bull" of international maritime law, often with provisions still in force today: the first universally applicable treatise on the legal norms and customs of navigation and maritime commerce
Experience More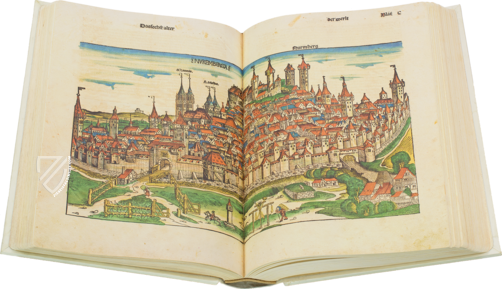 Blog articles worth reading