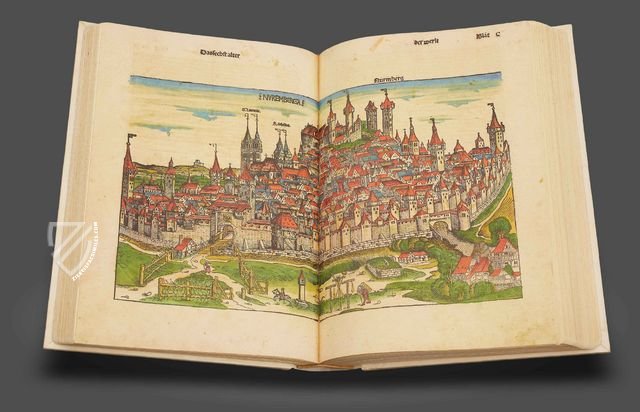 World Chronicle by Hartmann Schedel
Nuremberg (Germany) — 1493
Hartmann Schedel (1440-1514) was a German humanist, historian, physician, and cartographer

Over 1,800 colored woodcuts were created by the master Michael Wolgemut (1434-1519)

The 29 double-page cityscapes are true highlights and use innovative new perspectives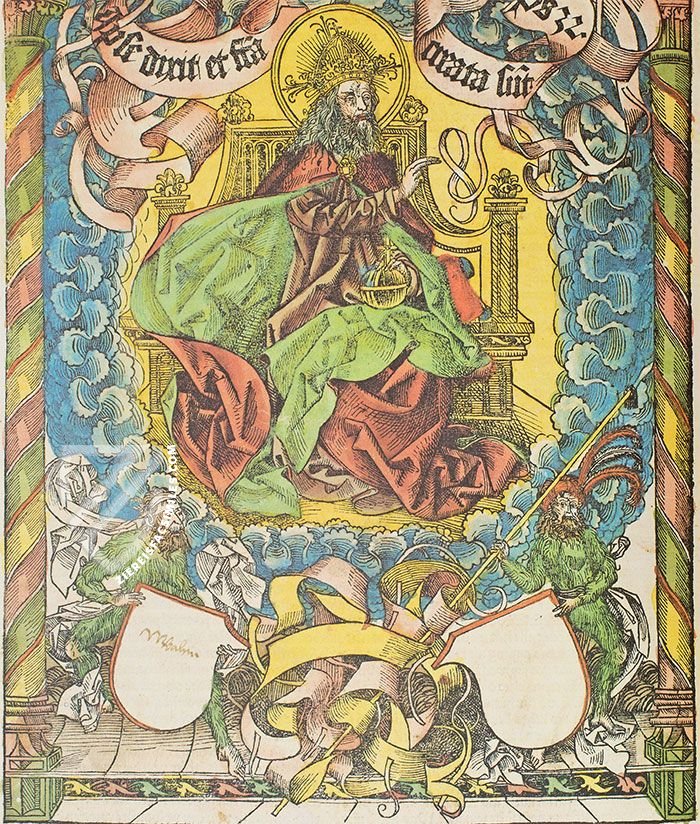 World Chronicle by Hartmann Schedel
Alternative Titles:
Liber Chronicarum de Hartmann Schedel
Nuremberg Chronicle
Liber Chronicarum von Hartmann Schedel
Nürnberger Chronik
Schedelsche Weltchronik
Liber Chronicarum - Schedelsche Weltchronik
Short Description
The World Chronicle by Hartmann Schedel (1440–1514) is a true book of superlatives. With its 1,809 woodcuts, it is particularly lavishly furnished and the large format also contributes to the imposing impression. In order to realize this courageous project, the German physician, humanist and historian teamed up with some famous names from Nuremberg. The magnificent illustrations were made in the workshop of Michael Wolgemut (1434–1519), who at the time had a very special apprentice: Albrecht Dürer (1471–1528). For the printing, Anton Koberger (ca. 1440–1513) joined the team, who first published the illustrated account of world history in a Latin and German version in 1493. Today, the 29 double-sided cityscapes with their fantastic architectures and interesting details are known above all others.
World Chronicle by Hartmann Schedel
As a book of superlatives, Schedel's World Chronicle, measuring 44.3 x 30.8 centimeters, not only has a large-format but is also very richly illustrated with over 1,800 colored woodcuts. This extremely important illustrated incunabula appeared in Nuremberg in 1493 in a Latin and a German version. For this great book project, well-known names assembled around the doctor, humanist and historian Hartmann Schedel (1440–1514): Michael Wolgemut (1434–1519), together with his apprentice Albrecht Dürer (1471–1528), was probably responsible for the manifold woodcuts and Anton Koberger (c. 1440–1513) joined the group as printer and publisher. Today, the world chronicle is best known for its magnificent cityscapes, some of which are considered the first truly realistic representations.
World History in Seven Chapters
In the narrative, the portrayal of world history follows the tradition of medieval chronicles, in which the history of the world is divided into seven ages. The first begins with the creation of the world and the last gives a view of the end of the world and the Last Judgment. In the Nuremberg Chronicle, however, the sixth age of the world is described most extensively. It ranges from the birth of Christ to the author's present. In addition to historical events and persons, Schedel also reports miraculous phenomena and sensations and gives geographical information, especially regarding cities and areas.
A Team from Nuremberg
For his most important work, Schedel engaged no less than Michael Wolgemut for its decoration. At this time, the painter and master of woodcuts from Nuremberg had a very important apprentice in his workshop who is famous today: the young Albrecht Dürer. Precisely how large his contribution to the Chronicle actually was remains contested among researchers. As an important printer, publisher, and merchant of the incunabula period, Anton Koberger completed the team from Nuremberg.
Famous Cityscapes
Of the total of 1,809 woodcuts, 29 are double-page cityscapes. Each of them is provided with detailed descriptions of the founding history, names and facts about contemporary culture, as well as economy and trade. These illustrations of the geographical part of the chronicle are not only popular because of their numerous delightful details. Many of them are the oldest authentic images of the cities. For example, the woodcut of Nuremberg is the first printed view of its kind.
Codicology
Alternative Titles

Liber Chronicarum de Hartmann Schedel




Nuremberg Chronicle




Liber Chronicarum von Hartmann Schedel




Nürnberger Chronik




Schedelsche Weltchronik




Liber Chronicarum - Schedelsche Weltchronik

Size / Format

594 pages / 44.3 × 30.8 cm

Origin

Date

1493

Epochs

Style

Language

Illustrations

1809 woodcut engravings

Artist / School

Author: Hartmann Schedel
Engravers: Albrecht Dürer and Michael Wolgemut
Printer: Anton Koberger
1 available facsimile edition(s) of "World Chronicle by Hartmann Schedel"
Schedelsche Weltchronik
Schedelsche Weltchronik
1 volume: Exact reproduction of the original document (extent, color and size)
Publisher

Edition Libri Illustri – Ludwigsburg, 1990

Limited Edition

800 copies

Binding

Parchment

Commentary

1 volume
Language: German

More Information

Reproduction of the entire original document as detailed as possible (scope, format, colors). The binding may not correspond to the original or current document binding.
Matching Background Articles
Renaissance

What does the word "Renaissance" bring to mind for you? Art, science, and culture of course! It was a "rebirth" and...

Experience more

15th Century

Come and explore an age of stark contrasts as Europe comes back from the brink: calamities like the Fall of...

Experience more

Chronicles

Take a deep dive into history with a medieval chronicler, trace the history of the world or focus on the history of a...

Experience more