Florence Cantigas de Santa María
Description
Florence Cantigas de Santa María
One of the largest surviving collections of medieval monophonic music: the Cantigas de Santa María or "Canticles of Holy Mary" is a collection of 420 poems dedicated to the Virgin Mary. The manuscript stored today in Florence is one of only four that were created during the lifetime of Alfonso X of Castile (1221–1284) who was called "the Wise" for his patronage of and personal interest in art and science. In fact, it is believed that the King authored many of the poems, which were written in Galician-Portuguese. Although completed artistically with 500 illustrations, some are incomplete and the manuscript lacks musical notation, although the staves have already been drawn. It is nonetheless a splendid example of late-13th century work of Spanish Gothic illumination and an early work of vernacular poetry.
Florence Cantigas de Santa María
Alfonso X of Castile (1221–1284) earned the epithet "the Wise" for fostering one of the most learned and cosmopolitan courts in medieval Europe as well as for being an intellectual himself. Alfonso was interested in science, astronomy and astrology in particular, and was also a prolific author of Galician poetry. The Cantigas de Santa María or "Canticles of Holy Mary" are one of numerous works commissioned by Alfonso and many may have been written by him. Consisting of 420 poems dedicated to the Virgin Mary, it is one of the largest surviving collections of medieval monophonic music. The codex stored in Florence's Biblioteca Nazionale Centrale under shelf mark MS b.r. 20 is one of only four surviving manuscripts containing the work and is richly illuminated with 500 narrative vignettes, which depict a vast array of human typology in Spain during the 13th century.
An Incomplete Masterpiece
This manuscript was intended to be a continuation of El Escorial Ms T.j.1 and is a fascinating "work in progress": although room has been carefully set aside for the notation and all staff lines are already drawn, none of the musical notation was copied. While most of the miniatures are complete, there are many intriguing examples of incomplete faces and details that provide a wonderful glimpse into manuscript production. It is written in Galician-Portuguese, which was en vogue at the Castilian court at the time, and Alfonso had spent much of his youth in Galicia. The manuscript was likely created in the early 1280's and may have been left unfinished because the King died in 1284 and left his kingdom in a state of civil war, thus leaving the manuscript without a patron.
Codicology
Alternative Titles

Cantigas de Santa Maria - Codex Florenz




Cantigas de Santa María de Alfonso X el Sabio




Songs of Santa María by Alfonso X the Wise




Lieder für die heilige Maria für Alfons den Weisen




El Codice de Florencia de las Cantigas de Alfonso X El Sabio

Size / Format

264 pages / 45.0 × 32.0 cm

Origin

Date

13th century

Style

Genre

Language

Illustrations

More than 500 illustrations, some of them unfinished

Artist / School

Alfonso X the Wise (1221–84) (author)
---
Available facsimile editions:
Detail Picture
Florence Cantigas de Santa María
Unfinished Miniature of a Dinner Party
Although this small miniature appears to show a headless dinner party, including the server and musician, this is a perfect example of a miniature whereby the work was suddenly and inexplicably cut short. Although faint pencil outlines can still be seen, the heads and faces of the figures have not been completed, although every other aspect, even the gold leaf, has been executed. One of the figures even holds a hand up two where his face should be, presumably to take a bite of bread.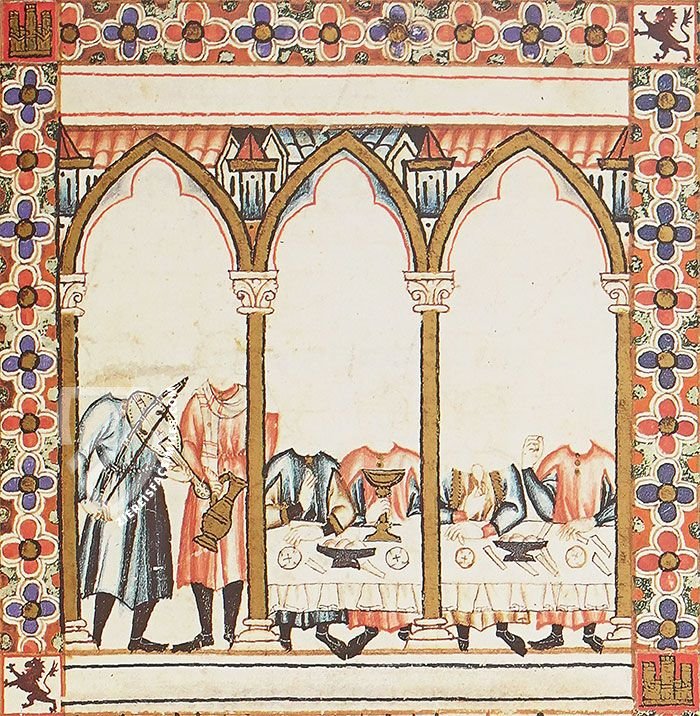 Single Page
Florence Cantigas de Santa María
Santa Maria de Terena
This legend relates a miracle experienced by a couple from Beja in modern Portugal. Although the father was initially disappointed that he did not get a son and heir, he and his wife accepted that it was God's will. After a year, they set out with other pilgrims to Terena, which was supposed to be the site of miracles.
Sadly, their daughter died when they were a league away from Terena and they prepared to bury her in the cemetery the next day. While they were performing a funeral Mass, the child was resurrected and began to cry, and all the pilgrims were overwhelmed with excitement and they gave thanks to the Holy Virgin. These six Gothic miniatures wonderfully reflect the series of events and effortlessly transition between interior and exterior scenes.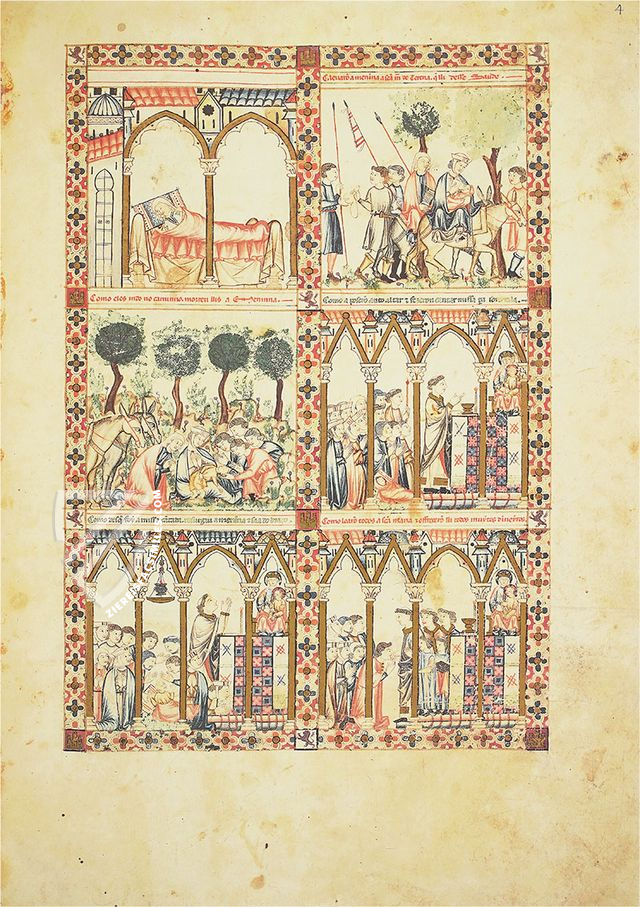 Facsimile Editions
#1

Cantigas de Santa María

Publisher:

Edilan

– Madrid, 1991

Limited Edition:

1000 copies

Binding:

Brown leather with gold embossing. A cloth case with a suede leather spine houses the facsimile, commentary volume, and vinyl record.

Commentary:

1 volume (206 pages) by Ana Domínguez Rodríguez and Agustín Santiago Luque
Language: Spanish

1 volume: Exact reproduction of the original document (extent, color and size)

Reproduction of the entire original document as detailed as possible (scope, format, colors). The binding may not correspond to the original or current document binding.
You might also be interested in:
Blog articles worth reading