Vindel Parchment
Description
Medieval Spain and Portugal had a rich tradition of troubadour poetry, including a specific tradition written in a female voice known as Cantigas de amigo. These cheeky, even erotic monologues and dialogues are among the rarest specimens of medieval lyric poetry. In fact, before the discovery of this manuscript in 1913/14, only one other manuscript of Galician-Portuguese cantigas was known to exist, and only one other has since been discovered. This 13th century manuscript may have originated from the splendid court of Alfonso X the Wise, and is counted among the greatest historic finds of the 20th century.
Vindel Parchment
This 13th century manuscript was discovered by coincidence in 1913/14. Pedro Vindel, an antiquarian in Madrid, discovered that it was being used as a cover for a copy of De Officiis by Cicero (106-43 BC). It is one of the most important discoveries in the history of the Galician-Portuguese troubadour tradition. The so-called Vindel Parchment contains seven love songs written by Martin Codax, a travelling singer in 13th century Galicia associated with the court of Alfonso X the Wise (1221–84), and is the only record for six of them. It is also the only manuscript containing the so-called Cantigas de amigo – a genre of medieval lyric poetry specific to northwestern Iberia in a female voice – with musical notation. Taking the form of either monologues or dialogues with their girlfriends, sisters, mother, or boyfriend, the short and cheeky lyrics tell of their longings and laments, and are filled with illusions to nature –they are also strongly erotic. The manuscript was created in an unknown but well-staffed scriptorium and is adorned with blue and red initials. Until the emergence of this document, the Cantigas de Santa María, dedicated to religious subjects by Alfonso X the Wise, was the only known Galician-Portuguese cantigas. Later, the Sharrer Parchment (turn of the 12th to 13th century) was discovered along with seven cantigas of troubadour poetry by King Denis of Portugal (1261–1325), called the Poet King, but fall within the genre of Cantigas de amor. The Vindel Parchment was acquired in 1977 by the New York Morgan Library, where, after a journey as random as the protests of the protagonist in the verses themselves, it is still preserved today.
Codicology
Alternative Titles

Vindel Pergamente




Pergamino Vindel




Siete Canciones de Amor

Size / Format

2 leaves / 33.6 × 45.0 cm

Origin

Date

Late 13th century

Epochs

Style

Language

Script

Gothic Textura

Illustrations

Red and blue fleuronné initials

Content

7 songs about love

Previous Owners

Pedro Vindel
Rafael Mitjana
Otto Haas
---
Available facsimile editions:
Facsimile Editions
#1

Pergamino Vindel

Limited Edition:

987 copies

Commentary:

1 volume by Martin Codax, Monica Miro, Marina Arbor Aldea, Rip Cohen, Harvey L. Sharrer, Simone Marcenaro, Antonio Ciaralli, Antonio Calvia, and Speranza Cerullo
Languages: Galician, English, Spanish

1 volume: Exact reproduction of the original document (extent, color and size)

Reproduction of the entire original document as detailed as possible (scope, format, colors). The binding may not correspond to the original or current document binding.
You might also be interested in:

Dancing Book of Margaret of Austria
Flanders – Ca. 1470
Musical notations and calligraphy in gold and silver for the wife of Emperor Maximilian: one of only seven surviving manuscripts from the Middle Ages executed entirely on black parchment
Experience More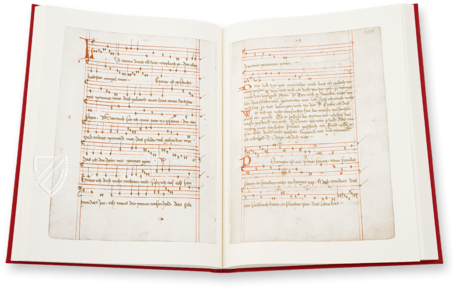 Mondsee-Vienna Music Manuscript
First half of the 15th century
One of the most important sources of the German-language music history of the 15th century: 100 polyphonic songs of famous composers like Hermann von Salzburg or Heinrich von Mügeln
Experience More
Blog articles worth reading