Gothic Alphabet of Mary of Burgundy
Description
Gothic Alphabet of Mary of Burgundy
This marvelous calligraphic masterpiece is a fabulous mid-16th century copy of a pattern book/primer created ca. 1460 for Mary of Burgundy at the behest of her father, Charles the Bold, Duke of Burgundy. Large, elaborate Gothic initials are further embellished by animals and human figures that appear alongside and are sometimes blended with floral motifs, acanthus leaves in particular. They were created in the cadeler style meaning "to pamper" in French and represent a precious example of a late-Gothic alphabet book, of which precious few remain today.
Gothic Alphabet of Mary of Burgundy
Although this splendid work bears the appearance of a model book used by scribes and illuminators to demonstrate their skills to potential clients, this codex containing a splendid Gothic alphabet originated as a primer for one of the wealthiest young noblewomen in 15th century Europe. Human figures, acanthus leaves, and grotesques can be found among the incredibly sophisticated and stylish Gothic initials of this rare late-medieval manuscript. Originating ca. 1460, the original Dutch manuscript is believed to have been commissioned by the Duke of Burgundy, Charles the Bold (1433-77) for his only child, Mary of Burgundy (1457-82). The specimen at hand is a splendid mid-16th century copy made in France and may have been used as a pattern book for the education of the young Mary.
An Elaborate Gothic Style
This manuscript contains a particularly elaborate and flourished version of Gothic script known as "cadel initials" from the old French verb, cadeler meaning "to pamper". It is also known as cadeaux in French for "gift", which Michelle Brown defines as "a calligraphic decorative extension to the ascending or descending strokes of letters, usually on the first or last lines of a page. They sometimes feature human or animal heads." Such pattern books evolved into copy books of specimens demonstrating the skill and virtuosity of the scribe. In this manuscript, human figures and acanthus leaves adorn the already elaborate initials and sometimes blend together, e.g. an acanthus leaf taking the place of a hat.
A Mysterious Masterpiece
Although lacking any indication of a precise date of origin, researchers have been able to discern that this manuscript was made in mid-16th century France based upon the watermarks on the paper itself and a note reading "A Châteaudun", which lies between Chartres and Tours and is the location where the paper was likely fabricated. An elaborate full-page "M" initial found at the end of the manuscript may be a clue regarding the identity of the scribe who created this calligraphic masterpiece. Meanwhile, an awkwardly written note on f. 26v reading "Francois M" could refer to a former owner, possibly the original owner, so perhaps the elaborate "M" initial is a reference to this. Nevertheless, alphabet books from the Late Gothic period like this are extremely rare, making this lavish specimen all the more precious.
Codicology
Alternative Titles

Das Kalligraphiebuch der Maria von Burgund

Type

Size / Format

48 pages / 30.0 × 21.6 cm

Origin

Date

Ca. 1550

Epochs

Style

Language
---
Available facsimile editions: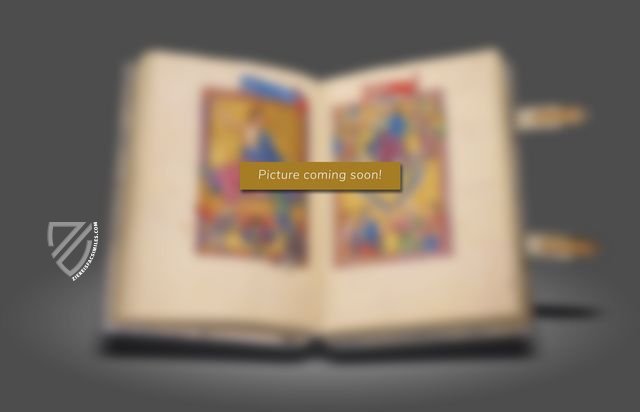 Quaternio Verlag Luzern
– Lucerne, 2015
Limited Edition:
1000 copies
Facsimile Editions
#1

Das Kalligraphiebuch der Maria von Burgund

Limited Edition:

1000 copies

Commentary:

1 volume by Eberhard König
Language: English

1 volume: This facsimile is not complete.

Reproduction of the entire original document as detailed as possible (scope, format, colors). The binding may not correspond to the original or current document binding.
You might also be interested in: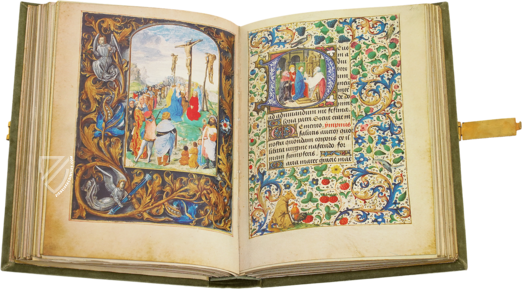 Hours of Mary of Burgundy
Ghent or Bruges (Belgium) – 1470–1480
Overflowing splendor for the daughter of Duke Charles the Bold: golden script and vivid miniatures as testimony to the wealth and artistic sophistication of the Burgundian court
Experience More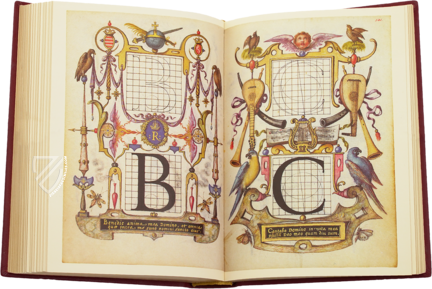 Model Book of Calligraphy
Vienna (Austria) – 1561–1562 and 1591–1596
Created by the imperial court calligrapher for Emperor Ferdinand I and later completed by an illuminator: a beautifully crafted survey of the sophistication of Northern Renaissance calligraphy
Experience More
Blog articles worth reading