La Vita Nuova - Dante Alighieri
Description
La Vita Nuova - Dante Alighieri
Although Dante Alighieri is best known for his Divine Comedy, it is by no means his only work. Many lovers of Italian literature consider his La Vita Nuova to be an even greater achievement and has had a discernible influence on successive generations of artists. The specimen at hand is an extremely rare 20th century illuminated manuscript created by prominent Italian artists.
La Vita Nuova - Dante Alighieri
If the Divine Comedy represents the most complicated voluminous and famous of Dante's works, La Vita Nuova is his most sublime poetic composition. The story of his love for Beatrice starting from their first encounter when she was only nine years old is described by Dante in pure Stilnovo and offers a poetic autobiography documenting young Dante's adhesion to the ideals and spiritual evolution of the Stilnovo. In the past, La Vita Nuova has inspired many writers and artists, even if only one illustrated, full-color edition has been produced in the six centuries since its creation. In 1921, year of the sixth-centennial of Dante Alighieri's death, three artists worked together to create what we can consider today to be a real and perhaps unique illuminated manuscript of the 20th century – La Vita Nuova – illustrated with forty original watercolors by Vittorio Grassi, entirely hand written by the calligrapher Enrico Brignoli, and decorated on every page by Nestore Leoni's decorations.
Codicology
Size / Format

136 pages / 41.0 × 31.0 cm

Origin

Date

1921

Epochs

Style

Genre

Language

Artist / School

Vittorio Grassi (illuminator, watercolors)
Nestore Leoni (illuminator)
Enrico Brignoli (calligrapher)
---
Available facsimile editions:
Facsimile Editions
#1

La Vita Nuova

Limited Edition:

2999 copies

Binding:

Blue silk with silver trim in a silk covered box

Commentary:

1 volume by Domenico De Robertis
Language: Italian

1 volume: Exact reproduction of the original document (extent, color and size)

Reproduction of the entire original document as detailed as possible (scope, format, colors). The binding may not correspond to the original or current document binding.
You might also be interested in: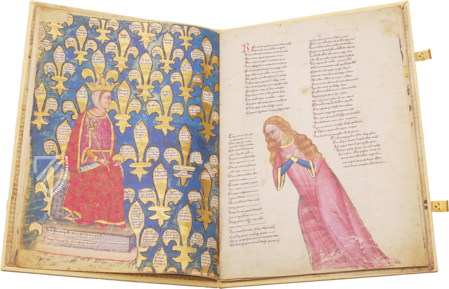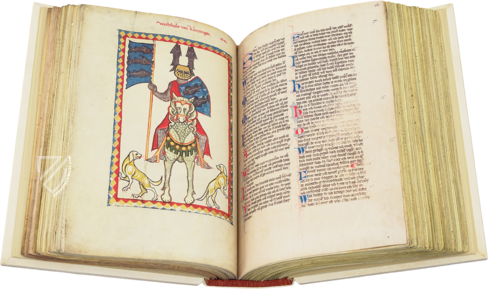 Codex Manesse
Zurich/Lake Constance area (Zwitzerland) – After 1310 until ca. 1340
The famous great song manuscript from Heidelberg: a unique treasure of German literature, medieval history, and Gothic book illumination
Experience More
Blog articles worth reading