Losbuch in deutschen Reimpaaren
Description
Losbuch in deutschen Reimpaaren
The question of what the future might bring was already a preoccupation of ancient man in the form of fortune-telling practices. Answers to this question were provided by divination books: collections of sayings that were used to predict the future and individual destiny by relating a randomly found saying to one's own situation. The Church initially considered this to be superstition, but from the 12th century works translated from Arabic rekindled interest in the subject. Later, the nobility in particular regarded the whole subject half seriously, half mockingly as a pastime. Our manuscript also falls into this period: the fixed list of questions, ready answers, and simple usage made it accessible to layman as well. The 1,296 rhyming pairs oscillate between the belief in the predictability of the future and a skeptical-ironic attitude towards it.
Losbuch in deutschen Reimpaaren
Rhymed books in the Middle Ages often contained a curious combination of texts for both moral edification and simple entertainment. The Losbuch in deutschen Reimpaaren or "Divination Book in German Rhyming Couplets" belongs among the oldest and most extensive rhymed books to be completely written in German. It is a collection of sayings representing moral exhortations or sociable entertainment that were translated from Arabic into Latin. The starting point of the Losbuch is considered to be the collections of sayings used in ancient Greece during ceremonial rites. After the Greeks' conquest of the Middle East, the determination of an individual's fate was further developed.
Part of a Wave of Arabic Translations
The translation of many Arabic works into Latin in the 12th Century awakened an interest in further exploration of the sayings in the West. At an early stage in Germany, towards the end of the 14th century, a change in the function of the divination book began to take place as a result of the shift from a purely predictive text to one with an entertaining character. The creation of our manuscript falls into this transitional period. The formulation of its questions and answers moves in the area between serious faith and fear of life on the one hand and mocking amusement on the other.
Codicology
Size / Format

46 pages / 29.5 × 20.0 cm

Origin

Date

Last quarter of the 14th century

Epochs

Style

Genre

Language

Illustrations

2 full-page miniatures, all the other pages with small ornamental bands

Previous Owners

Royal Imperial Ambraser collection
---
Available facsimile editions:
Facsimile Editions
#1

Losbuch in deutschen Reimpaaren

Binding:

Leather, copy of the original binding omitting the metal fittings. All folios are cut according to the original.

Commentary:

1 volume (34 pages) by Werner Abraham
Language: German

1 volume: Exact reproduction of the original document (extent, color and size)

Reproduction of the entire original document as detailed as possible (scope, format, colors). The binding may not correspond to the original or current document binding.

Facsimile Copy Available!

Price Category: €
(under 1,000€)
You might also be interested in: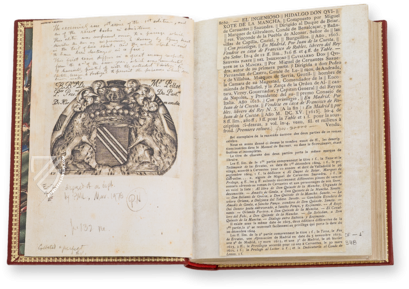 Don Quixote de la Mancha
Madrid (Spain) – 1605 and 1615
The first edition of Miguel de Cervante's worldwide success: one of the most important works in world literature and a milestone in Spanish literary history
Experience More
Blog articles worth reading