Losbuch in deutschen Reimpaaren
Description
Losbuch in deutschen Reimpaaren
Rhymed books in the Middle Ages often contained a curious combination of texts for both moral edification and simple entertainment. The Losbuch in deutschen Reimpaaren is among the oldest and most extensive of this genre. It is a collection of sayings from ancient Greece that were translated from Arabic into Latin. This book is part of a wave of interest in translating Arabic texts that began in the 12th century and lasted for centuries.
Losbuch in deutschen Reimpaaren
This volume belongs among the oldest and most extensive rhymed books to be completely written in German and is a collection of sayings representing moral exhortations or sociable entertainment. The collection of sayings that were in use in ancient Greece and were associated with solemn rites are a starting point in the book.
Part of a Wave of Arabic Translations
The translation of many Arabic works into Latin in the 12th Century awakened an interest in further exploration of the sayings in the West. In early 14th century Germany, further analysis of the sayings was being undertaken. This volume falls into this transitional period. The formulation of the questions and answers swing between serious belief on the one hand and sneering amusement on the other.
Codicology
Size / Format

46 pages / 29.5 × 20.0 cm

Origin

Date

Last quarter of the 14th century

Epochs

Style

Genre

Language

Illustrations

2 full-page miniatures, all the other pages with small ornamental bands

Previous Owners

Royal Imperial Ambraser collection
---
Available facsimile editions:
Facsimile Editions
#1

Losbuch in deutschen Reimpaaren

Binding:

Leather, copy of the original binding omitting the metal fittings. All folios are cut according to the original.

Commentary:

1 volume (34 pages) by Werner Abraham
Language: German

1 volume: Exact reproduction of the original document (extent, color and size)

Reproduction of the entire original document as detailed as possible (scope, format, colors). The binding may not correspond to the original or current document binding.
You might also be interested in: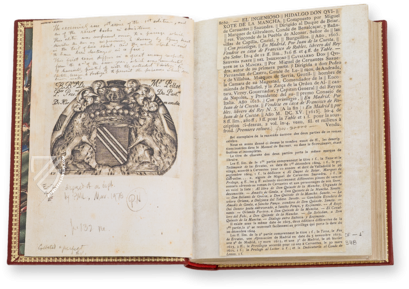 Don Quixote de la Mancha
The first edition of Miguel de Cervante's worldwide success: one of the most important works in world literature and a milestone in Spanish literary history
Experience More
Blog articles worth reading