Millstatt Genesis and Physiologus
Description
Millstatt Genesis and Physiologus
The Millstätter Genesis- und Physiologus is an illuminated manuscript of great worth to art historians, bible historians, and linguists. It is the first truly illuminated manuscript to be written in German, and the contents of which are just as important as its adornment. This work is an asset to Bible historians interested in the Creation series due to its full Genesis cycle, and features the kind of artwork one would typically find in bestiaries.
Millstatt Genesis and Physiologus
The Millstätter Genesis- und Physiologus manuscript is a monochrome facsimile of the well-known Carinthian manuscript in Middle High German. It is the earliest example of a richly illustrated codex in German. The codex is of literary and philological interest for its early Middle High German texts, including most importantly Genesis, Exodus, Physiologus, "Of Rights", and "Nuptials". The illustrations have received art historical attention for preserving a pictorial recension of Genesis, occurring most importantly in Cotton Genesis fragments in the British Museum, in a mosaic cupola at St. Mark's in Venice, and in the Genesis frontispieces of the Carolingian bibles created at Tours.
A Tool of Bible Historians
Studies of these works have dealt principally with the Creation series; this publication greatly facilitates research on the full Genesis cycle, as well as the treatment of the Physiologus text and illustrations in relation to the Latin and Greek texts that gave rise to the 12th-century bestiary manuscripts, the iconography of which recurs here. The facsimile's companion volume is not a full study but a paperbound description and good summary of literature on the manuscript, with full bibliography and eight color plates.
Codicology
Alternative Titles

Die Millstätter Genesis- und Physiologus-Handschrift

Size / Format

344 pages / 20.0 × 13.0 cm

Origin

Date

12th century

Epochs

Style

Language
---
Available facsimile editions: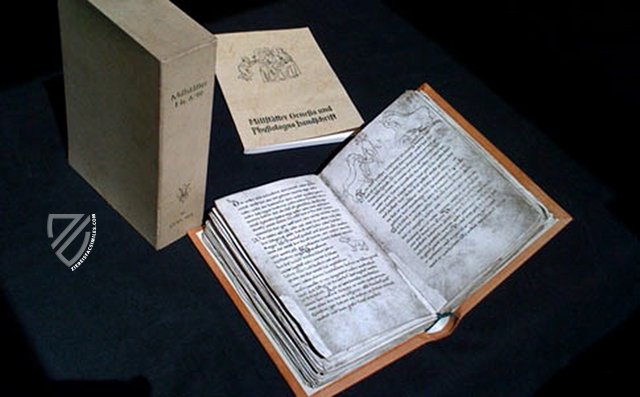 Akademische Druck- u. Verlagsanstalt (ADEVA)
– Graz, 1967
Facsimile Editions
#1

Die Millstätter Genesis- und Physiologus-Handschrift

Binding:

Leather binding, protected in a slip case with the commentary volume.

Commentary:

1 volume (52 pages) by Alfred Kracher
Language: German

1 volume: Exact reproduction of the original document (extent, color and size)

Reproduction of the entire original document as detailed as possible (scope, format, colors). The binding may not correspond to the original or current document binding. All folios are cut according to the original.
You might also be interested in: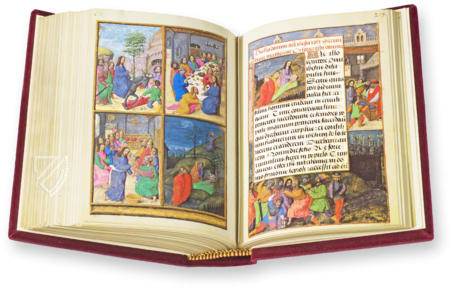 Book of Hours of James IV
Ghent-Bruges (Belgium) – 1503–1513
A Flemish masterpiece by Gerard Horenbout and the famous Maximilian Master: the wedding gift of King James IV of Scotland to his wife
Experience More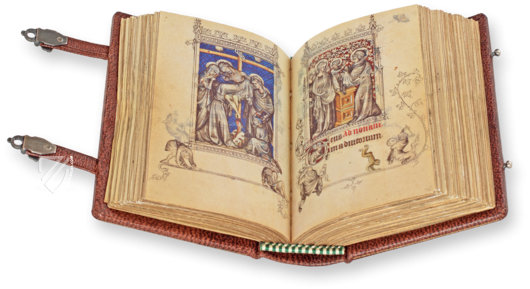 Blog articles worth reading