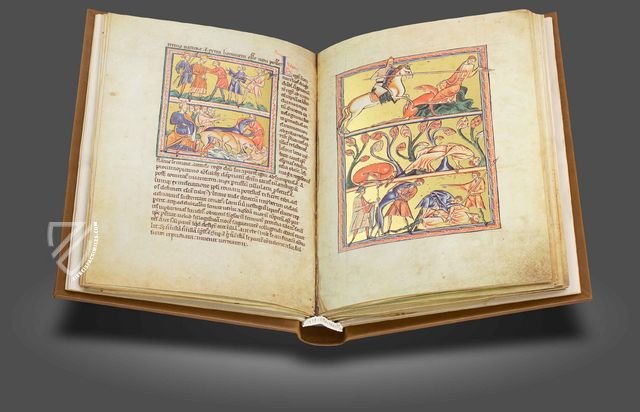 Oxford Bestiary
South England (United Kingdom) — Around 1210
One of the most beautiful representatives of the bestiary

This codex is filled with gilded representations of creatures that reflect their own view of nature

The animals are often depicted in sketches that are far from naturalistic, but literary in character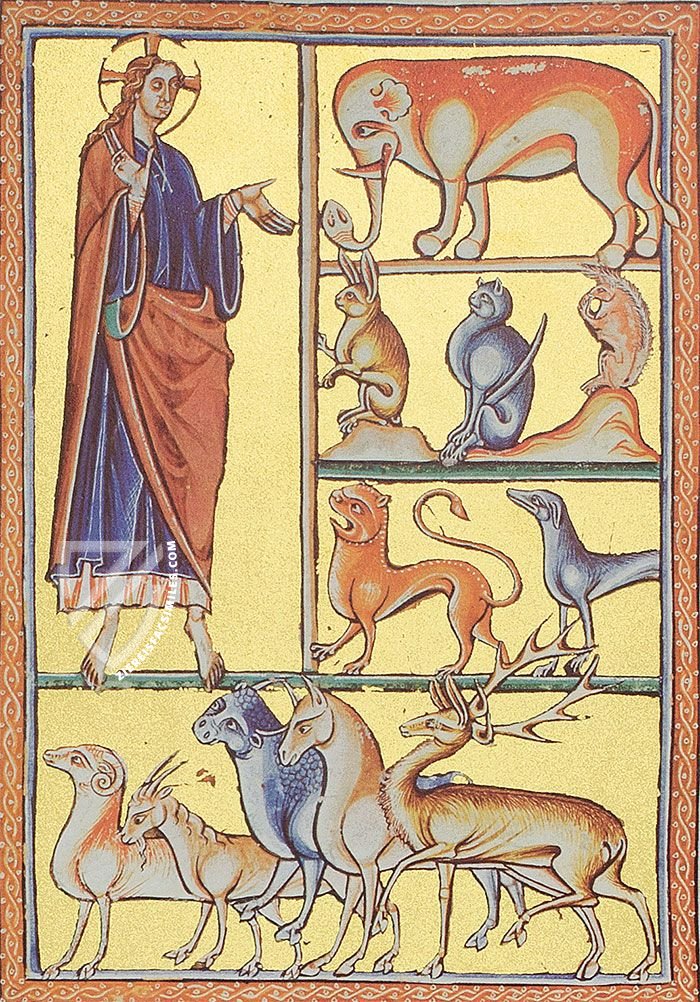 Oxford Bestiary
Alternative Titles:
Das Bestiarium
Oxforder Bestiarium
Short Description
During the High Middle Ages, bestiaries, moralizing illustrated books of animals, were extremely popular. The Oxford Bestiary probably ranks among the finest examples of its kind. It is a codex that is densely filled with gilded depictions of creatures whose depictions reflect a surreal view of nature: 130 miniatures within only 105 pages. In addition to the typical chapters dividing creatures into various categories, the manuscript also features an illustration of the Book of Genesis at the beginning of the codex.
Oxford Bestiary
Bestiaries, illustrated books of animals, whose moralistic contents relate to selected biblical texts, were highly popular in the late 12th century. The Oxfordian Bestiary probably ranks among the finest examples of its kind. The magnificent codex, richly embellished with gold leaf, not only exceeds itself with its marvelous, luminous opaque color painting and clear depiction of animals, plants and human beings, but also in its predilection for serene symmetry, refined ornament and frequent use of carefully executed patterns in the backgrounds. The pictures are irregularly dispersed throughout the text. According to our modern conception, the animals often depict a surreal view of nature: a crocodile with a serpent's head and bird's feet and a horned panther with rather arbitrary coloring are but a few examples of an astonishing iconography which, far from naturalistic sketches, was based on the free interpretation of literary models.
Fantastic Animal Pictures on Rich Gold Leaf
The book contains an overwhelming wealth of animal depictions: 130 miniatures within only 105 pages illustrate several chapters on nature and the qualities of animals; birds, snakes, worms, fish, trees, flint stones, as well as the nature of mankind. Of special interest is the illustration of Genesis in the beginning of the book, which is set amongst exceptionally enlarged and boldly narrative painted scenes.
Codicology
Alternative Titles

Das Bestiarium




Oxforder Bestiarium

Size / Format

244 pages / 27.6 × 18.3 cm

Date

Around 1210

Epochs

Style

Genre

Language

Illustrations

About 130 miniatures with animal illustrations on richly gilded background

Previous Owners

William Wright, vicar of High Wycombe
William Mann
Sir Peter Mancroft
John Tradescant
Elias Ashmole
Oxford University
1 available facsimile edition(s) of "Oxford Bestiary"
Das Bestiarium Facsimile
Das Bestiarium Facsimile
1 volume: Exact reproduction of the original document (extent, color and size)
Publisher

Akademische Druck- u. Verlagsanstalt (ADEVA) – Graz, 1982

Limited Edition

4500 copies

Binding

The all leather binding is a faithful replica of a Romanic binding, presently in the possession of Austrian National Library in Vienna.

Commentary

1 volume by F. Unterkircher
Languages: French, German, Spanish

Transcription and translation of the text into German by F. Unterkircher, Vienna, scholarly commentary in preparation.

More Information

All folios are cut according to the original.
Matching Background Articles
Romanesque

The first international European artistic movement was vigorous, innovative, and yet coherent, seamlessly blending...

Experience more

13th Century

Despite ongoing religious wars and the threat of Mongol invasion from the East, this is a time of great personalities,...

Experience more

Bestiaries

Are you an animal-lover? Can't get enough nature documentaries? The popularity of these beautiful manuscripts filled with...

Experience more