Morgante by Luigi Pulci
incunabolo ac cf29
Accademia Nazionale di Scienze, Lettere e Arti (Modena, Italy)
Description
A refreshing blend of French chivalric material and the humor of the streets of Florence: Morgante by Luigi Pulci. This milestone of Renaissance literature takes a satirical approach to the kind of chivalric epics that were popular at the time. Although set during the reign of the Emperor Charlemagne, this tale offers wonderful insight into the culture and daily life of the late 15th century.
Morgante by Luigi Pulci
A giant is converted to Christianity by the Paladin Orlando and then follows him on various strange and comical adventures: such is the plot of one of the greatest epics of the Italian Renaissance: Morgante by Luigi Pulci (1432–84), is named after this giant. It is a burlesque mock-epic based on the Matter of France, a body of legends and literature associated with the history of France that is also known as the Carolingian Cycle. It first appeared in 1478, but this version is now lost, but it appeared in its complete form in 1483, has been preserved and is presented here. It consists of 28 cantos, 30,080 lines, and is highly varied both with regard to language, which ranges from basic to refined, and structure, which is so irregular as to be chaotic. Pulci's frequent use of ottava rima stanzas, composed of eight 11-syllable lines, helped to establish it as a common form for mock-heroics. The incunabulum (pre–1500 printed book) was commissioned by Lucrezia Tornabuoni (1427–1482), wife of Piero di Cosimo de' Medici (1416–69) and mother to Lorenzo the Magnificent (1449–92) in addition to being an accomplished writer and influential political advisor during the reigns of both her husband and son. Luigi Pulci was born in Florence and enjoyed the patronage of the Medici family, even going on diplomatic missions for Lorenzo de' Medici, so it is no surprise that he created this work at Lucrezia's behest.
Codicology
Alternative Titles

Der Morgante von Luigi Pulci




Morgante Maggiore




Greater Morgante




Il Morgante di Luigi Pulci

Size / Format

268 pages / 26.0 × 20.0 cm

Origin

Date

Last quarter of 15th century

Epochs

Style

Genre

Language

Illustrations

Some xylographic initials; interesting watermarks: hunting horn, crouched beast, cross within half-circle with figure

Content

Mock-heroic poem of chivalry

Patron

Lucrezia Tornabuoni
---
Available facsimile editions:
Facsimile Editions
#1

Il Morgante di Luigi Pulci

Limited Edition:

10 copies

Binding:

Brown leather with gold stamping.

1 volume: Exact reproduction of the original document (extent, color and size)

Reproduction of the entire original document as detailed as possible (scope, format, colors). The binding may not correspond to the original or current document binding.
You might also be interested in: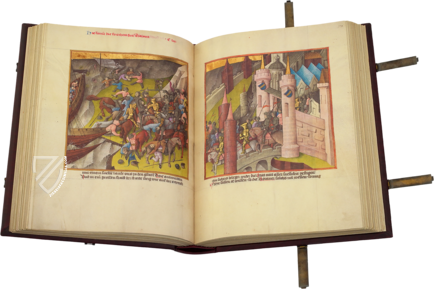 Guido de Columnis: The Trojan War
Regensburg (Germany) – 1432–1456
A magnificent codex from Regensburg, left to the city council for 15 kilograms of silver: golden miniatures depicting the Trojan War in a unique German translation
Experience More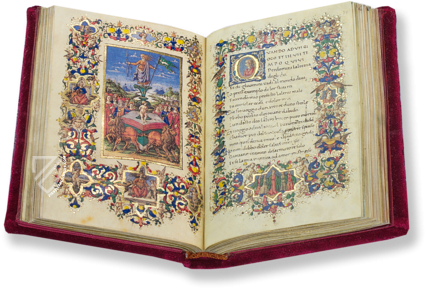 Blog articles worth reading