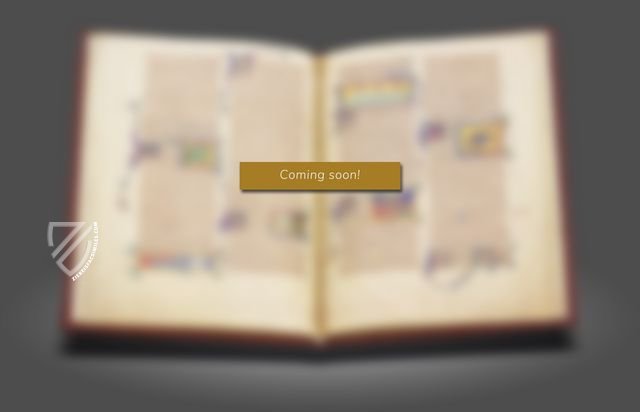 Panegyric in Honor of King Robert of Anjou
Robert of Anjou (1275–1343), King of Naples, was a well-respected ruler known as Robert the Wise

A poem of praise dedicated to him was written ca. 1320 by Convenole da Prato (ca. 1270–1338)

30 masterful miniatures from a Florentine workshop in a style influenced by Taddeo Gaddi adorn the text
Panegyric in Honor of King Robert of Anjou
Alternative Titles:
Lobgedicht auf Robert von Anjou
Short Description
Robert of Anjou was one of the most highly praised figures of his day. Ruling as the King of Sicily, he was seen by many as the greatest leader of his day, an exemplary figure who would finally unify Italy. The poem of praise by Convenole da Prato is dedicated to King Robert and adorned by 30 miniatures that are fine examples of the Florentine Trecento.
Panegyric in Honor of King Robert of Anjou
A panegyric is a lofty poem of praise, in this case, written to laud Robert of Anjou (1275–1343), King of Naples, also known as Robert the Wise. He was the central figure of Italian politics during his lifetime and came closer than anyone to uniting the peninsula into a single realm. He was nicknamed "the peace-maker of Italy", resisting the claims of the German emperors and the kings of Aragon. He also transformed the city of Naples from a dirty seaport to an elegant medieval city. It was written ca. 1320 by Convenole da Prato (ca. 1270–1338), an Italian author, notary, ambassador, and teacher to the famous humanist Petrarch (1304–74). The poem is accompanied by 30 masterful miniatures originating from a Florentine workshop in a style influenced by Taddeo Gaddi (ca. 1290–1366). One particularly famous double page depicts Christ in Majesty: the deity is enthroned and holding the terrestrial globe with the three known continents of Europe, Asia, and Africa with the Virgin Mary depicted in prayer on the opposite page. King Robert was remembered by Petrarch as a man of culture and a generous patron of the arts, Boccaccio (1313–75) described him as "unique among the kings of our day" and "a friend of knowledge and virtue."
1 available facsimile edition(s) of "Panegyric in Honor of King Robert of Anjou"
Regia Carmina: Panegirico in onore di Roberto d'Angiò Facsimile
Regia Carmina: Panegirico in onore di Roberto d'Angiò Facsimile
1 volume: Exact reproduction of the original document (extent, color and size)
Publisher

De Agostini/UTET – Rome/Turin, 2004

Limited Edition

330 copies

Commentary

1 volume by Lorenzo Tanzini
Language: Italian

More Information

Reproduction of the entire original document as detailed as possible (scope, format, colors). The binding may not correspond to the original or current document binding.
Matching Background Articles
Literature

Much like today, medieval readers were looking for stories full of excitement and adventure that would take them out of...

Experience more

Gothic

Gothic illumination is some of the most spectacular and iconic imagery of medieval art and first emerged in Northern...

Experience more