Regia Carmina
Description
This copy of the popular Panegyric of Robert of Anjou, also known as Regia Carmina, was created in Tuscany between 1335 and 1340 and is a true highlight of Trecento art. The 60 pages of this propagandistic work are decorated with 47 equally large and elaborate miniatures, which give special expression to the words of Convenevole da Prato. The Florentine master Pacino di Bonaguida, who not only illuminated manuscripts but also created impressive altarpieces, was responsible for this enchanting decoration of exciting and fantastical images and rich use of gold and silver leaf. The magnificent manuscript was one of the jewels of the library of the Neapolitan King Robert of Anjou, also called the Wise, to whom the work is dedicated, and is now part of the priceless collections of the British Library in London.
Regia Carmina by Convenevole da Prato
The Regia Carmina is a song of praise about the Italian King Robert of Anjou that is presented in a Gothic manuscript. The work is probably the most excitingly illuminated manuscript produced by Italian Gothic illuminators. It contains 47 full-page miniatures that sparkle and glow with gold and silver. The codex is truly a kingly feast for the senses of each beholder. In the text of the manuscript, the King of Naples is exhorted to unify Italy under his crown, to end the Avignon Papacy, and to bring the power of the church back to Rome.
The King of Naples
Robert of Anjou enjoyed high esteem from his people. The son of Charles II of Naples and Mary of Hungary obtained the epithet "the Wise" during his time on the Italian throne. This name is thanks to his exceptionally active contribution to the patronage of scholarship and art. He patronized Francesco Petrarca, who he crowned a poet, and Giovanni Boccaccio, as well as artists like Tino di Camaino, Simone Martini, and Giotto di Bondone. The king's exceptional song of praise is one of the outstanding masterpieces that his library housed.
Influential Book Master
The manuscript was very likely composed by Convenevole da Prato. He was a notary public and professor of logic, grammar, and rhetoric and was named as the first Latin teacher of Francesco Petrarca. Petrarch began a close friendship with his teacher, as has emerged from written descriptions of the famous poet. The Florentine master Pacino di Buonaguida is responsible for the magical illumination of the work. He made numerous gorgeous altarpieces, miniatures, and illuminations and counted among the most gifted masters of Italian Gothic book art.
Valuable Book Decoration
The king's song of praise is adorned with 47 large miniatures and numerous additional decorative elements. Hardly any other codex in the Gothic style can measure up to the inconceivably rich miniatures of this work. The full-page miniatures show depictions of Robert of Anjou on his throne against a deep royal blue background affixed with golden lilies. There are depictions of **angels and saints to see, and of Jesus Christ, who is surrounded by golden rays and exotic animals and fabulous figures. Each page of the book contains such fantastical illuminations. The valuable codex is found today in the British Library in London.
Codicology
Alternative Titles

Regia Carmina




Das Lobgedicht auf König Robert von Anjou




Panegyric of Robert of Anjou

Size / Format

60 pages / 49.0 × 35.0 cm

Origin

Date

1335–1340

Epochs

Style

Genre

Language

Script

Gothic cursive

Illustrations

47 miniatures

Content

Praise to King Robert of Anjou in verse form

Artist / School

Convenevole da Prato (author)
Pacino di Buonaguida (illuminator)

Previous Owners

Robert of Anjou, King of Naples (1278–1343)
George II, King of England
Old Royal Library
---
Available facsimile editions:
Detail Picture
Regia Carmina by Convenevole da Prato
Personification of Faith
Kneeling with a crusader's shield and holding up a large book inscribed with verses, this female figure is the personification of Faith, one of several allegorical figures in this work. Her deep blue dress is an allusion to the Virgin Mary and she is depicted with handsome but plain features and hair that falls naturally down past her shoulders. Faith's silver shield is adorned with intricate tendril swirls and the gold trim of her dress is also created with great detail.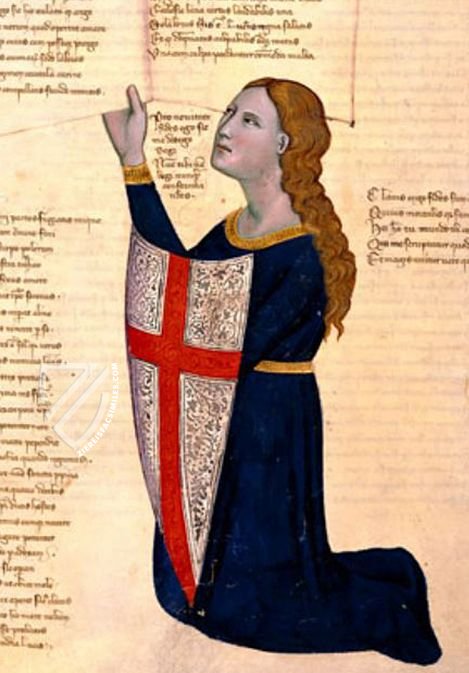 Single Page
Regia Carmina by Convenevole da Prato
Portrait of Robert d'Anjou
Seated before a glimmering field of gold lilies and deep royal blue, we see Robert d'Anjou, 14th century Italy's greatest hope for unification and the end of the Avignon Papacy. Created as a tribute to Robert by hopeful Italian admirers, this splendid Italian Gothic miniature shows the beloved monarch in profile, even detailing the lines in his aging face.
The fact that this is only one of numerous manuscripts devoted to King Robert indicates the central position he held in 14th century Italian politics. Holding an orb and a scepter with the fleur-de-lis, Robert's shoes are elaborated with a fine pattern, as are the cushions of his throne. This is an outstanding example of Italian Gothic, a magnificent but short-lived style of medieval illumination.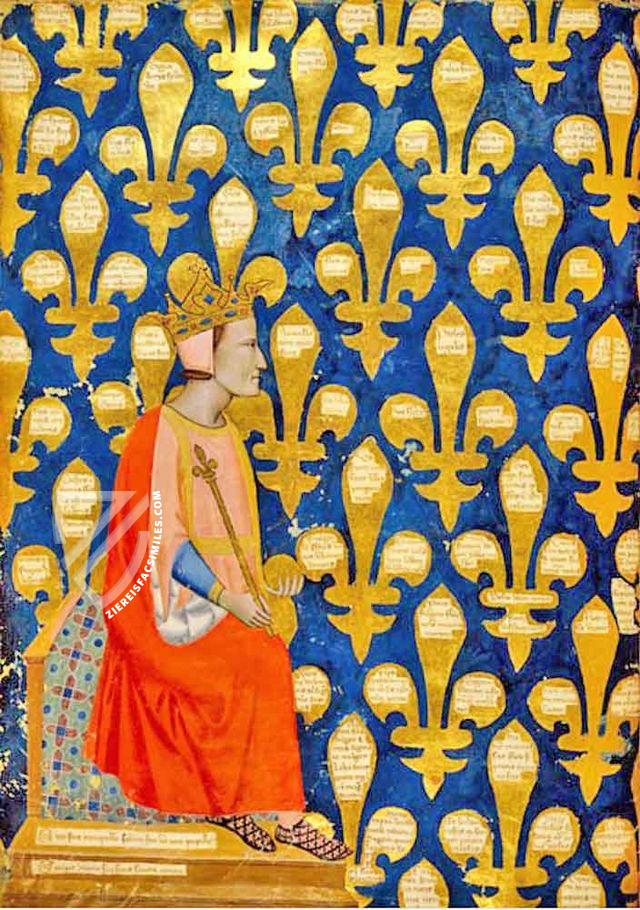 Facsimile Editions
#1

Regia Carmina di Convenevole da Prato

Limited Edition:

999 copies

Binding:

Leather with gold decoration

Commentary:

1 volume
Language: Italian

1 volume: Exact reproduction of the original document (extent, color and size)

Reproduction of the entire original document as detailed as possible (scope, format, colors). The binding may not correspond to the original or current document binding.

Facsimile Copy Available!

Price Category: €€€
(3,000€ - 7,000€)