Petrarch's Italian Works
Description
This manuscript from the Biblioteca Casanatense unites three of the most famous works by the great Italian Renaissance poet: Il Canzoniere, Trionfi, and the Rime estravaganti. Originating from Venice in the 15th century, it adheres directly to the original by Petrarch and gives and authentic glimpse into his work. This outstanding significance is highlighted by the extremely elegant and high-quality design of the manuscript!
Petrarch's Italian Works
Francesco Petrarca (1304–1374) is considered to be a primary representative of Italian Renaissance literature and one of the most important figures in Italian literary history. The Italian humanist and poet composed numerous influential works, which have been found in both illuminated manuscripts and later in printed form whereby they found broad circulation and were continuously reprinted over the centuries. One of the most famous of Petrarch's creations, his magnum opus, is the Il Canzoniere cycle of poems with over 350 sonnets and canzoni.
Hymns of Love and Good
Even these Canzoniere, also known by their Latin title Rerum vulgarium fragmenta, are recorded in the manuscript from the Biblioteca Casanatense. This originated during the second half of the Quattrocento in Venice, probably ca. 1470. The poems of the cycle were appended by the Trionfi and Rime estravaganti. Alongside these famous texts, the precious manuscript also contains a long unknown verse. As a result, the manuscript with the shelf mark Casanatense 924 is the most comprehensive and original specimen of Petrarch's work in the Italian language.
Elegant Appearance
This 332-page text of such literary and historical importance is presented additionally with gorgeous frames. Alongside tastefully decorated initials – e.g. the very elegantly designed V with floral ornamentation at the beginning of the manuscript – one finds illumination such as an airy angel holding a cartouche with the title. Even the text itself contributes to the elegant appearance of the manuscript. A few important text excerpts are recorded in more conspicuous script with all capital letters or written in gold and some notes and addenda were added to the margins by a 16th century scribe.
A Jewel of Renaissance Humanism
Thus, the manuscript of Petrarch's Italian works with its enthusiasm for antiquity is completely and utterly in the style of the Renaissance. The fascinating spirit of Italian humanism is thus brought back to life before the eyes of the beholder and makes the gorgeous 15th century volume – a precious manuscript of Italian literary history – an experience!
---
Available facsimile editions:
Facsimile Editions
#1

Petrarca - Opere Italiane

Limited Edition:

500 copies

Commentary:

1 volume by Emilio Pasquini, Paola Vecchi Galli and Carl Appel
Language: Italian

1 volume: Exact reproduction of the original document (extent, color and size)

Reproduction of the entire original document as detailed as possible (scope, format, colors). The binding may not correspond to the original or current document binding.
You might also be interested in: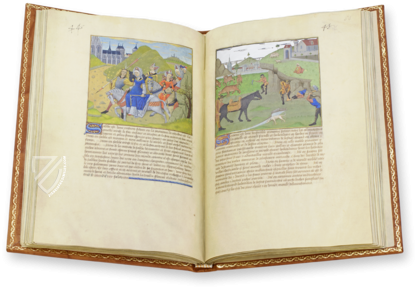 Book of Wonders
Cognac (France) – 1480–1485
Simultaneously moral and didactic, painted by Robinet Testard: A precious gift for the late French king François I from his father
Experience More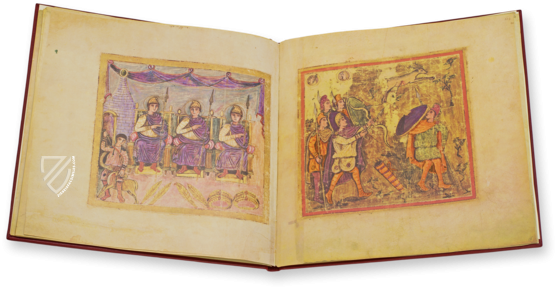 Vergilius Romanus
Rome (Italy) – Around 500
The bridge between the art of antiquity and the Middle Ages: Virgil's famous works in a Late Antique manuscript
Experience More
Blog articles worth reading