Piero della Francesca: Libellus de quinque corporibus regolaribus
Description
Piero della Francesca: Libellus de quinque corporibus regolaribus
Piero della Francesca, one of the primary representatives of early Italian Renaissance painting, concerned himself extensively with matters of perspective in his artistic work. His essay Libellus de quinque corporibus regolaribus addressed the theme of spatial geometry, both in textual and pictorial form. This work bridging mathematics and geometry still allows the modern reader to see and understand the great art of Piero della Francesca in a new way!
Piero della Francesca: Libellus de quinque corporibus regolaribus
Piero della Francesca (um 1420–1491) is considered to be one of the great masters of the early Italian Renaissance. He completed numerous panel paintings and murals in the service of the Duke of Urbino inter alia. The intensive treatment of perspective and geometry is clearly discernible in his art, which simultaneously made the painter an art theoretician.
A Document on Art Theory
One of the main artistic objectives of Piero della Francesca was the attempt to solve perspectival problems with the help of mathematics. It was for this purpose that he wrote a treatise on spatial geometry ca. 1480, known by the title Libellus de quinque corporibus regolaribus. This "booklet" is the Renaissance's first treatise on geometry, which was concerned with the construction and calculation of geometric figures. The extremely interesting text is furnished with numerous depictions of complicated geometric forms, tables, and calculations.
The Painter's Musings
A special specimen of this text is stored under the shelf mark Urb.lat. 632 in the Biblioteca Apostolica Vaticana. Piero della Francesca's treatise on geometry was written down by an anonymous scribe here, but is furnished with Piero's own drawings, corrections, and addenda. The treatise was additionally dedicated to Guidobaldo da Montefeltro, the Duke of Urbino
A Plagiarized Work
The fame of this great geometric treatise by Piero della Francesca is underscored by a curious anecdote: Fra Luca Pacioli published the work as his own in the 16th century, not in the original Latin, but in an Italian translation as a part of his writing on the Divina Proportione. It was Giorgio Vasari who finally discovered this plagiarism and once again attributed the Libellus to its actual writer, Piero della Francesca.
Codicology
Type

Origin

Date

1480–92

Epochs

Style

Language

Patron

Guidubaldo da Montefeltro, Duke of Urbino (1472–1508)

Artist / School

Piero della Francesca (ca. 1415–92) (author)
---
Available facsimile editions: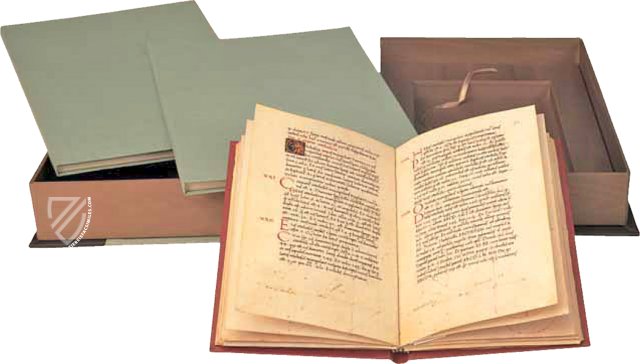 Giunti Editore
– Florence, 1995
Limited Edition:
998 copies
Facsimile Editions
#1

Piero della Francesca: Libellus de quinque corporibus regolaribus

Limited Edition:

998 copies

Binding:

Half-leather Solander box

Commentary:

1 volume by Cecil Grayson, Marisa Dalai Emiliani, and Carlo Maccagni
Language: Italian

1 volume: Exact reproduction of the original document (extent, color and size)

Reproduction of the entire original document as detailed as possible (scope, format, colors). The binding may not correspond to the original or current document binding.

Facsimile Copy Available!

Price Category: €€€
(3,000€ - 7,000€)
You might also be interested in: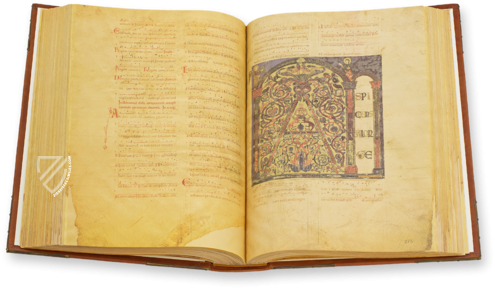 Liber Magistri
1146
An encyclopedia of the Middle Ages: over 900 pages addressing subjects such as history, liturgy, music, theater, occultism, medicine, and agriculture
Experience More
Blog articles worth reading