Calendarium
Description
This manuscript represents a number of firsts in the history of the book and thus represents a milestone in the development of printing in several respects. Additionally, it is the first book containing the work of Regiomontanus, a German mathematician and astronomer who made significant contributions to the development of both Copernican heliocentrism and the Gregorian calendar, which is still used today. The elegant humanist text of the work is adorned by various woodcuts including decorative initials as well as charts and tables for calculating the date. This codex is thus a precious specimen for both the history of printing as well as our ability to calculate the exact length of a year.
Calendarium
This is a historic incunabulum, a printed book predating 1501, and represents numerous firsts for book printing. It is the first work published by the Venetian printing house founded in 1476 by Bernard Maler, Peter Löslein (d. ca. 1487), and Erhard Ratdolt (1442 – 1528), the first book to be printed in Italy with woodcut initials printed alongside the text instead of leaving the space blank to be filled in later by an illuminator, and the first book to be dated using Hindu-Arabic numerals. Finally, it is the first book to feature a separate title page, along with an imprint specifying the place and date of its publication, and the names of its printers. The Calendarium by Johannes Müller von Königsberg (1436–76), better known as Regiomontanus, was first published in Latin and Italian in 1476, followed by a German edition in 1478. The work is adorned with various charts and tables concerning astronomy and the calculation of the calendar year, as well as engraved initials, which adorn the elegant humanist text.
Inspiration for Copernicus
Regiomontanus was one of the leading mathematicians and astronomers of his day and was among the intellectuals commissioned by Pope Sixtus IV (1414–84) to work on the Gregorian calendar. Although he died months after his arrival, his body of work continued to be useful after his death. Nicolaus Copernicus (1473–1543) later stated that Regiomontanus was a major influence on his own work. This codex is thus of tremendous value both for the development of book printing as well our understanding of the universe and our place in it.
Codicology
Size / Format

78 pages / 28.7 × 20.5 cm

Origin

Date

1476

Epochs

Style

Language

Illustrations

Some woodcuts, partially colored in yellow: Initials, borders, diagrams, illustrations and tables

Content

Calendar

Artist / School

Johannes Johann Müller of Königsberg (Regiomontanus) (author)
Bernard Maler (Pictus) (printer)
Erhard Ratdolt (printer)
Peter Löslein (printer)
---
Available facsimile editions:
Facsimile Editions
#1

Calendarium

Limited Edition:

3160 copies

Binding:

Parchment on wooden board. The facsimile edition comes in a cloth-lined presentation case with gold engraved leather spine.

Commentary:

1 volume
Language: Spanish

1 volume: Exact reproduction of the original document (extent, color and size)

Reproduction of the entire original document as detailed as possible (scope, format, colors). The binding may not correspond to the original or current document binding.
You might also be interested in: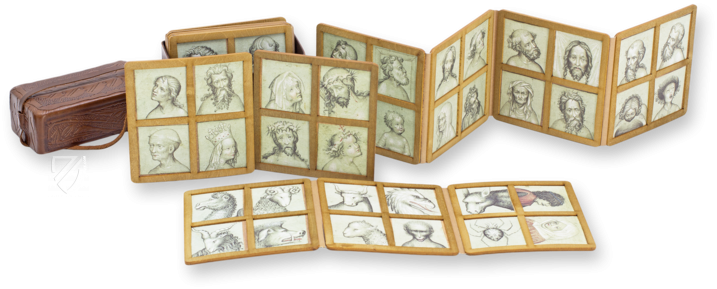 Vienna Model Book
Czech Republic; Austria – 1410–1420
A unicum of art history: 56 silverpoint drawings in the International Gothic style on small, hinged wooden panels
Experience More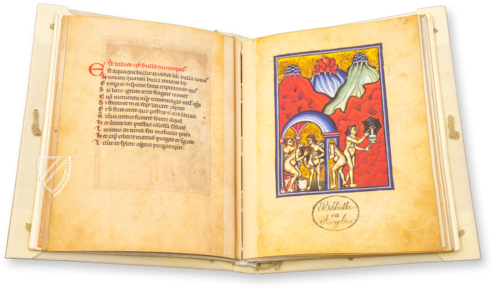 De Balneis Puteolanis
Naples (Italy) – Ca. 1250
Originally dedicated to Emperor Frederick II and the oldest surviving copy of a medieval guide to spas: Pietro da Eboli's treatise concerning the healing properties of hot springs with 18 beautiful Trecento miniatures
Experience More
Blog articles worth reading