Prayerbook of Georg II of Waldburg
Description
Prayerbook of Georg II of Waldburg
The Waldburg Prayerbook was created in 1476 for the Swabian nobleman Georg II von Waldburg (1430–82) and his wife Countess Anna von Kirchberg (ca. 1436–84). Like many other members of the House of Waldburg, Georg II was a Truchsess, a seneschal or steward ruling over Swabia during the absence of the Holy Roman Emperor. Two features of the German manuscript make it a rare treasure of illumination: first, it is one of the few ornately furnished prayer books written in the German language to survive today; second, is features an extremely comprehensive image program consisting of 46 exceptional miniatures; the Arma Christi is a consistent pictorial theme and the patron is also depicted several times in various states of dress, but always praying.
Codicology
Alternative Titles

Waldburg-Gebetbuch




Gebetbuch Georgs II. von Waldburg

Size / Format

122 pages / 17.5 × 13.2 cm

Origin

Date

1476

Epochs

Style

Genre

Language

Script

Gothic Textura

Illustrations

46 richly adorned and partly gilded and silvered miniatures; Countless decorated initials
---
Available facsimile editions:
Detail Picture
Prayerbook of Georg II of Waldburg
Christ's Coat of Arms
Flanked by Jesus bearing the wounds of the Crucifixion and the Virgin Mary, the crest of this shield consists of a golden helmet with the Crown of Thorns and the anointing Hand of God. It bears the Arma Christi or Instruments of the Passion, which are presented here as heraldic devices numbering nearly 20 in all: True Cross, pillar, rooster, whip, reed, Holy Lance, Holy Sponge, dice, Veil of Veronica, Peter's sword, hammer and nails, burial shroud and tomb, vessel of myrrh, and the heads of various figures of the Passion as well as the hand of Pontius Pilate.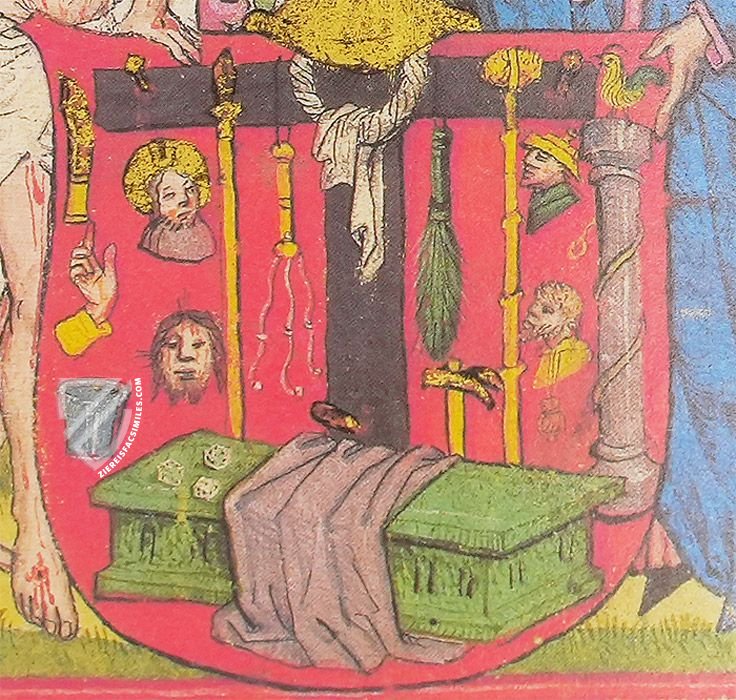 Single Page
Prayerbook of Georg II of Waldburg
Patron Portrait – Intercessory Prayer
Georg II von Waldburg appears several times throughout the manuscript and can be identified by his coat of arms – three black lions on a field of gold. Always depicted kneeling in prayer and bareheaded with curly brown hair, he is sometimes fashionably dressed as a courtier in all black with red shoes, sometimes clad in a golden suit of armor with a red sword at his hip. This miniature stresses the role of the Virgin Mary in Catholic theology as intercessor on behalf of those who pray to her.
Although in an open field, Georg has had the foresight to bring his own kneeler with him as though he were in church praying before an altar. The Virgin Mary looks to her son, who in turn kneels on a cloud before God the Father appearing as a crowned king with a scepter and globus cruciger. A white dove representing the Holy Spirit is perched next to God's ear as though it were giving counsel, and grisaille angels can be seen in the blue background of Heaven, which is separated from Earth by a rainbow.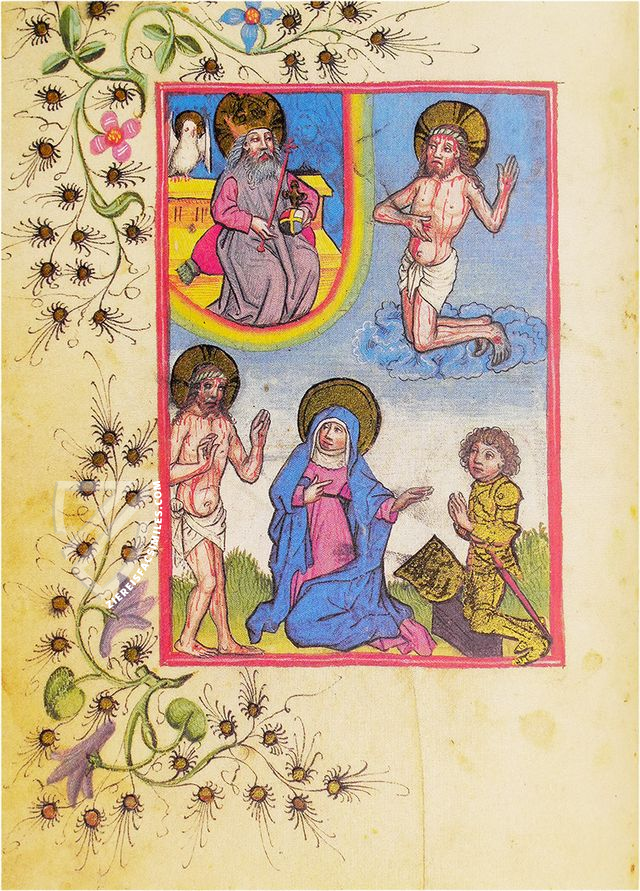 Facsimile Editions
#1

Waldburg-Gebetbuch

Limited Edition:

600 copies

Binding:

Tooled leather binding

Commentary:

1 volume by Hansmartin Decker-Hauff, Wolfgang Irtenkauf and Gerhard Konzelmann

1 volume: Exact reproduction of the original document (extent, color and size)

Reproduction of the entire original document as detailed as possible (scope, format, colors). The binding may not correspond to the original or current document binding.
You might also be interested in: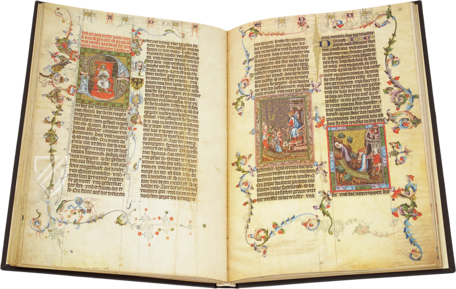 Wenceslas Bible
Prague (Czech Republic) – 1389–1400
Made in the famous Wenceslas workshop in Prague: a mammoth bible in German with 646 fantastic miniatures for the German emperor
Experience More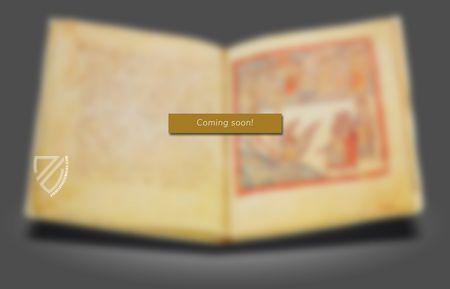 Wessobrunn Prayer
Diocese of Augsburg (Germany) – About 814
Bringing order into the chaos of the world: one of the oldest German texts as a description of the beginning of the world in verse form and as a model for subsequent medieval illuminators
Experience More
Blog articles worth reading