Saint Petersburg Book of Simple Medicines
FP. Fv VI #1
National Library of Russia (St. Petersburg, Russia)
Description
Saint Petersburg Book of Simple Medicines
The text of the Book of Simple Medicines was originally written by Mattheaus Platerius at the medical school of Salerno during the 12th century as a how-to manual for medicine as it was practiced in the Middle Ages. This fine manuscript was created in France during the early-15th century at the behest of Count Charles of Angoulême and his wife Louise of Savoy and is regarded as one of the most beautiful examples of late medieval book art. It was adorned by the illuminator Robinet Testard with 115 masterful miniatures. Aside from highly detailed and accurate illustrations of medicinal plants as well as some insects and animals, various labors such as harvesting herbs or mining for minerals are depicted with great realism. Testard's elegant, naturalistic, and delicately colored illustrations make this manuscript arguably the most beautiful specimen of Platerius' text, which was a cornerstone of medieval medicine.
Saint Petersburg Book of Simple Medicines
The medicine of the Middle Ages traces back to the knowledge of ancient scholars. Medicines made from plants and animals as well as mineral substances were used for the treatment of various sicknesses. The Book of Simple Medicines is a comprehensive how-to manual, which contains the information about the properties and compounds of natural medicine. The highly detailed work is decorated with an astonishing variety of beautiful book illustrations. It is one of the most noteworthy codices of medieval European art.
French Book Art
The codex originated from 15th century France and was produced for Count Charles of Angoulême and his wife Louise of Savoy. It consists of 5 book sections. These are concerned with plants and flowers, trees and resins, metals and minerals, animal products, and other materials. Following these explanations is a collection of 115 outstanding miniatures. The French text is based on the Latin explanations of the physicist Mattheaus Platerius, De medicinis simplicibus. In the 12th century, he compiled one of the most influential medical how-to manuals, which was translated into various languages during the Middle Ages. This treatise was enlarged with new findings in the French book of medicines.
Characteristic Painting
The breath-taking miniatures of the book were very likely produced by the master Robinet Testard. The artist almost never signed his works, which complicates an unambiguous assignment. To be sure, Testard was employed at the court of Count Charles of Angoulême as a princely valet of the family at the end of the 15th century. The depictions show the botanical, faunal, and mineral substances and sometimes the persons for whom the use of these medicinal substances were intended. Sometimes the scenes were ennobled with elements of gold leaf. This artistically valuable treatise about the medicine of the Middle Ages is counted among the most beautifully illuminated manuscripts of the French Renaissance. Today the original edition of the document is found in the Russian National Library in St. Petersburg.
Codicology
Alternative Titles

Libro de los Medicamentos Simples




Livre des Simples Médecines




Libro delle Medicine Semplici




Buch der einfachen Heilmittel




Libro delle Medicine Semplici




Livro dos Medicamentos Simples




Book of Simple Medicines

Size / Format

340 pages / 35.5 × 26.0 cm

Origin

Date

Late 15th century

Epochs

Style

Illustrations

386 miniatures

Patron

Count Charles of Angoulême (1459–1496) and his wife Louise of Savoy (1476-1531)

Artist / School

Matthaeus Platearius, a 12th Century physician from the medical school at Salerno (author)
Robinet Testard (1470–1531) (illuminator)
---
Available facsimile editions:
Detail Picture
Saint Petersburg Book of Simple Medicines
Frog
Among the elegant and artful depictions of various flowers with medical applications, we find this naturalistic illustration of a sweet-looking frog. These amphibians are an important part of the ecosystem and possess cultural importance across the world. In folklore, frogs are used as metaphors for those possessing hidden talents in spite of their appearance. Medieval theologians distinguished between land and water frogs, regarding the former as righteous while the latter were sinful.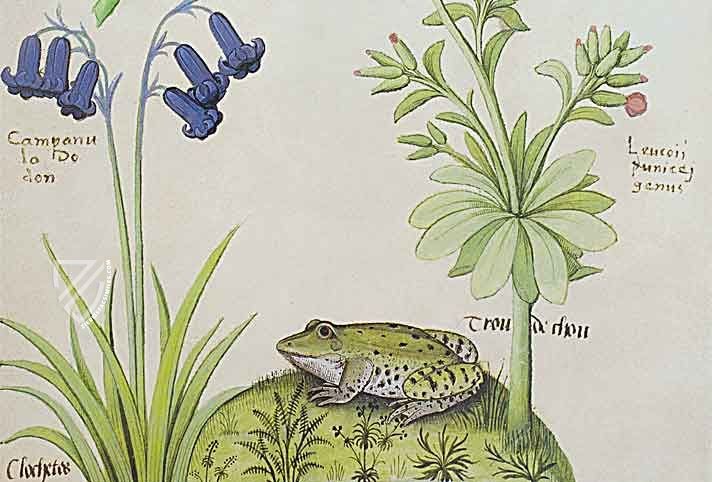 Single Page
Saint Petersburg Book of Simple Medicines
Obtaining Aloe, Gold, Alum, and Antimonite
Robinet Testard's masterful medical handbook is not only concerned with botanical medicines, but with the use of animal and mineral substances as well. The work includes depictions of how these substances were obtained, such as in the four scenes presented here.
Three of these images show men digging for various mineral substances, but the fourth in the upper-eft corner is odd: it appears to show a man fishing for sticks in a river. Using a net on a long pole, the man is acquiring "Aloe", but this term should not be confused with the genus of succulent plants, but rather a resin made from saturated wood, probably agarwood, also known as aloeswood. It has been mentioned in medical texts as old as the 1st century Materia Medica by Dioscorides.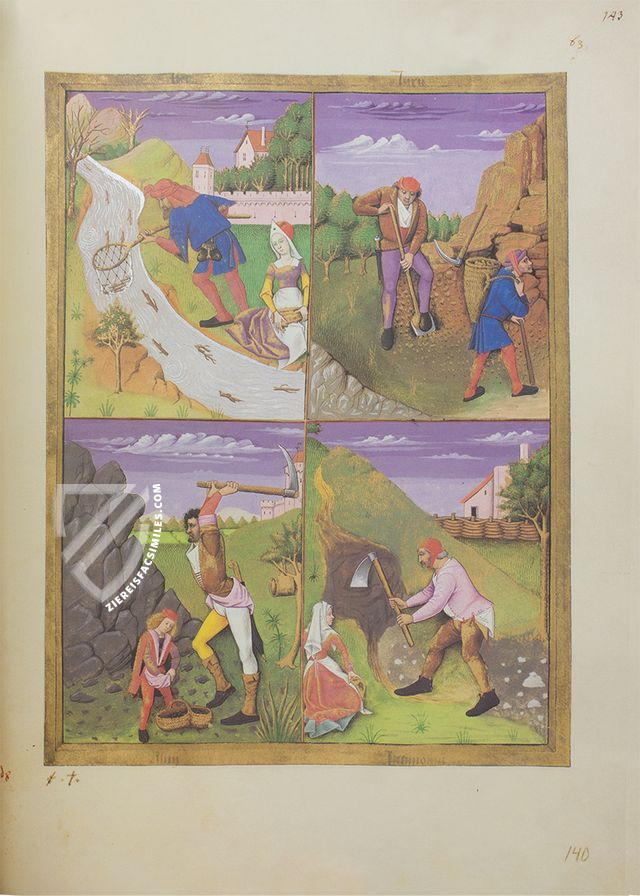 Facsimile Editions
#1

Libro de los Medicamentos Simples

Limited Edition:

987 copies

Binding:

Brown leather with gold décor Protected by a brown leather case

Commentary:

1 volume by José María López Piñero, Natacha Elaguina, Carlos Miranda, María Luz López Terrada, and Anne Barton de Mayor
Languages: Spanish, English

1 volume: Exact reproduction of the original document (extent, color and size)

Reproduction of the entire original document as detailed as possible (scope, format, colors). The binding may not correspond to the original or current document binding.