Hours of Charles of Angoulême
Description
Hours of Charles of Angoulême
The Hours of Charles of Angoulême was made by the French court painter Robinet Testard in 1485. It was a personal work by the artist for his superiors, with whom he enjoyed a good relationship. It contains 38 thrilling pictorial scenes in lively colors. At least one of the work's miniatures was painted by the famous master Jean Bourdichon, and 16 prints by Israhel van Meckenem the Younger were incorporated into the image program, making this a rare hybrid codex.
Hours of Charles of Angoulême
Books of hours were probably the most popular type of book in the Late Middle Ages. The illuminated manuscripts were produced for private devotion and prayer and were especially prevalent among the rich, literate nobility. The codices enjoyed their golden age in the 14th and 15th centuries. The works by French illuminators were especially coveted and were templates for other European artist studios. The Hours of Charles of Angoulême is one of these French manuscripts. It contains 38 splendid, full-page miniatures and is the most valuable manuscript by the illuminator Robinet Testard. Aside from contributions by other leading masters, the décor also includes printed materials, making it a rare hybrid work.
The Count of Angoulême
Charles of Angoulême (1459–96) was descended from the Valois dynasty. He was Count of Angoulême since 1467 and had two children, named Margarete and Francis, with his wife Anne de Beaujeau. Francis was crowned King Francis I of France in the year 1515. Charles of Angoulême was an enthusiastic art lover. During his reign he lived mostly at his chateau in Cognac , where he operated as patron of numerous artists. The illuminator Robinet Testard was among his most trusted.
The Court Painter Robinet Testard
Robinet Testard was an ingenious illuminator who never signed his works. As a result, his works are not always easy to attribute to him. Nevertheless, it is documented that the artist was employed at the court of the family of Angoulême from 1484 to 1496. He not only produced some of his most impressive illuminated codices here, but also worked as a valet for the family. Such an appointment only came to those who stood in high favor with the ruling family. The book of hours for Charles of Angoulême is the most personal manuscript by Testard.
Surprising Originality
The book of hours indicates Testard's boundless imagination. The miniatures of the work show exotic landscapes and botanical elements, as well as lively human and animal figures. They illustrated themes from mythology and religion in characteristic fashion. The painter brings his exciting illustrations to life with an intense, vivacious atmosphere. At least one miniature was also contributed by arguably the greatest French book master, Jean Bourdichon. The manuscript contains another special artistic feature because not all of the miniatures are what they appear: 16 prints by Israhel Israhel van Meckenem the Younger (ca. 1445–1503) were pasted onto the parchment and overpainted. This makes the manuscript a rare fusion of new printed art forms and established manuscript art. The valuable original edition of the manuscript is found today in the French National Library in Paris under the shelf mark Lat. 1173.
Codicology
Alternative Titles

Libro de horas de Carlos de Angulema




Stundenbuch von Karl von Angoulême




Libro d'Ore di Carlo d'Angoulême




Les Heures de Charles d'Angoulême




Livro de horas de Carlos de Angulema

Size / Format

230 pages / 21.5 × 15.5 cm

Origin

Date

Around 1485

Epochs

Style

Genre

Language

Script

Gothica bastarda

Illustrations

38 full-page miniatures
floral borders

Artist / School

Robinet Testard (illuminator)
Jean Bourdichon
Israhel van Meckenem

Previous Owners

Charles, Count of Angoulême (the father of Francis I of France)
---
Available facsimile editions: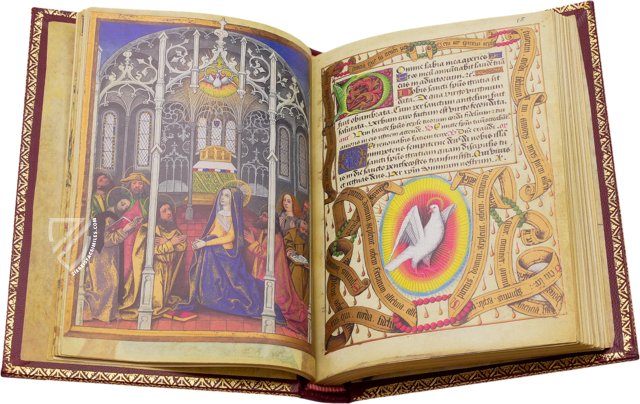 M. Moleiro Editor
– Barcelona, 2014
Limited Edition:
987 copies
Facsimile Editions
#1

Libro de horas de Carlos de Angulema

Limited Edition:

987 copies

Binding:

Red leather with gilt border

Commentary:

1 volume by Maxence Hermant and Séverine Lepape
Language: Spanish

1 volume: Exact reproduction of the original document (extent, color and size)

Reproduction of the entire original document as detailed as possible (scope, format, colors). The binding may not correspond to the original or current document binding.
You might also be interested in: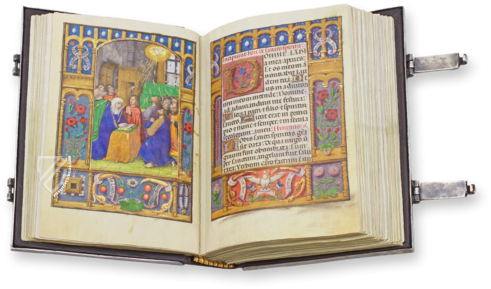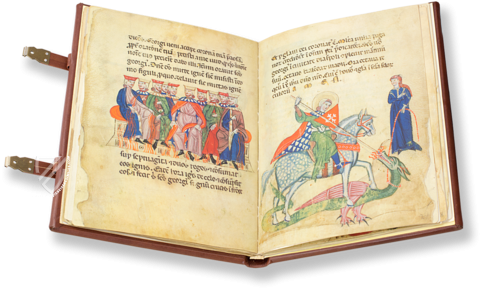 Prayer to the Virgin
Verona (Italy) – Second half of the 13th century
A 13th century illuminated codex from Verona: the life of the Blessed Virgin and various saints in captivating pictures
Experience More
Blog articles worth reading