Sample of German Poems
Description
A Märe is a Middle High German verse narrative from the 13th-15th centuries, which aims to entertain its reader in a farcical or instructive manner. The Innsbruck Codex is a rare manuscript anthology containing 32 fairy tales that reflect the taste of the aspiring middle class in the late 15th century. Konrad von Würzburg, Konrad von Stoffeln, Rüdiger von Hinkhofen, and the "Stricker" are included among the 13th century authors. The Innsbruck Codex contains, for example, the Stricker's Märe von den drei Wünschen. In it, an impoverished couple carelessly handles three wishes granted by God, yet still cannot get out of their poverty and in retrospect feel it is all the worse because they now experience the hardship as self-inflicted. In addition to the fairy tales, there are other genres of rather entertaining, secular literature that correspond entirely to late medieval preferences.
Sample of German Poems
The Innsbrucker Codex is an important collective manuscript of a medieval short epic. It is exceptional for the story analysis, a significant source because it is the youngest collection of poems of this kind to have been made. Besides the 32 tales (u. a. Konrad von Werzburg, the Stricker, Ruediger von Hinkhofen) the manuscript also contains fables and parodies from spiritual literature. Altogether, this manuscript represents a worldly collection of entertaining stories mirroring the taste of the middle-class during the Middle-Ages.
A Vital Research Source
In terms of literary analysis, the manuscript is not only interesting due to the numerous illustrations found within (which correspond to the style of a "people's manuscript" (H.Wegner) with clear details given so that these poems would be easily understood in these times), but also because few illustrated stories have been preserved from this time period. In the second part of the manuscript, where the collection was to be added onto blank sheets, one finds the second important duplication of "Gauriel von Muntabel" by Konrad von Stoffeln, whose ending is unfortunately missing. This transcript is worthy of note regarding the history of literature because here Konrad tries to shorten his epic in comparison to the older version in the Donaueschinger Manuscript.
Codicology
Alternative Titles

Innsbrucker Codex




Sammlung kleinerer deutscher Gedichte

Size / Format

228 pages / 29.5 × 21.0 cm

Date

Around 1456

Epochs

Style

Genre

Language

Illustrations

51 coloured pen-and-ink drawings
---
Available facsimile editions:
Facsimile Editions
#1

Sammlung kleinerer deutscher Gedichte

Commentary:

1 volume (60 pages) by Norbert R. Wolf
Language: German

1 volume: Exact reproduction of the original document (extent, color and size)

Reproduction of the entire original document as detailed as possible (scope, format, colors). The binding may not correspond to the original or current document binding.
You might also be interested in: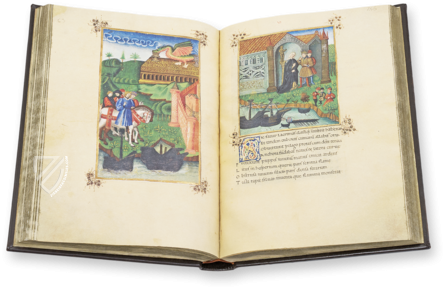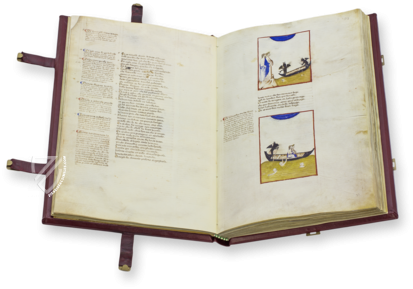 Divine Comedy - Gambalunga Manuscript
Venice or Bologna (Italy) – 1392–1393 or 1399–1400
A masterpiece of the Italian Trecento: the Dante manuscript illuminated by Cristoforo Cortese, the most important Venetian illuminator of the late Gothic period
Experience More
Blog articles worth reading