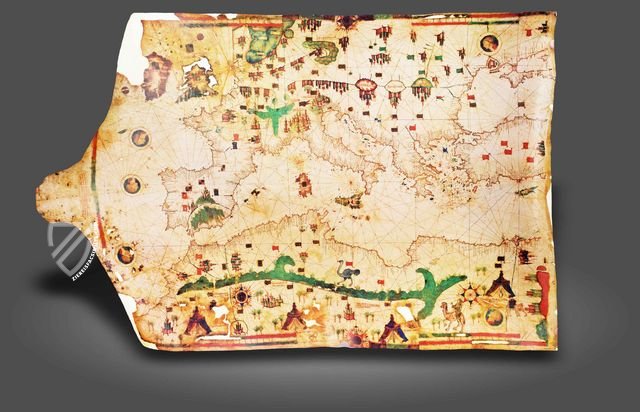 Sea Map of Iehuda Ben Zara
Alexandria (Egypt) — 1497
The largest surviving portolan chart in the world originated ca. 1407 in Alexandria

The most famous Egyptian geographer of the Renaissance, Lehuda ben Zara, used high quality colors and gold leaf

The map shows the Mediterranean with precision that is still quite amazing today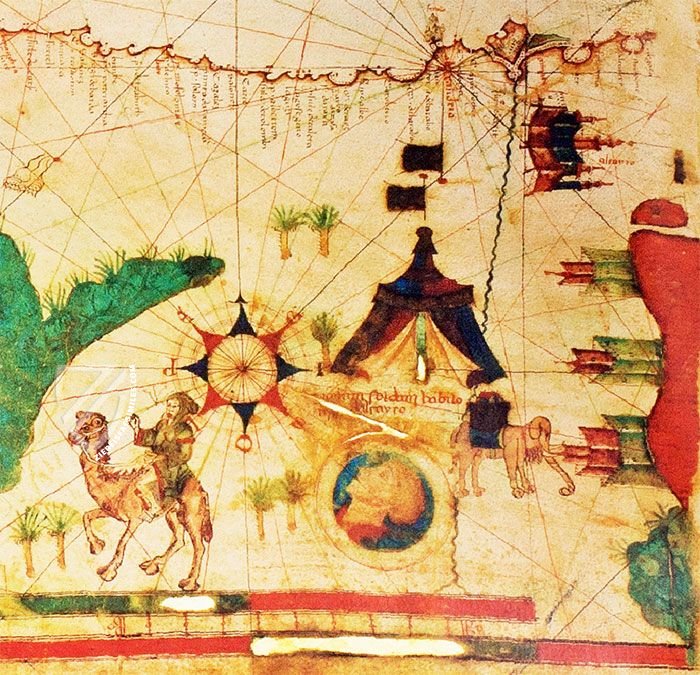 Sea Map of Iehuda Ben Zara
Alternative Titles:
Sea Chart of Iehuda Ben Zara
Seekarte des Iehuda ben Zara
Short Description
The Sea Map of Lehuda Ben Zara was produced in Alexandria in 1497. It is the largest surviving portolan chart in the world. Important nautical information was recorded here in various colors. The master adorned the highly valuable chart additionally with elements of gold leaf.
Sea Map of Lehuda Ben Zara
The term "portolan" originally indicates a book with nautical information such as landmarks, light houses, currents, and harbor conditions. The employment of this term is first documented in the year 1285. From the 16th century on, the meaning of this term was expanded and henceforth included not only the text of the work, but also the accompanying sea charts. Today the specialized sea charts denote a specific type as "portolan charts." An example of this is the Sea Map of Lehuda Ben Zara. The colorful and gold-adorned chart** is one of the most valuable maps in the Vatican Library today.
A Masterwork of Nautical Science
The Sea Map of Lehuda Ben Zaraarose ca. 1497 and is the largest portolan chart still in existence. The rare chart was painted with the utmost precision on the skin of a single animal. It shows the world, as it was known by the educated of the Renaissance. A primary feature is the visible network of lines that aided maneuvering by means of a compass. Dangerous passages were highlighted by the chart and commented on with inscriptions like "Pay Attention!" or "Eyes Open!" The sea map bespeaks the high aptitude of the master, who worked unbelievably accurately and realistically without the aids and appliances of our modern technology.
High Quality Embellishment
Lehunde Ben Zara is probably the most famous Egyptian geographer of the Renaissance. He made his sea map in Alexandria, a cultural stronghold of Egypt. He employed high quality colors and gold leaf. Embarkation points are registered in various colors. Thus the commercial significance of the respective ports was indicated. The cardinal directions are recorded with black ink. He differentiated between various wind currents, which were drawn with the help of green and red lines. As a result he retained a traditional coloration that remained unchanged for many centuries.
Codicology
Alternative Titles

Sea Chart of Iehuda Ben Zara




Seekarte des Iehuda ben Zara

Type

Size / Format

1 map / 92.5 × 67.0 cm

Origin

Date

1497

Epochs

Style

Genre

Language

Content

Portolan map emphasizing the mediterranean area

Artist / School

Author: Iehuda ben Zara
1 available facsimile edition(s) of "Sea Map of Iehuda Ben Zara"
Seekarte des Iehuda ben Zara Facsimile
Seekarte des Iehuda ben Zara Facsimile
1 volume: Exact reproduction of the original document (extent, color and size)
Publisher

Belser Verlag – Zurich, 1983

Commentary

1 volume by Arthur Dürst
Language: German

More Information

Reproduction of the entire original document as detailed as possible (scope, format, colors). The binding may not correspond to the original or current document binding.
Matching Works
Atlas of Borso d'Este
Based on the knowledge of Claudius Ptolemy: one of the most magnificent cartographic works of the Renaissance for one of the richest princes of his time
Experience More
Matching Background Articles
Geography / Maps

Most of what you know about world and how you perceive geography is based on maps you have seen. Medieval maps likewise...

Experience more

Renaissance

What does the word "Renaissance" bring to mind for you? Art, science, and culture of course! It was a "rebirth" and...

Experience more

15th Century

Come and explore an age of stark contrasts as Europe comes back from the brink: calamities like the Fall of...

Experience more