Sketchbook of Francesco di Giorgio Martini
Description
Sketchbook of Francesco di Giorgio Martini
The Sketchbook of Francesco di Giorgio Martini was written between 1464 and 1478 in Urbino, Italy, and is probably the most important and informative treatise on Renaissance architecture that has survived to this day. It contains over 1,200 drawings and designs of various technical constructions and building projects and thus resembles a detailed record of the most important architectural achievements of the Italian sculptor, painter and architect. While he himself was probably in contact with Leonardo da Vinci, among others, his own work influenced countless other master builders and architects of the Renaissance. Di Giorgio's sketchbook is thus not only an important testimony to the technology of the Renaissance period, but also to the networks among artists, master builders and scholars. Today, the small-format manuscript is kept with many other book treasures in the Vatican Library.
Sketchbook of Francesco di Giorgio Martini
In Renaissance Italy there arose a few historical sketchbooks with drawings, which were indispensable for the most important architects, engineers, and technicians of that time. The sketchbook of the Renaissance man Francesco di Giorgio Martini is an extraordinary example thereof. It contains over 1,200 drawings and countless technical constructions and architectural projects. The work arose between 1464 and 1478 and is probably the most famous tractate worldwide about the architecture of the Renaissance.
The Master Francesco di Giorgio
Francesco di Giorgio Martini (baptized September 23, 1439, † 1501 ibid.) was an Italian sculptor and painter, who also worked as an architect and theoretician of architecture. He received his education in painting from the famous master Vechietta in Siena. Starting in 1478, he was trusted with the completion of the Palazzo Ducale in Urbino. At this time he also designed various fortifications at the behest of Federico da Montefeltro. He designed the model for the cupola of the cathedral in Milan, which was implemented in 1493 by the master builder Giovanni Antonio Amadeo. Di Giorgio was rumored to have invented the mine during the siege of Naples in 1495. Furthermore, he was in contact with Leonardo da Vinci, who clearly influenced the painter and architect in his work. Di Giorgio, a man of many talents, is counted among the most important Renaissance artists of Italy.
An Astounding Treatise on the Art of Construction
The extensive sketchbook is, in a manner of speaking, a log of the most important construction projects of di Giorgio. It contains sketches and drawings of his most interesting projects, which were intended both for times of war as well as times of peace. He drew designs of mechanical weaponry, trenches and fortifications, scoop wheels and man lifts, ships and catapults. His inventiveness was immeasurable. The images and the text of the work are monochromatic. The richly detailed book precisely explains the art of construction and technology of the Renaissance. No other tractate about architecture at this time is nearly as insightful.
Codicology
Alternative Titles

Skizzenbuch des Francesco di G. Martini




Skizzenbuch des Francesco di Giorgio Martini




Francesco di Giorgio Martini, Taccuino




Model Book of Francesco di Giorgio Martini

Size / Format

400 pages / 8.5 × 6.0 cm

Origin

Date

1464–1478

Epochs

Style

Language

Illustrations

More than fascinating 1200 sketches (ships, catapults and many more)

Artist / School

Francesco di Giorgio Martini (1439–1501)
---
Available facsimile editions:
Detail Picture
Sketchbook of Francesco di Giorgio Martini
Water Supply for a Castle
This sketch shows a castle, which needs a steady supply of clean water, with a curtain wall and towers sitting upon a hill and is set in a mountainous landscape in the distance. It is supplied with water by a pipe leading across a bridge and over a river that originates in the mountains – undoubtedly modelled on the Roman aqueducts. A pipe is shown leading from a lake, likely employing a gravity-based pump before being drawn through a filter full of sand or a similar material.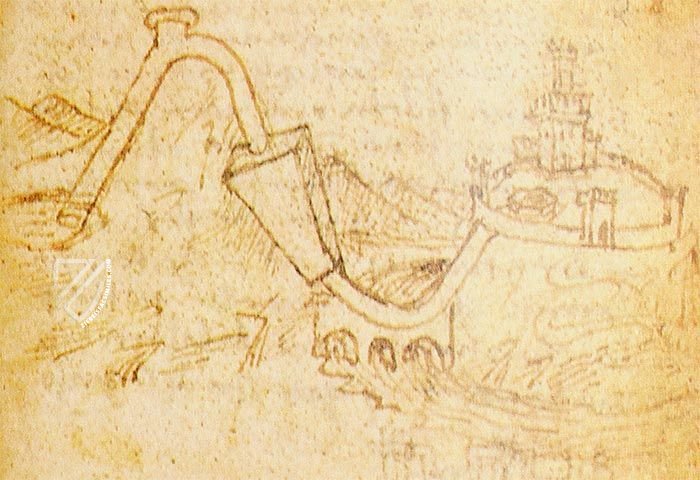 Single Page
Sketchbook of Francesco di Giorgio Martini
Designs for Gear-Driven Devices
In an age when progress relied on strong backs and arms, being able to harness energy with machinery was tremendously valuable for a community. Whether driven by water or later by wind, such innovations freed up labor for other economic activities. These are designs for various mechanisms that medieval Europeans used to mill grain, power bellows for an iron forge, pump water, and more.
In the lower-right hand corner, we see a mechanism powered by a water wheel, which is fed by a so-called headrace from a mill pond – a technology that was used throughout antiquity and the Middle Ages. Above it, we see a screw mounted on a rolling platform that would have been used to drill into the ground, probably for water wells.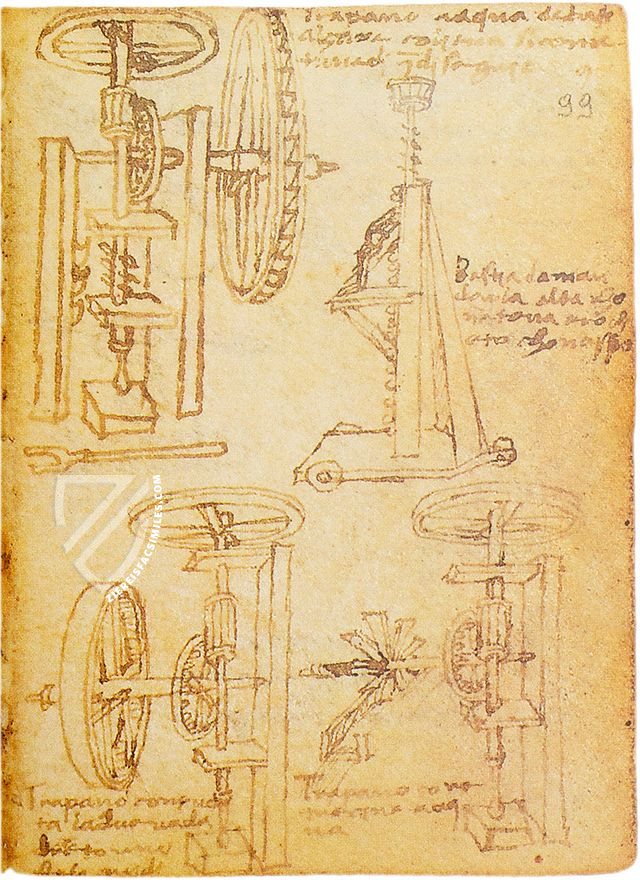 Facsimile Editions
#1

Skizzenbuch des Francesco di G. Martini

Limited Edition:

2980 copies

Binding:

Brown leather with two clasps

Commentary:

1 volume (48 pages) by Luigi Michelini Tocci
Language: German

1 volume: Exact reproduction of the original document (extent, color and size)

Reproduction of the entire original document as detailed as possible (scope, format, colors). The binding may not correspond to the original or current document binding.

Facsimile Copy Available!

Price Category: €
(under 1,000€)