Treatise of Architecture and Machinery of Juan de Herrera
Description
Treatise of Architecture and Machinery of Juan de Herrera
King Philip II of Spain was a great patron of the arts and the most famous and impressive work associated with him is the royal palace and monastery of El Escorial, which is the largest Renaissance building in the world and was finished in 1584. Work on the giant complex was begun in 1563 under the direction of Juan Bautista de Toledo, but when he died four years later, the project was handed over to his apprentice, Juan de Herrera. In order to make this and other building projects more understandable for the King, the architect wrote a treatise in the tradition of the Roman author, architect, and civil and military engineer Vitruvius explaining various principals of structural and mechanical engineering, such as the use of pulleys. It was written sometime between 1567 and 1577 while construction on El Escorial was still ongoing.
Treatise of Architecture and Machinery of Juan de Herrera
The Spanish architect Juan de Herrera, royal architect and counselor to Philip II, is known not only for his famous construction project, the monastery and palace complex of El Escorial near Madrid, but was also active as a scientist and scholar in the fields of mathematics, philosophy, and others, in addition to composing more treatises. His Treatise of Architecture and Machinery is a special specimen, with whose help the famous architect was able to teach his king the operating principles of machines.
The Architect of the Spanish King
Beginning in 1563, King Philip II (1527–1598) commissioned the construction of Spain's El Escorial, a royal monastery dedicated to Saint Lawrence. Today, the El Escorial palace and monastery counts among the most important sites in Spain and impresses with its gigantic size and austere reticence of the Renaissance architecture. Juan de Herrera (ca. 1530–1597) took over the building project in 1563 from Juan Bautista de Toledo, and directed the work until its completion in 1584, his visions lent El Escorial its distinctive appearance.
An Instructive Text
Juan de Herrera composed a treatise on architecture and machines in order to make the various building projects more understandable for the King, who supported the construction of the St. Lawrence Monastery with his heart's blood. Probably originating between 1567 and 1577, alongside the theoretical part, it contains seven pages with drafts along with interesting scientific explanations. In this way, for example, the function of pulleys is demonstrated as they would have been employed in the construction of the royal monastery complex. The only signed drawing by the Spanish architect to survive can be found among them. Dedicated to the King, the treatise explains the complex mechanical processes related to architecture in a descriptive manner. With this formula, Juan de Herrera's document stands in the tradition of Vitruvius, who also employed mechanics in his architectural teachings. Based on geography and natural philosophy, Herrera sought to make the fundamental principles of wondrous machines understandable. The treatise is a grandiose essay of both the architecture and – in the modern sense – engineering of the 16th century.
Architect and Scientific
Herrera's treatise is stored today in the Archivo General in Simanca. The significance of the author not only as a royal architect, but also as a counsellor of the King in all scientific and technical matters, has not been lost today. Nonetheless, his role as a scholar and a scientist – he owned a large library with countless scientific essays – cannot be overestimated and the Treatise of Architecture and Machinery is considered to be an impressive example thereof.
Codicology
Alternative Titles

Tratado de Arquitectura y Máquinas de Juan de Herrera




Das Traktat der Architektur und der Maschinen von Juan de Herrera




Traité d'Architecture et de Machines de Juan de Herrera




Trattato di Architettura e Macchinari di Juan de Herrera




Tratado de Arquitectura e Máquinas de Juan de Herrera

Origin

Date

Probably 1575

Epochs

Style

Illustrations

7 diagrams

Patron

King Philip II of Spain (1527–98)

Artist / School

Juan De Herrera (ca. 1530–97)
---
Available facsimile editions: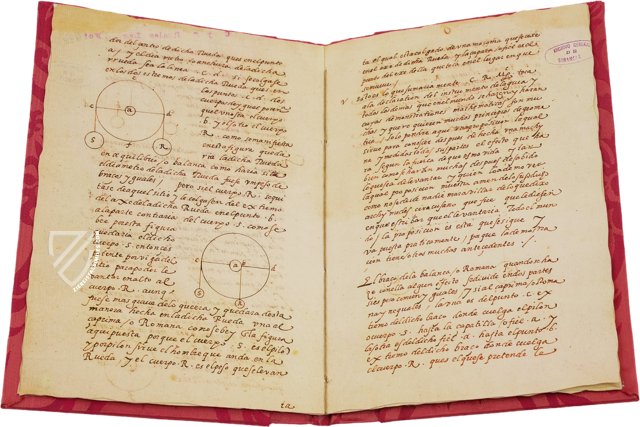 Patrimonio Ediciones
– Valencia, 1996
Limited Edition:
979 copies
Detail Picture
Treatise of Architecture and Machinery of Juan de Herrera
Evidence of a Broken Pen
The author's otherwise clear and elegant handwriting is marred by an ink blot, likely the result of a broken pen. Mistakes such as an ink blot remind us that manuscripts were not merely printed one day but were works in progress spanning months or years. While an incomplete miniature offers us insights into the process of their creation, all this ink blot tells us is that Juan de Herrera might have been in a rush that day and pressed the tip of his pen too hard into the parchment.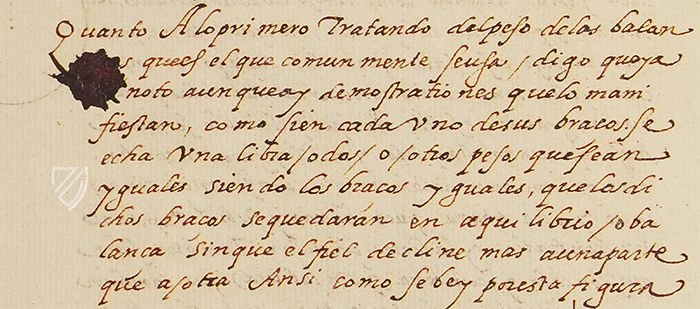 Single Page
Treatise of Architecture and Machinery of Juan de Herrera
Torque
The concept of torque first emerged with the Greek polymath Archimedes of Syracuse, considered to be one of the greatest mathematicians of all time, when he was working with levers. Simply put, torque is the rotational equivalent of linear force, so rather than being a matter of push and pull, torque is the twisting force around a specific axis.
This page shows scenarios involving torque in which levers of unequal length are brought into balance with one another with the help of clearly drawn and labelled diagrams, which are incorporated into the text without being crowded by them. They show the relationship between the length of a lever and the position of its fulcrum, the same basic principle that governs the transmission of a car.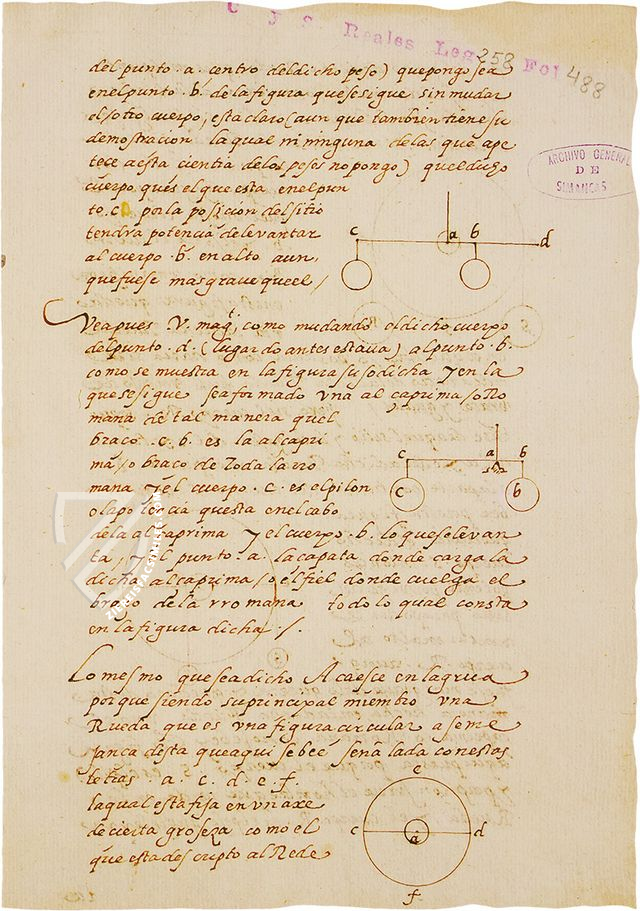 Facsimile Editions
#1

Tratado de Arquitectura y Máquinas de Juan de Herrera

Limited Edition:

979 copies

Binding:

Red silk binding

Commentary:

1 volume (122 pages) by Luis Cervera Vera
Language: Spanish

1 volume: Exact reproduction of the original document (extent, color and size)

Reproduction of the entire original document as detailed as possible (scope, format, colors). The binding may not correspond to the original or current document binding.
You might also be interested in: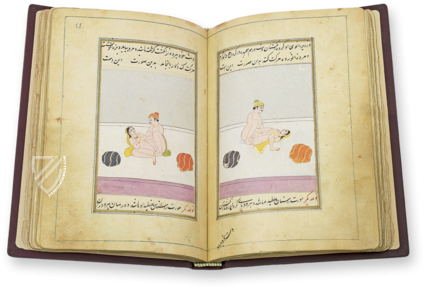 Ladhdhat al-nisâ - Pleasure of Women
Near East – 18th century
Inspired by ancient Indian texts and beautifully illuminated with 51 miniatures: a Persian treatise on the (sensual) nature of women, the art of love, and advice on how to enhance pleasure
Experience More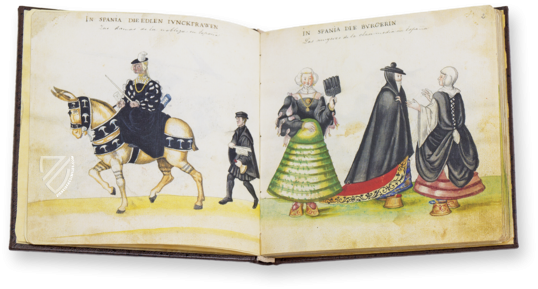 Codex of Costumes
Germany – Ca. 1546–47
Created to illustrate his world empire to the Emperor: the many peoples of Emperor Charles V's vast world empire, upon which the sun never set, and their fashions
Experience More
Blog articles worth reading