Madrid Codices
Description
The Madrid Codices are a two-volume collection of pages, notes, sketches, and drawings by the Italian Renaissance artist Leonardo da Vinci. The works originated between 1490 and 1505. The precious manuscripts show some sketches and designs, which significantly influenced the architecture and technology of our time.
Madrid Codices
"Read me, reader, if it pleases you, for I rarely return to this world." With this sentence ends the first volume of the so-called Madrid Codices by Leonardo da Vinci. The greatest artist and scholar of the Renaissance composed two codices, which treated the entire spectrum of his interests. The manuscripts concerned themselves with painting, geography, mechanics, mathematics, geometry, weapons technology, and architecture. The first volume of the manuscript contains 384 pages and the second 316 pages. The pages show a number of notes, sketches, and drawings by the great Renaissance artist.
A Treasure of the Spanish National Library
Both manuscripts by Da Vinci get their name from the location where they are housed today. After Da Vinci's death, his student Francesco Melzi inherited the valuable document. This he in turn left to his son Orazio, who sold it to the wealthy sculptor Pompeo Leoni ca. 1590. The path of the volumes into the possession of the Biblioteca Nacional in Madrid is still unclear. Although it was known since the 19th century that the codices were in Madrid, they remained undiscoverable until the end of the 1960's. The American Professor of Romance Studies, Jules Piccus, uncovered both of the precious manuscripts by a lucky coincidence while conducting literary research in the Spanish National Library in February of 1967.
A Glimpse into the Conceptual World of Da Vinci
The first Madrid Codex is dated in the time period from 1490–99, the second from ca. 1503-05. Leonardo composed the text in his characteristic mirror writing and was furnished with numerous depictions and sketches. Found among these is also the design of the bridge for the crossing of the Golden Horn, a bay at the Bosporus in Turkey. In the Norwegian locality of Ås, the Leonardo-Da-Vinci-Bridge was erected in the year 2001 as a footbridge. Another drawing shows the draft of a gearbox. The engineer and Da Vinci expert Roberto Guatelli presumes that is a detailed design of a counting mechanism. Therefore, it is probably dealing with the first calculator in world history.
Codicology
Alternative Titles

I Codici di Madrid




Manuscritos Leonardo da Vinci - Codex Madrid




Códex Madrid




Codex Madrid I (Ms. 8937) "Tratado de estática y mecánica"




Codex Madrid II (Ms. 8936) "Tratado de fortificación, estática y geometría"




Madrider Codizes

Type

Size / Format

2 volumes: Code× Madrid I: 384 pages Code× Madrid II: 316 pages / 21.0 × 15.0 cm

Origin

Date

1490–1505

Epochs

Style

Language

Content

Volume I: Principles of mechanics and its fields of application
Volume II: Urban planning tasks such as fortifications and sewer systems

Artist / School

Leonardo da Vinci (1452–1519)
---
Available facsimile editions:
You might also be interested in: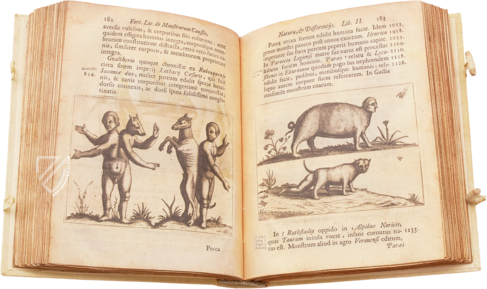 Forster Codices
Italy – 1493–1505
Three of Leonardo da Vinci's private notebooks: the personal, autobiographical notes and spontaneous thoughts of one of the greatest geniuses in human history
Experience More
Blog articles worth reading