Codex Hammer
Description
This artifact from Leonardo da Vinci's written legacy gives us intimate knowledge of him as a student of nature. The so-called Codex Hammer, also known as the Codex Leicester, is comprised of notations concerning all aspects of the perception of nature, e.g. the water currents or astronomical studies. The American oil tycoon Armand Hammer leant the codex his name before Bill Gates acquired the treasure for his collection.
Codex Hammer
The Codex Hammer, also known as the Codex Leicester, is a coveted collector's item: named after the oil tycoon Armand Hammer, this treasure was acquired in 1994 by Bill Gates and is stored in the Bill Gates Collection in Seattle. The codex contains some indispensable texts for Leonardo research.
Personal Notes and Unbelievable Sketches
The so-called Codex Hammer is a unique artifact from the written legacy of Leonardo da Vinci (1452–1519). Originating from the years 1508–1510, the compendium of texts as it exists today was presumably compiled by Leonardo himself. The codex consisted of 72 pages in the format of 29 x 22 cm and was appended with a single sheet with character studies, named the Hammer 20. This is purely a notebook, in which Leonardo recorded his thoughts and research, as well as a sketchbook: 359 drawings in the margins and text adorn the codex.
Water, Moon Phases, and Fossils
The Codex Hammer gives an incomparable inside look into the genius of Leonardo da Vinci. The focus here lies in particular on Leonardo's natural perception of nature, which is observable in the backgrounds of his paintings. The codex handles numerous aspects of cosmology, from geology to astronomy to meteorology. Alongside the depiction and description of a storm over Lago Maggiore and a few notes from Leonardo's impressions of his sojourns in Tuscany and Lombardy, the element of water as an object of study plays a special role here. Fascinating depictions of currents and bodies of water in comparison with the flowing hair allow us to trace Leonardo's exact observations.
Codicology
Alternative Titles

Il Codice Hammer




Codex Leicester




ex-Codex Hammer

Type

Size / Format

72 pages / 29.0 × 22.0 cm

Origin

Date

1508–1510

Epochs

Style

Genre

Language

Illustrations

350 marginal and textual illustrations

Artist / School

Leonardo Da Vinci (1452 – 1519)

Previous Owners

American oil-tycoon Armand Hammer (1898-1900)
---
Available facsimile editions: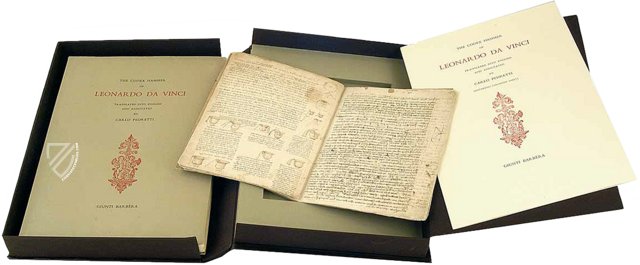 Giunti Editore
– Florence, 1987
Limited Edition:
998 copies
---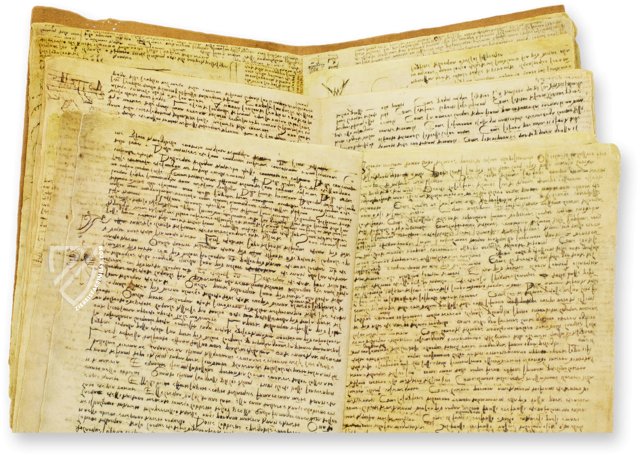 Collezione Apocrifa Da Vinci
– Naples, 2013
Limited Edition:
499 copies
Facsimile Editions
#1

Il Codice Hammer

Limited Edition:

998 copies

Binding:

Printed on handmade paper and bound in Fabriano paper Presented with commentary volume in leather-covered case with gold embossing

Commentary:

1 volume (282 pages) by Carlo Pedretti
Languages: English, Italian

1 volume: Exact reproduction of the original document (extent, color and size)

Reproduction of the entire original document as detailed as possible (scope, format, colors). The binding may not correspond to the original or current document binding.

Facsimile Copy Available!

Price Category: €€€€
(7,000€ - 10,000€)
---
#2

Codex Hammer

Limited Edition:

499 copies

Commentary:

1 volume
Language: Italian

1 volume: Exact reproduction of the original document (extent, color and size)

Reproduction of the entire original document as detailed as possible (scope, format, colors). The binding may not correspond to the original or current document binding.

Facsimile Copy Available!

Price Category: €€
(1,000€ - 3,000€)