Drawings of Leonardo da Vinci and His circle - Public Collections in France
Description
Drawings of Leonardo da Vinci and His circle - Public Collections in France
The comprehensive graphic work of Leonardo da Vinci is spread across the world. A substantial portion thereof is stored in French museum collections. A volume of the incredible National Leonardo Edition assembles the papers of the Italian universal genius that are stored in France and contrast a few works by his students and successors. The variety of techniques and motifs in these drawings allow for a gorgeous overview of Leonardo's work and awakens his world before the eyes of the beholder.
Drawings of Leonardo da Vinci and His Circle - Public Collections in France
Whether in the Musée du Louvre, the Musée Bonnat in Bayonne, or the Musée des Beaux-Arts in Rennes – valuable original drawings by Leonardo da Vinci are stored in numerous French museum collections. Collecting these into a tome was the ambitious goal of the volume at hand of the National Edition of the drawing and manuscripts of Leonardo da Vinci. Alongside studies and sketches of famous paintings and as a testimonial of the precise observer, one also finds a few wonderful portraits of the great Renaissance artist.
Madonnas, Saints, and Much More…
Leonardo da Vinci's drawings from the French collections comprise inter alia wonderful early pencil-drawings, studies of the Adoration of the Magi, and Madonna images by the master in addition to other paintings, garment studies, and sanguine drawings from Milan – and still more. The portrait of Isabella d'Este is surely a highlight, and the studies of The Virgin and Child with St. Anne are considered to be a true gem of art history. Thus a wide range of topics are represented along with all the techniques for drawing. What's more, the volume grants a marvelous overview of the Italian master's stylistic changes.
Leonardo and His Circle
These drawings are treasures from the collections of the Musée du Louvre, the École Nationale Supérieure des Beaux-Arts, the Institut Néerlandais, the Fondation Custodia, the Collection Frits Lugt, the Musée Bonnat in Bayonne, and the Musée des Beaux-Arts in Rennes. These pages – originals of Leonardo da Vinci – are juxtaposed with some drawings by his students and successors on 114 boards altogether. Giovanni Ambrogio de' Predis, Giovanni Antonio Boltraffio, Giovanni Agostino da Lodi, Bernardino Luini, Cesare da Sesto, and Giampietrino are represented along with other artists from Leonardo da Vinci's circle.
Codicology
Alternative Titles

I disegni di Leonardo da Vinci e della sua cerchia - Collezioni pubbliche di Francia




Zeichnungen von Leonardo da Vinci und seinem Umkreis - Öffentliche Sammlungen in Frankreich

Type

Origin

Date

Last quarter of the 15th century – 16th century

Epochs

Style

Genre

Language

Illustrations

114 drawings

Artist / School

Leonardo da Vinci (1452–1519) and his circle including:
Giovanni Ambrogio de' Predis (ca. 1455 – ca. 1508)
Giovanni Antonio Boltraffio (1466/67–1516)
Giovanni Agostino da Lodi (fl. ca. 1495 – ca. 1525)
Bernardino Luini (ca. 1480/82–1532)
Cesare da Sesto (1477–1523)
Giampietrino (fl. 1495–1549)
---
Available facsimile editions: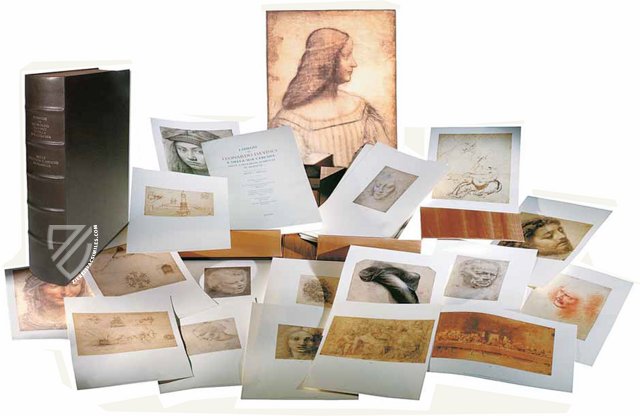 Giunti Editore
– Florence, 2008
Limited Edition:
998 copies
Facsimile Editions
#1

I disegni di Leonardo da Vinci e della sua cerchia - Collezioni pubbliche di Francia

Limited Edition:

998 copies

Binding:

Printed on handmade paper and bound in Fabriano paper With commentary volume in a gold-embossed leather covered clamshell case

Commentary:

1 volume (280 pages) by Pietro C. Marani, Karel van Tuyll, and Françoise Viatte
Language: Italian

1 volume: Exact reproduction of the original document (extent, color and size)

Reproduction of the entire original document as detailed as possible (scope, format, colors). The binding may not correspond to the original or current document binding.

Facsimile Copy Available!

Price Category: €€€
(3,000€ - 7,000€)