Drawings of Leonardo da Vinci and His circle - Galleria degli Uffizi in Florence
Description
Drawings of Leonardo da Vinci and His circle - Galleria degli Uffizi in Florence
Florence – the home of Leonardo da Vinci (1452–1519) and the important center of the Italian Renaissance, where numerous great masters emulated the universal genius Leonardo and shaped the renown of the city. The Uffizi is considered to be the most important museums of Florentine and Italian Renaissance art to this day. There, in the graphic collection of the Galleria degli Uffizi, one can find an impressive bundle of drawings by Leonardo da Vinci.
Drawings of Leonardo da Vinci and His Circle - Galleria degli Uffizi in Florence
The National Edition of the manuscripts and drawings of Leonardo da Vinci, published by the Florentine publishing house Giunti Editore beginning in 1964, is the first and only complete reproduction of the Italian universal genius' manuscripts and drawings. This unbelievable bundle offers the unique opportunity to discover the graphic and theoretical work of the universal genius Leonardo da Vinci. The collection of Leonardo drawings in the Gabinetto Disegni e Stampe della Galleria degli Uffizi in Florence forms the basis for one of the splendid volumes.
Leonardo's Graphic Work in the Context of his Successors
The volume at hand of the drawings of Leonardo da Vinci and his circle from the Galleria degli Uffizi in Florence conveys a wonderful overview of this great epoch of Italian art – and naturally represents a precious overview of Leonardo's graphic work. Eleven completed drawings from his hand make up a true gem of art history and were appended by 39 drawings by his students and successors. The result is a bundle of 50 drawings, with whose help one can not only comprehend the mastery of Leonardo, but also his formative influence on successive generations through direct comparison.
A Multitude of Techniques and Motifs
As an outstanding treasure, the volume contains inter alia Leonardo's earliest known drawing: a landscape from 1473, found alongside gorgeous portraits, the detailed study of the posture of a hand and other motifs from the broad spectrum of his genius. Techniques are also widely diversified, pencil-, silverpoint-, and pen-and-ink-drawings are found alongside red-chalk sketches. Therefore, it is apparent that even a monochrome medium like a one-colored drawing is sufficient for Leonardo to make every recess and model come into its own. For Leonardo, the drawing was the most direct and unmitigated expression of artistic genius!
Codicology
Alternative Titles

I disegni di Leonardo da Vinci e della sua cerchia - Galleria degli Uffizi, Firenze




Zeichnungen von Leonardo da Vinci und seinem Umkreis - Gallerie der Uffizien in Florenz

Type

Origin

Date

Second half of the 15th century – 16th century

Epochs

Style

Genre

Language

Illustrations

50 drawings

Artist / School

Leonardo da Vinci (1452–1519) and his circle
---
Available facsimile editions: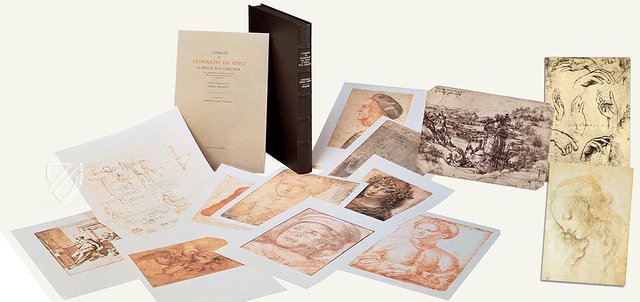 Giunti Editore
– Florence, 1985
Limited Edition:
998 copies
Facsimile Editions
#1

I disegni di Leonardo da Vinci e della sua cerchia - Galleria degli Uffizi, Firenze

Limited Edition:

998 copies

Binding:

Printed on handmade paper and bound in Fabriano paper With commentary volume in a gold-embossed leather covered clamshell case

Commentary:

1 volume (106 pages) by Gigetta Dalli Regoli and Carlo Pedretti
Language: Italian

1 volume: Exact reproduction of the original document (extent, color and size)

Reproduction of the entire original document as detailed as possible (scope, format, colors). The binding may not correspond to the original or current document binding.

Facsimile Copy Available!

Price Category: €€€
(3,000€ - 7,000€)