Drawings of Leonardo da Vinci and His circle - Biblioteca Reale in Turin
Description
Drawings of Leonardo da Vinci and His circle - Biblioteca Reale in Turin
The Biblioteca Reale in Turin houses a true treasure of (Italian) art history with its stock of high-quality drawings by Leonardo da Vinci: extensive motifs such as designs for military architecture, studies of paintings like the Virgin of the Rocks, and the famous graphic self-portrait underline the quality of the Turin Collection. As a part of the great national edition of the manuscripts and drawings of Leonardo da Vinci, this volume impressively conveys the graphic work by the universal genius Leonardo.
Drawings of Leonardo da Vinci and His Circle - Biblioteca Reale in Turin
The Turin collection was assembled by Alberto of Savoy, who acquired an impressive collection of Leonardo's drawings ca. 1840. As a result, the bundle of drawings by the Italian Renaissance genius in Turin makes up an important part of the works of Leonardo that remain in Italy. Due to the age and fragile state of the originals – a delicate medium – the facsimile edition offers the unique opportunity for unmitigated exploration of these masterpieces.
A Universal Genius of the Italian Renaissance
Leonardo da Vinci (1452–1519) – a name that evokes countless associations! A gifted painter and perfect draftsman, a simultaneously inquisitive and brilliant inventor and scholar, he produced countless masterpieces – one need think only of the famous portrait the Mona Lisa or the iconic mural painting The Last Supper – and groundbreaking technical inventions. The basis of this extensive work is made up of drawings, sketches, records, and notes, recorded on individual sheets or in notebooks.
The Unbelievable Graphic work
The Florentine publisher Giunti Editore was entrusted in the year 1964 with the task of making this comprehensive treasure, distributed in collections around the world, available in a large facsimile edition. The impressive National Edition of the manuscripts and drawings of Leonardo da Vinci, also known as the Leonardo Codices: the first and only comprehensive reproduction of the Italian universal genius' manuscripts and drawings!
Studies, Drafts, and a Self-Portrait
Leonardo's drawings from the world's great collections are presented in six volumes. The volume at hand assembles the drawings from the Biblioteca Reale in Turin. Numerous famous and unknown sheets from the master's hand are presented on 23 boards: the famous drawn self-portrait being a highpoint inter alia. Additionally, the bundle includes a study of the paintings of the Virgin of the Rocks in the Louvre. The so-called Codex Saluzzo 312 rounds out the Turin Leonardo's graphics, a 19th century volume with Leonardo's designs for military architecture.
Codicology
Alternative Titles

I disegni di Leonardo da Vinci e della sua cerchia - Biblioteca Reale di Torino




Zeichnungen von Leonardo da Vinci und seinem Umkreis - Biblioteca Reale in Turin

Type

Origin

Date

Last quarter of the 15th century – 16th century

Epochs

Style

Genre

Language

Illustrations

23 drawings

Artist / School

Leonardo da Vinci (1452–1519) and his circle

Previous Owners

Carlo Alberto of Savoy (1798–1849)
---
Available facsimile editions: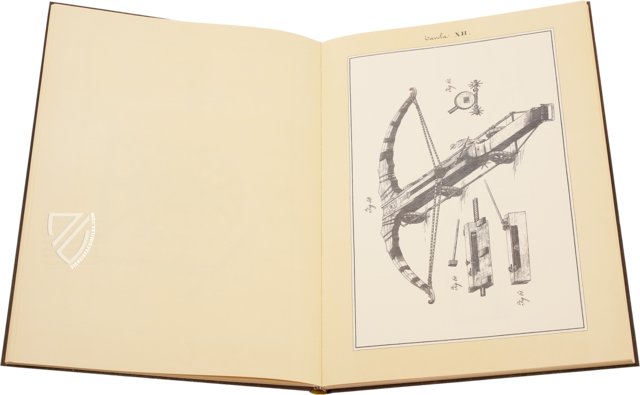 Giunti Editore
– Florence, 1990
Limited Edition:
998 copies
Detail Picture
Drawings of Leonardo da Vinci and His circle - Biblioteca Reale in Turin
Mortars
While normal cannons are useful for battering down walls, mortars fire projectiles with a high-arching trajectory that allows them to hit targets behind fortifications. In a letter to Ludovico Sforza, da Vinci assured the Duke of Milan that he had mortars that were "very convenient and easy to transport". This diagram shows both a solid ball for destroying buildings and another resembling a cluster bomb that contains smaller exploding projectiles for use against defenders.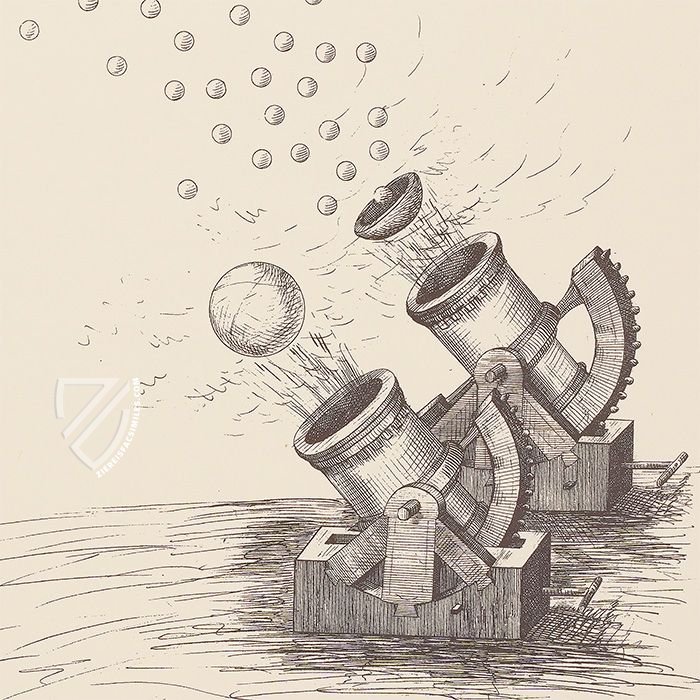 Single Page
Drawings of Leonardo da Vinci and His circle - Biblioteca Reale in Turin
Portrait of a Man in Red Chalk
Although not universally accepted, most art historians and scholars believe that this famous image from ca. 1512 is a self-portrait of Leonardo da Vinci at about 60 years old. The sketch in red chalk on paper has been extensively reproduced and has become an iconic representation of him as a wise polymath or Renaissance Man in the final stage of his life.
The portrait is in three-quarter view with his face turned towards the viewer but his eyes gazing off into the distance. His long hair and beard were unusual in Renaissance portraits and their depiction was a conscious choice to express the sagacity of the subject. It has been drawn with fine lines shadowed by hatching and executed with the left hand, all of which points to Leonardo.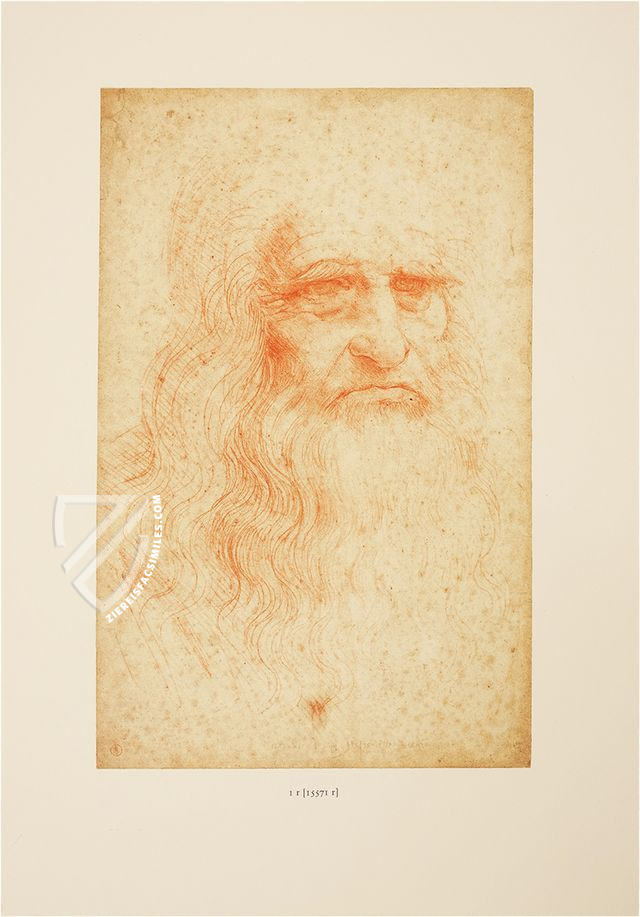 Facsimile Editions
#1

I disegni di Leonardo da Vinci e della sua cerchia - Biblioteca Reale di Torino

Limited Edition:

998 copies

Binding:

Printed on handmade paper and bound in Fabriano paper With commentary volume in a gold-embossed leather covered clamshell case

Commentary:

1 volume (138 pages) by Carlo Pedretti
Language: Italian

1 volume: Exact reproduction of the original document (extent, color and size)

Reproduction of the entire original document as detailed as possible (scope, format, colors). The binding may not correspond to the original or current document binding.