Splendor of Knighthood
Description
The knight is the figure most closely associated with the Middle Ages. Specifically, it is a title granted by a monarch or prince of the church, e.g. a bishop, in recognition of their service as a warrior. This fearsome class of fighting men attempted to regulate their own behavior by cultivating a code chivalry in the High Middle Ages that dictated their conduct both on the battlefield and in daily life, especially with respect to women, according to Christian principles. The ideal knight was brave and strong, but also selfless, merciful, and attempted to channel his violence into good causes like protecting the weak or even Christendom itself. This enduring ideal of the chivalric knight is evidenced by the continuing existence of knightly orders today, even if they are now stripped of their military purposes and are mostly charitable organizations.
Splendor of Knighthood
Knights were typically members of the lower nobility hoping to rise through military service and who characteristically fought from horseback. During peacetime, knights displayed their martial skills in medieval tournaments, a mixture of spectacle and controlled violence, in which knights were usually injured and sometimes killed. These ranged from grand events to duels and brawls that were sparked by an insult to one party's honor. As heraldry developed, knights became identifiable by their individual coats of arms. Once the chivalric ideal emerged in the High Middle Ages, knights became symbols for a code of conduct that was defined by Christian morality. The Crusades helped to create the ideal of the Christian knight. A Crusader knight or one joining a monastic military order like the Templars would paint over their coat of arms, replacing it with a simple cross as a sign that they were abandoning their personal ambitions in order to serve Christ. Various figures, both historical and mythical, influenced the image of a knight, and include Julius Caesar, Alexander the Great, and St. George. The mythical King Arthur and his Knights of the Roundtable were inspirations for stories of the very real Charlemagne (742–814) and his Paladins, who were mythicized versions of Charlemagne's best knights.
This collection of ten pages from splendidly illuminated manuscripts gives an overview of imagery associated with the ideal of the chivalric knight:
1. The Patron Saint: Michael
Apocalypse, Metropolitan Museum of Art, New York
France, ca. 1320
The Ideal of the Knight: St. George
Breviary of the Duke of Bedford, Bibliothèque Nationale, Paris
Paris, ca. 1425–1435

The Feudal Lord: King and Emperor Otto III
Gospels of Otto III, Bayerische Staatsbibliothek, Munich
Reichenau, ca. 1000

The Knight and his Armor: King David
Psalter, Österreichische Nationalbibliothek, Vienna
France, ca. 1280

The Ancient Model: Alexander the Great
Alexander Romance, Bodleian Library, Oxford
Flanders, ca. 1338–1344

Tradition and Present: Caesar Crosses the Rubicon
Histoire ancienne jusqu'à César et faits des Romains, Musée du Louvre, Paris
France, ca. 1460

The Courtly Epic: Tristan and Isolde
Roman de la Poire, Bibliothèque Nationale, Paris
France, ca. 1275

The Battle for the Holy Land: Crusaders before Jerusalem
Burchardus Teutonicus: Descriptio Terrae Sanctae, Biblioteca del Seminario, Padua
Upper Italy, late–13th century

The Knightly Poet: Hartmann von Au
Great Heidelberg Book of Songs (Codex Manesse), Universitätsbibliothek, Heidelberg
Zürich, early–14th century

Autumn of Chivalry: Mary of Burgundy and Maximilian I
Hours of Mary of Burgundy, Österreichische Nationalbibliothek, Vienna
Ghent, ca. 1467–1480
Codicology
Alternative Titles

Kassette Glanz des Rittertums

Origin

Date

9th–15th century

Genre

Illustrations

10 miniatures

Content

Ten leaves from important manuscripts
---
Available facsimile editions:
Detail Picture
Breviary of the Duke of Bedford
The Ideal of the Knight: St. George
As a member of the Praetorian Guard for Emperor Diocletian, George of Lydda was a part of the Roman army's elite. However, the Cappadocian Greek soldier refused to recount his Christian faith and was thus put to death. Venerated as a military saint since the Crusades, he is famously depicted slaying a dragon demanding human sacrifices and in doing so saves the next sacrifice – a princess of course, who is shown holding the dragon with a leash as St. George stabs its neck with a spear.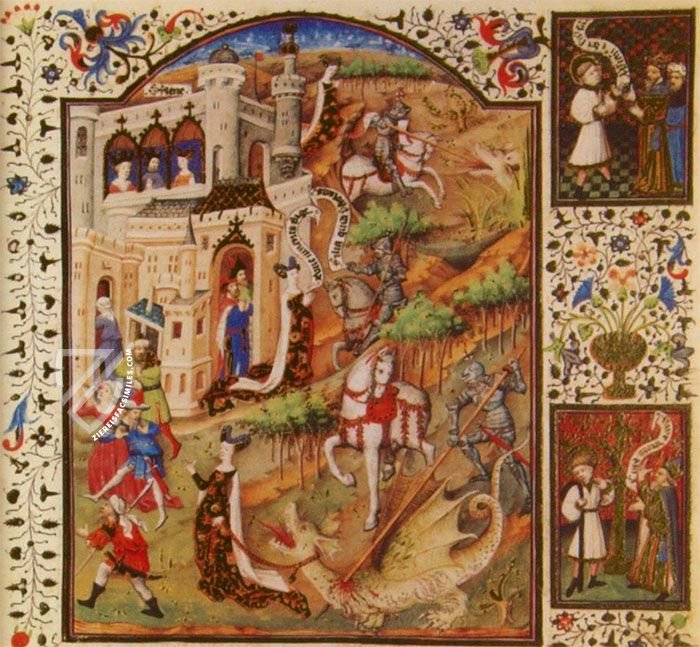 Single Page
Gospels of Otto III
Donor Portrait
His Majesty, the Emperor Otto III, is shown here looking out directly at the beholder holding the imperial orb in one hand and a scepter crowned with an eagle in the other. Otto's gaze is confident to the point of being hypnotic and has clearly stylized himself as an heir to the Caesars of Ancient Rome. He is flanked by his counsellors: military men on one side and clerics on the other.
Otto III was focused on Italian politics and this portrait clearly indicates his self-image as an heir to the Romans. He is pictured seated beneath a classical architecture with column capitals featuring human faces. Only the finest materials have been employed here: a rich diversity of opaque colors and the generous use of gold leaf.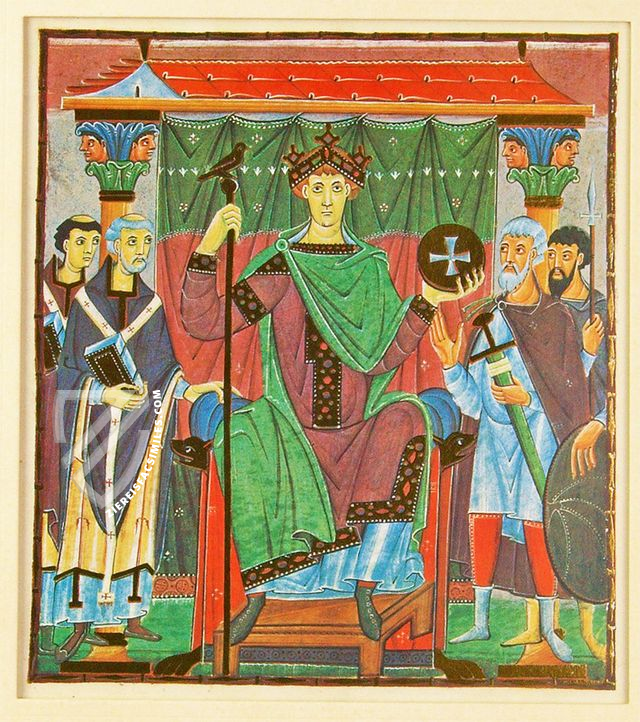 Facsimile Editions
#1

Kassette Glanz des Rittertums

Limited Edition:

1495 copies

Commentary:

1 volume
Language: German

1 volume: 10 leaves under passe-partouts: Exact reproduction of the original document (extent, color and size)

Reproduction of the entire original document as detailed as possible (scope, format, colors). The binding may not correspond to the original or current document binding.
You might also be interested in:
Blog articles worth reading