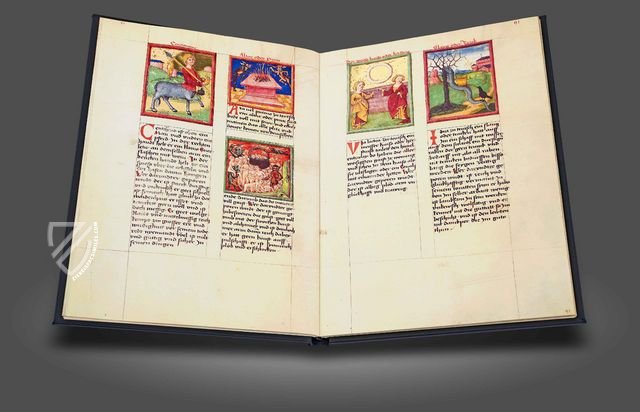 The Power of the Stars
Codicology
Size / Format

50 pages / 34.5 × 26.0 cm

Origin

Date

ca. 1491

Epochs

Style

Genre

Language

Illustrations

72 miniatures
1 available facsimile edition(s) of "The Power of the Stars"
Die Macht der Gestirne Facsimile
Die Macht der Gestirne Facsimile
Publisher

Imago – Rimini, 2020

Limited Edition

999 copies

Commentary

1 volume
Language: German

More Information

Reproduction of the entire original document as detailed as possible (scope, format, colors). The binding may not correspond to the original or current document binding.
Matching Works
Aratea
At the behest of the emperor: the ancient text on the stars by Aratus of Soli as a Carolingian masterpiece for the son of Charlemagne
Experience More
Christianus Prolianus Astronomia
At the behest of Cardinal Giovanni d'Aragona: gold-decorated eclipses, the 4 element theory of Aristotle, and references to the war between Naples and Florence in Christianus Prolianus' "Astronomia"
Experience More
Matching Background Articles
Renaissance

What does the word "Renaissance" bring to mind for you? Art, science, and culture of course! It was a "rebirth" and...

Experience more

15th Century

Come and explore an age of stark contrasts as Europe comes back from the brink: calamities like the Fall of...

Experience more

Astronomy / Astrology

Do the constellations capture your imagination the way they did the imaginations of medieval star-gazers? These beautiful...

Experience more