The Silver Duet
Description
The finest silver and medieval book illumination – this combination was extremely attractive even in medieval and Renaissance times. In the 15th century, none other than Lorenzo de' Medici, known as "the Magnificent", had an impressive codex made for himself that combined the filigree art of book illumination with knowledge of arithmetic and trade. The possession and trade of silver has always been considered a sign of special prosperity and was highly valued not only by the Medici. Even today, the precious metal silver occupies a special position and is similarly coveted as the book illumination of the Middle Ages.
Codicology
Alternative Titles

Das silberne Duett

Size / Format

10 pages / 17.0 × 12.0 cm

Origin

Date

Last quarter of the 15th century

Epochs

Style

Language

Artist / School

Filippo Calandri (author)
Pedro Berruguete (illuminator)
Workshop of Botticell (illuminators)

Previous Owners

Lorenzo's son Giovanni (Pope Leo X)
---
Available facsimile editions:
Detail Picture
The Silver Duet
Wool and Cloth
Although famous above all for its early banking industry, Florence's wealth was actually based primarily on its textile industry. Florentine fabrics were highly sought after and were among the finest produced in late medieval Europe. The raw material, wool, came from the green pastures of the British Isles to the weavers of Florence via Dutch trading centers. In the bas-de-page miniature, the two merchants advertise their high-quality products: soft wool and the finest cloth.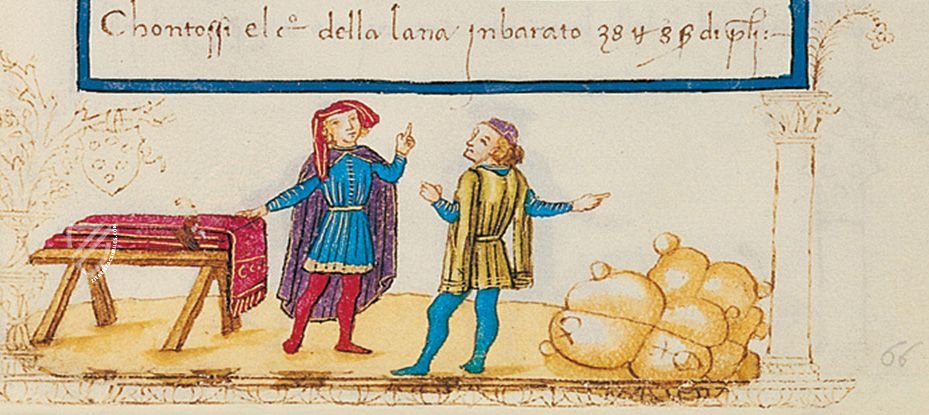 Single Page
The Silver Duet
Gaining Wealth through Games of Chance
Here we see two young noblemen dressed in expensive, red-dyed clothes playing dice in a loggia bearing the coat of arms of the Dell'Antella family in one of the pendentives. It has wonderfully vaulted ceilings and columns, to which one of them has tied up their horse who waits patiently outside. In this game, one player rolls the dice while the other guesses the outcome.
Archaeologists have found dice that predate recorded history, and the Roman legionaries were infamously fond of the game even though it was illegal. In the Late Middle Ages, gambling was a beloved pastime of the upper classes that, like astrology, was officially banned by the Catholic Church. Then, just as today, great sums could be won – and lost – by playing games of chance.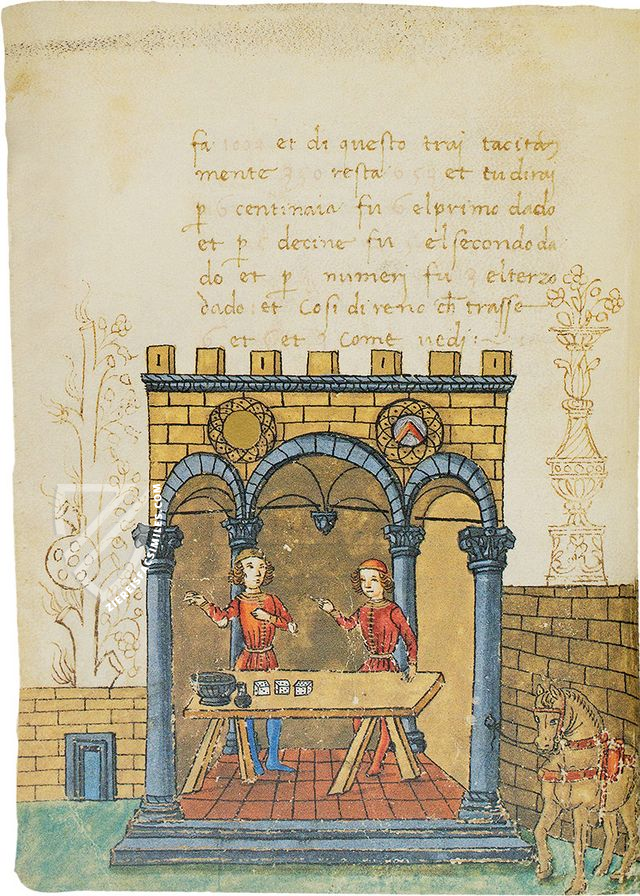 Facsimile Editions
#1

Das silberne Duett

Limited Edition:

999 copies

Binding:

Noble black cassette with 925 sterling silver plated Medici coat of arms

10 leaves full-facsimile reproduction

Set consisting of a 999.9 fine silver coin and 10 miniature pages from a splendid codex belonging to Lorenzo de' Medici
You might also be interested in: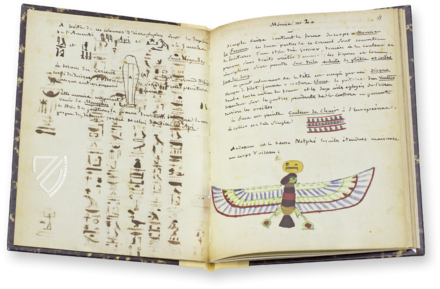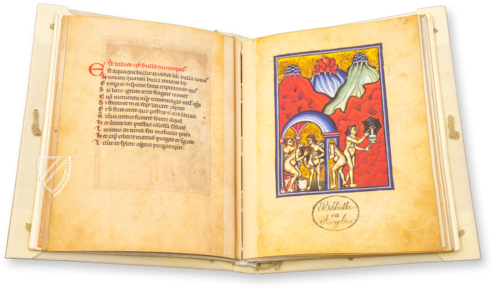 De Balneis Puteolanis
Naples (Italy) – Ca. 1250
Originally dedicated to Emperor Frederick II: the oldest copy of Pietro da Ebolis' lost treatise concerning the healing properties of hot springs
Experience More
Blog articles worth reading