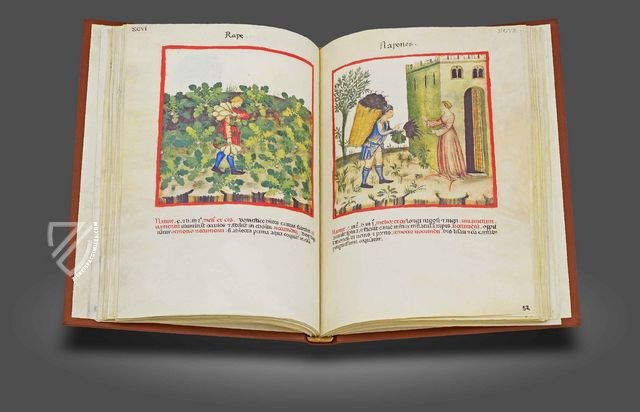 Theatrum Sanitatis
Italy — 14th century
This medieval medical manuscript from Lombardy was furnished with 208 miniatures

It is a Latin translation of the fundamental medical text from the 11th century by Ibn Butlan (1038–75)

The treatise was meant to spread medical knowledge and thus improved hygiene standards among the nobility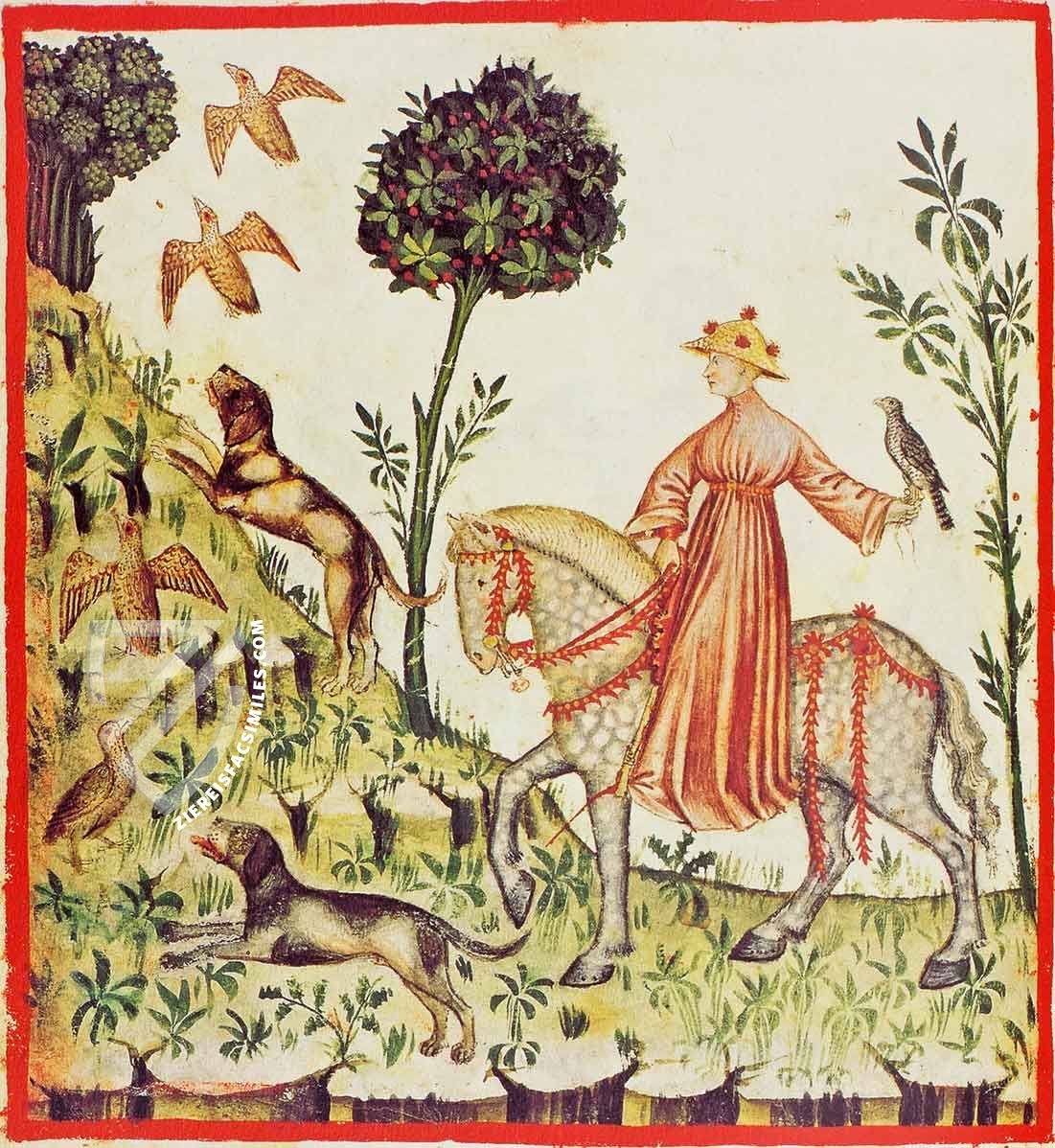 Theatrum Sanitatis
Short Description
The Theatrum Sanitatis originates from 14th century Italy. It is a manuscript about the medicine of the Middle Ages and is illustrated with 208 outstanding miniatures. The manuscript is based on the medical insights of the Arabian doctor Ibn Butlan and was translated into Latin and furnished with its splendid picture cycle in Lombardy.
Theatrum Sanitatis
In the 14th and 15th centuries, medicine was based primarily on experimental results and not on religious superstition, as before. The treatise Theatrum Sanitas was composed in order to spread and make known prudent hygienic norms among the princes and powers that be of the Middle Ages. The Latin manuscript is based on the medical insights of the Arabian doctor Iban Butlan from the 11th century. The manuscript is adorned with 208 high-quality, artistically appealing illustrations.
The Medicine of Ibn Butlan
Ibn Butlan was a famous Christian doctor who lived and worked in Baghdad. His findings purported that the health of a person is dependent on six elements. Counted among them are diet, the surrounding outside world, movement and rest, bodily fluids and excretions as well as the various emotional states of a person. Illnesses originated, according to his opinion, from a disturbance of these areas. With the help of outstanding miniatures, Butlan's insights are clarified in the Latin codex and advice for the maintenance of health and for recovering from illness is presented.
Informative and Esthetic Book Decoration
The luxurious picture cycle of the codex was produced in Lombardy. The high-quality pictures reflect the traditional painting of the great book artist Giovanni de Grassi. They show the most varied aspects of medieval medicine in boundless fantasy. The scenes, which are concerned with health and the healing of illnesses, are mostly imbedded in everyday scenes from life in the Middle Ages. So the fabulous pictures take their beholder along on a journey into the world of times long past.
Codicology
Size / Format

214 pages / 32.8 × 22.0 cm

Origin

Date

14th century

Epochs

Style

Language

Illustrations

208 paintings

Artist / School

Author: Ububchasym de Baldach alias Ibn Butlân (died in Baghdad in 1068)
Lombard artistic tradition, the school of Giovanni de Grassi
1 available facsimile edition(s) of "Theatrum Sanitatis"
Theatrum Sanitatis Facsimile
Theatrum Sanitatis Facsimile
1 volume: Exact reproduction of the original document (extent, color and size)
Publisher

M. Moleiro Editor – Barcelona, 1998

Limited Edition

987 copies

Binding

Brown leather embossed with gold

Commentary

1 volume (328 pages) by José María López Piñero and Felipe Jerez Moliner
Languages: Spanish, English

More Information

Reproduction of the entire original document as detailed as possible (scope, format, colors). The binding may not correspond to the original or current document binding.
Matching Works
Flora Sinensis
A special herbarium with 23 hand-colored woodcuts: the first systematic encyclopedia concerning the botany of distant China
Experience More
Matching Background Articles