Vida de Sanct Onofre
Description
Printed in an elegant Gothic script and adorned with engraved initials, this Spanish codex presents the tale of St. Onuphrius, which is regarded in many ways as being archetypal for the life of an early-Christian desert hermit. Onuphrius was a monk who left his monastery in Thebes for a life of solitude in the desert of Upper Egypt during either the 4th or 5th centuries. He is venerated in the churches of both the Orthodox East and the Catholic West and his head was supposedly still preserved as a relic in Constantinople ca. 1200. The woodcut on the title page is typical of the art depicting the sainted hermit – a wild man covered completely in hair.
Vida de Sanct Onofre
This Valencian hagiography, printed in 1520 by Jorge Costilla, is concerned with the life of the 4th/5th century Desert Father Saint Onuphrius ("Onofre" in Spanish) and is prefaced by a fascinating woodcut. According to legend, Paphnutius the Ascetic found Onuphrius after wandering the Egyptian desert for 17 days and contemplating becoming a hermit.
The Legendary Hermit
Onuphrius has a wild, unkempt appearance with long hair and a beard, and is dressed in leaves and animal skins. He informs Paphnutius that he has was once a monk in the area of Thebes but had been living in the desert for more than 60 years, enduring thirst, hunger, heat, cold, and discomfort for the love of God. Furthermore, he had been visited by a guardian angel, who brings him the Host every Sunday. Onuphrius then took Paphnutius to his cell, where they spoke until sunset, at which point bread and water miraculously appear outside. After spending the night in prayer, Onuphrius is near death come morning, and tells Paphnutius not to occupy his cell after his death, saying "…thy work is in Egypt with thy brethren". He then blesses Paphnutius and dies. The hard, rocky ground makes digging a grave for Onuphrius impossible, and Paphnutius wraps his body in a cloak and leaves him in a cleft of the rocks. After the burial, his cell crumbles, which Paphnutius takes for a sign. The woodcut depicts Paphnutius pointing out the tomb, wherein Onuphrius lies with his arms crossed, to two lions who are gazing within.
Codicology
Alternative Titles

Das Leben des Heiligen Onophrios

Size / Format

116 pages / 20.5 × 13.0 cm

Origin

Date

1520

Epochs

Style

Genre

Language

Illustrations

Title page with a woodcut of the discovery of St Onofre's body; numerous decorated

Content

Vita of Saint Onophrios

Artist / School

Jorge Costilla (printer)
---
Available facsimile editions:
Facsimile Editions
#1

Vida de Sanct Onofre

Limited Edition:

3160 copies

Binding:

Parchment on wooden board. The facsimile edition comes in a cloth-lined presentation case (21.7 x 15.5 x 3.0 cm) with gold engraved leather spine.

Commentary:

1 volume
Language: Spanish

1 volume: Exact reproduction of the original document (extent, color and size)

Reproduction of the entire original document as detailed as possible (scope, format, colors). The binding may not correspond to the original or current document binding.
You might also be interested in: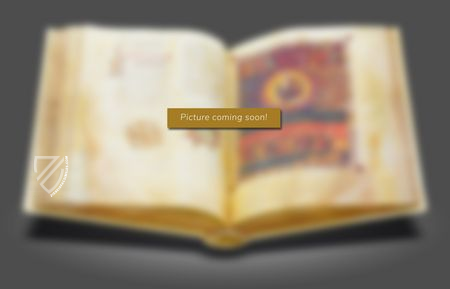 Medical and Herbal Miscellany
England or France – Ca. 1190–1200
Ancient knowledge about the healing properties of plants and animals in Romanesque images: A medical compilation manuscript with over 200 gold-decorated, stylized illustrations
Experience More
Blog articles worth reading