Vienna Hispana Codex
Description
The Hispana (complete with a collectio canonum or "collection of canons") is a collection of ecclesiastical laws of popes and councils, which originated in Spain and was later also used in Gaul. There are several manuscripts of it dating back to the 10th century. One manuscript was already written in 788 for Bishop Rachio of Strasbourg. However, since this manuscript was lost in a fire in Strasbourg in 1870, the Vienna manuscript is the oldest testimony to the Hispana today . The manuscript has the highest source value for church history and church law for the East Frankish Empire, since it served inter alia as a model for the "pseudoisidorian decrees" in the 9th century. The script of the Hispana is a beautifully developed Carolingian minuscule.
Vienna Hispana Codex
The Vienna Hispana Codex is a liturgical manuscript presumably written in eastern France near the Rhineland judging by the script – a beautiful Carolingian minuscule. Further information about its origins can be found in the texts, which correspond with a work written in 788 for Bishop Rachio of Strasbourg and lost by fire in 1870 (C.L.A., VI. 835). As such, it has been an early and important source for similar texts and for historians interested in the medieval church.
The manuscript was rebound in 1527 at the expense of Johannes Marquardus (cf. fol. I) before coming to the library of Archduke Ferdinand II of Austria (1529–95) at Ambras Castle, located in the hills above Innsbruck, later in the 16th century. It bore the number 281 in the Ambras collection which was incorporated in the Vienna Palatine Library in 1665. Today it is numbered among the extensive collection of precious and historic manuscripts that is found in Austrian National Library in Vienna, where it is stored under the shelf mark Cod. Vindob. 411.
The Canon Texts
The largest portion of the manuscript comprising folios 1r-202v consists of the Canones Conciliorum, usque ad Concilium Hispalense secundum or "Canons of the Councils, up to the Second Council of Spain". It is followed by the Decretalia Pontificum usque ad Hormisdam, Virgilium et Gregorium (fol. 202v-312v) or "Decrees of the Pontiffs as far as Hormisda, Virgil, and Gregory". The third and final text is a short numerological work called De valore numerico literarum graecarum or "On the Numerical Value of Greek Letters" (fol. 312v-313v).
Codicology
Alternative Titles

Wiener Hispana-Handschrift

Size / Format

634 pages / 31.0 × 20.5 cm

Origin

Date

Around 800

Epochs

Style

Language
---
Available facsimile editions:
Facsimile Editions
#1

Wiener Hispana-Handschrift

Commentary:

1 volume (72 pages) by Otto Mazal
Language: German

1 volume: This facsimile is not complete.

Reproduction of the entire original document as detailed as possible (scope, format, colors). The binding may not correspond to the original or current document binding.
You might also be interested in: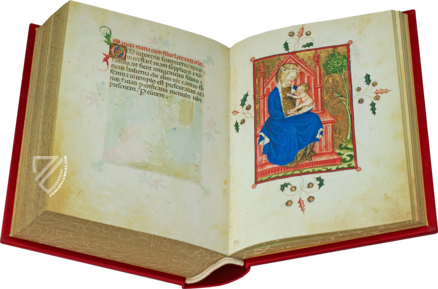 Modena Hours
Milan/Lombardy (Italy) – 1390
One of the most beautiful Gothic manuscripts from the atelier of the famous Giovannino de' Grassi: the masterpiece of the Visconti illuminator Tomasino da Vimercate with breathtakingly beautiful miniatures and historiated initials
Experience More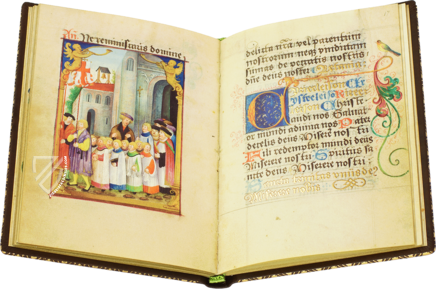 Blog articles worth reading