Visigothic-Mozarabic Bible of St. Isidore
Description
Visigothic-Mozarabic Bible of St. Isidore
A truly special early Spanish manuscript, significant for its age, rarity, artistic refinement, and as a source on life in 10th century Spain: the Visigothic-Mozarabic Bible of St. Isidore. The exact date and location of its completion, as well as the scribe and miniaturist responsible for it, are all well documented in the manuscript's colophon, making it additionally unusual and valuable. The monastery where it was created mysteriously disappeared not long after its creation in 960, and the manuscript made its way to its current repository, the monastery of San Isidoro de León, under similarly obscure circumstances. The masterfully executed script is adorned with an incredible hybrid of early medieval illumination and features marginal notes in Latin and Arabic. This combination of factors makes the thousand-year-old manuscript a unique artifact that is highly coveted by university researchers and museum curators around the world.
Visigothic-Mozarabic Bible of St. Isidore
A Spanish Bible so old, the monastery where it was made disappeared over one thousand years ago: the Visigothic-Mozarabic Bible of St. Isidore, also known as the León Bible of 960 or Codex Biblicus Legionensis. We do not know under what circumstances the Valeránica Monastery was wiped out, perhaps in a Moorish raid, nor do we know under what circumstances the codex came to its current residence, the monastery of San Isidoro de León, although King Ferdinand I of Leon (ca. 1015–65) and his wife Sancha are hypothesized as donors. It is one of the rarest manuscripts, coveted by university researchers and museum curators across the world, and is significant for a number of reasons. Uncommon for a manuscript of this period, the exact date of its completion is recorded in a colophon: June 19th, 960. Two men, a calligrapher named Sancho and a miniaturist named Florencio are given credit for this magnificent work. Although we know nothing more of the former, the Master Florencio was originally from Moorish southern Spain before coming north and has at least six codices attributed to him while other documents indicate that he was a notary for the counts of Castile. This incredible manuscript is a priceless specimen of the Christian realms of the Iberian Peninsula from a time when they were under siege by the forces of Al-Andalus (Moorish Spain) and is distinguished from among the hybrid Visigothic-Mozarabic works to survive to the present.
A Wonderful Artistic Hybrid
The Visigoths were a Germanic people who dominated the Iberian Peninsula from their invasion in 415 until the destruction of their kingdom in the course of the Moorish invasion in 711, reducing them to a series of rump states in the mountainous north of what is modern Spain. The Visigothic artistic style, the temporal and aesthetic contemporary of the Insular and Carolingian styles of illumination, is similarly characterized by highly refined calligraphy, striking colors, and figures with large eyes and clearly gesturing hands. Developed among Christians living in Al-Andalus who adopted some of the conquerors' customs without embracing their religion, Mozarabic art is itself a hybrid of Islamic and Christian art. Its influences appear in the miniatures, as do those from the more far flung Islamic and Sassanid artistic traditions. Later driven north by the increasingly difficulty of life under Moorish rule, these Christians brought the artistic traditions of Islam with them. The manuscript additionally bears clear influences from Insular Illumination, particularly in the Celtic-knot initials. 100+ episodes from the Bible are illustrated in the text, in addition to numerous embellishing features. The miniatures are valued both for the quality of their artistry and for their detailed depictions of life in 10th century Spain: churches, palaces, household goods, civil and military costume, armor, even bull-fighting from horseback are all depicted. Finally, the text features numerous marginal notes in both Latin and Arabic. Thus, the manuscript is an incomparable source for paleographers and historians of art and culture.
Codicology
Alternative Titles

Biblia Visigótica Mozárabe de San Isidoro




Westgotisch-mozarabische Bibel des Heiligen Isidor von Sevilla




León Bible of 960




Bibel von Leon




Bibel von León




Bible of León




Codex Biblicus Legionensis




Codex Gothicus Legionensis




Biblia de Leon




Biblia Visigótica Mozárabe de San Isidoro




Biblia Primera




Bible of St. Isidore

Size / Format

1026 pages / 48.5 × 34.5 cm

Origin

Date

June 19, 960

Epochs

Style

Genre

Script

Visigothic Minuscule

Illustrations

334 miniatures, 80 of them in the Old Testament; 17 decorative canon tables and a richly decorated colophon; numerous large decorative initials

Content

Complete Bible including canon tables, genealogical trees, colophon and commentaries

Artist / School

Florencio (illuminator)
Sancho (scribe)

Previous Owners

Monastery of St. Isidore's in León
Ferdinand I
---
Available facsimile editions: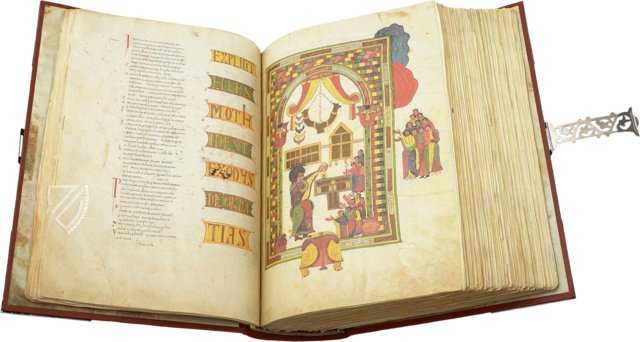 Fundación Hullera Vasco-Leonesa
– León, 1999
Limited Edition:
640 copies
Detail Picture
Visigothic-Mozarabic Bible of St. Isidore
Christ in Majesty
Christ sits enthroned, his right hand is extended in the sign of benediction while his left holds a book. A golden crossed-halo adorns his head and he is dressed in bright red garments – a color rarely associated with Christ outside of the Spanish tradition of Beatus manuscripts. The so-called Maiestas Domini is one of the most popular images in Western Christian art and is presented here flanked by the Evangelist Symbols.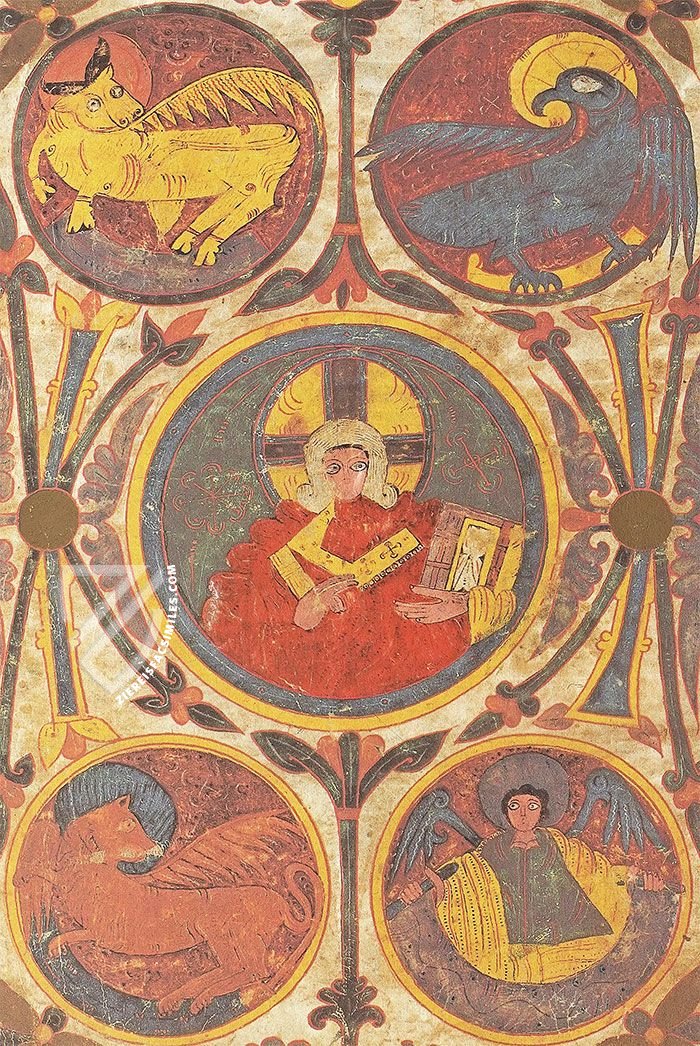 Single Page
Visigothic-Mozarabic Bible of St. Isidore
Incipit Page: Book of Genesis
This splendid incipit page is strongly influenced by contemporary Beatus manuscripts and is a wonderful hybrid of styles from early medieval illumination. Furthermore, marginal notes have been written in both Latin and Arabic. The highly refined calligraphy and striking color palate are typical of Visigothic art, while the intricate interlace patterns imitate Insular illumination.
Gold leaf has been liberally employed and is further highlighted by outlining it with a bright red-orange colors for the first few words of the Book of Genesis. The head and tail of the initial are magnificently adorned with leafy tendrils originating from the Mozarabic tradition and created with a complexity that rivals the work of Carolingian illuminators.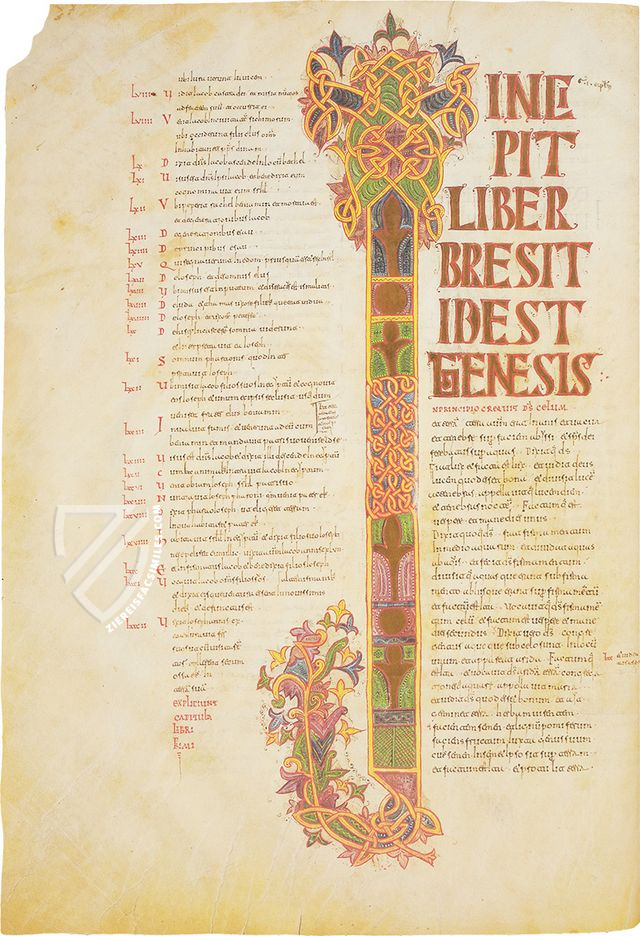 Facsimile Editions
#1

Biblia Visigótica Mozárabe de San Isidoro

Limited Edition:

640 copies

Binding:

Leather binding, tooled with motifs from the Bible. Front and back covers with sterling silver corner fittings. A silver clasp serves as a closure. The facsimile comes in an elegant wooden case, which can be used as a bookend when opened.

Commentary:

1 volume by Antonio Vinayo Gonzàlez, Cesar Alvarez Àlvarez, Margarita Torres Sevilla, José M. Ruiz Asencio, Gregoria Caverò Dominguez, Manuel C. Diaz y Diaz, Vicente García Lobo, Ana I. Suàrez Gonzàlez, Santiago Dominguez Sànchez and others
Language: Spanish

1 volume: Exact reproduction of the original document (extent, color and size)

Reproduction of the entire original document as detailed as possible (scope, format, colors). The binding may not correspond to the original or current document binding. The leaves are trimmed according to the original, including holes, deteriorated edges, seams, etc. For the facsimile edition parchment-like paper was used.