Wiesbaden Codex
Hs. 2
Hessische Landes und Hochschulbibliothek (Darmstadt, Germany)
Description
Referred to in German as the Riesencodex or "giant codex" due to its size and weight – 15 kilograms, 481 folios, secured with an iron chain, and measuring 30 x 45 cm – the Wiesbaden Codex is an encyclopedia comprising the collected works of the famous medieval polymath and visionary Hildegard von Bingen. It is named after its modern repository in the Hessische Landesbibliothek, Wiesbaden, Germany. Only her medical writings, which may have never been completed, and some of her letters are missing from the manuscript, work on which was likely started at the end of her life or shortly after her death in 1179. The manuscript was originally designed by Volmar, Hildegard's first secretary, but was heavily edited and then executed by Guibert of Gembloux, her final secretary. These changes are apparently in accordance with Hildegard's wishes in her final days. The work of several scribes can be discerned from the text, which is neatly written using red and black ink in two columns. This facsimile contains the section of the original manuscript, which is dedicated to Hildegard's musical compositions.
Codicology
Alternative Titles

Rupertsberger Riesencodex




Riesencodex




Hildegard von Bingen: Lieder




Symphonia armonie celestium revelationum




Ordo virtutum




Kodex mit der Kette




Hildegard von Bingen - Rupertsberger Riesencodex

Size / Format

481 folios / 46.0 × 30.0 cm

Origin

Date

Ca. 1180–1190

Epochs

Style

Genre

Language

Content

Symphonia and Ordo virtutum

Artist / School

Hildegard von Bingen (author)
Wibert von Gembloux (scribe?)
Volmar von Disibodenberg (scribe?)
Facsimile Editions
#1

Hildegard von Bingen: Lieder

Commentary:

1 volume by Michael Klaper
Languages: English, German


1 volume: This facsimile is not complete.

Reproduction of the folios 466-481 (Symphonia and Ordo virtutum) of the original document as detailed as possible (scope, format, colors). The binding may not correspond to the original or current document binding.
You might also be interested in: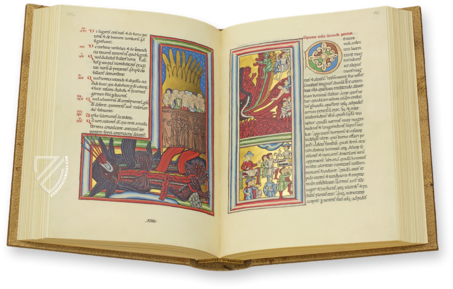 Liber scivias
Monastery of Rupertsberg (Germany) – ca. 1175 The lost original manuscript was copied by hand between 1927 and 1933 by nuns in Abbey of St. Hildegard
Lost in World War II: one of the main works by the famous abbess and visionary Hildegard von Bingen with her theological-cosmological findings
Experience More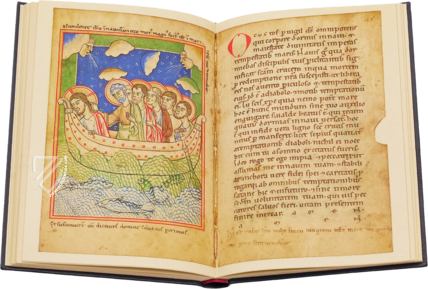 Book of Hours of Hildegard von Bingen
Bingen and Worms area (Germany) – Ca. 1175–1180 or first half of the 13th century
Decorated with 72 Romanesque miniatures from the Old and New Testaments: the personal prayer book of the famous abbess, writer, philosopher, and mystic Hildegard von Bingen
Experience More
Blog articles worth reading