Works of Geoffrey Chaucer and the Kingis Quair
Description
Works of Geoffrey Chaucer and the Kingis Quair
The last great manuscript anthology of Geoffrey Chaucer's works is also one of the earliest Scottish literary anthologies. MS Arch. Selden. B. 24 of the Bodleian Library contains texts of Troilus and Criseyde, The Legend of Good Women, and The Parliament of Fowlsalongside along with various shorter works by Chaucer. It also contains The Quare of Jealousy and The Kingis Quair, one of the oldest Scottish works written in the courtly style and thus offers substantial evidence of how Chaucer was received in Scotland. The history of how the manuscript was created is complex and offers important insights into how such anthologies were compiled.
Codicology
Alternative Titles

Werke von Geoffrey Chaucer und das Kingis Quair

Type

Origin

Date

Ca. 1489

Epochs

Style

Genre

Language

Script

Late gothic secretary

Content

Troilus and Criseyde by Geoffrey Chaucer; poems by Geoffrey Chaucer, Thomas Hoccleve and John Lydgate; The Kingis Quair by James I of Scotland

Artist / School

Geoffrey Chaucer (author)
Thomas Hoccleve (author)
John Lydgate (author)
James I of Scotland (author)

Previous Owners

John Selden
---
Available facsimile editions:
Facsimile Editions
#1

The Works of Geoffrey Chaucer and the Kingis Quair: a Facsimile of Bodleian Library, Oxford, MS Arch. Selden. B. 24
Commentary:
1 volume by Julia Boffey, A. S. G. Edwards and B. C. Barker-Benfield
Language: English
1 volume: This facsimile is not complete.
Partially colored reproduction of the entire original document with 550 black and white plates and eight color plates. The pages are presented on a larger white background. The binding may not correspond to the original or current document binding.
You might also be interested in: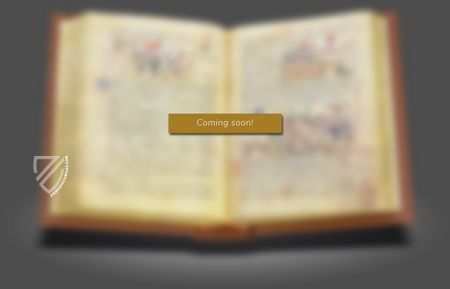 Ellesmere Chaucer
Stories of the Lady of Bath and many other exemplary figures from medieval society during a pilgrimage: one of the earliest copies of Geoffrey Chaucer's masterpiece of English literature
Experience More
Blog articles worth reading