Works of Geoffrey Chaucer and the Kingis Quair
Description
Works of Geoffrey Chaucer and the Kingis Quair
The last great manuscript anthology of Geoffrey Chaucer's works is also one of the earliest Scottish literary anthologies. MS Arch. Selden. B. 24 of the Bodleian Library contains texts of Troilus and Criseyde, the Legend of Good Women, and the Parliament of Fowls along with various shorter works by Chaucer. It also contains the Quare of Jelusy * and the *Kingis Quair by King James I of Scotland, one of the oldest Scottish works written in the courtly style and thus offers substantial evidence of how Chaucer was received in Scotland. The history of how the manuscript was created is complex and offers important insights into how such anthologies were compiled.
Works of Geoffrey Chaucer and the Kingis Quair
Among the various anthologies of the works of Geoffrey Chaucer (1342/43–1400), this manuscript is a unique example of a particularly rich and diverse "household book" that is solely devoted to Chaucer and was created in various stages beginning ca. 1489. Despite the association of Chaucer with London literary culture and the authority of the English language, this is a Scottish manuscript that includes a poem by inter alia King James I of Scotland (1394–1437) and was commissioned by a wealthy Scottish family with a unique taste for all things Chaucer.
A Curious Work Created in Stages
This Chaucerian collection began with an unadorned copy of Troilus and Criseyde, which was appended with a diverse assortment of poems, some by Chaucer and others incorrectly attributed to him, perhaps as a means of "Scotticizing" him: Truth, the Complaint of the Black Knight by John Lydgate (ca. 1370 – ca. 1451), Mother of Gods by Thomas Hoccleve (1368/69–1426), the Complaint of Mars and Complaint of Venus, the Book of Cupid by Sir John Clanvowe (ca. 1341–91), the Parliament of Fowls, and the Legend of Good Women. It ends with King James' Kingis Quair, which the scribe treated with the same respect as Chaucer's own work. At this point, it is obvious that a second scribe has taken up the work and added four more works including Hoccleve's Letter of Cupid three Scottish works: the Lay of Sorrow, the Lufaris Complaynt, and the Quare of Jelusy. Finally, shorter unattributed poems in a Scottish dialect were written on what was originally the manuscript's flyleaves and added by a much later third hand.
Provenance of the Manuscript
The décor of the manuscript was not part of the original design and appears to have been added sometime before the second scribe made his contributions but sheds some light on its origins. Its lavish opening folio with a historiated initial is one of the few illustrations of a scene of Troilus and Criseyde. This folio was actually a replacement of the original but was created by the same scribe. The Sinclair family coat of arms that appears on fol. 118v may even predate this "upgrade" and indicates that the Sinclairs either commissioned the original manuscript or acquired and expanded it shortly after it originated. Various decorative initials and borders with flowers, fruits, songbirds, and an owl were added at a later date. What is known for certain is that the manuscript was owned by the English polymath John Selden (1584–1654) before being acquired by Oxford's Bodleian Library in 1659 and remains there today.
A Poem of Royal Captivitiy
The Kingis Quair was composed in the Chaucerian rhyme scheme rhyme royal (ABABBCC) as a narrative of King James' captivity by the three Lancastrian Kings of England Henry IV, Henry V, and Henry VI between 1406 and 1424. It describes his capture at sea while on his way to France and his subsequent imprisonment. After a period of isolation, a songbird helps to lift his spirit and when looking outside, he sees a beautiful woman and falls in love. She is eventually able to liberate him and represents Joan Beaufort (ca. 1404–45), whom James married as part of an agreement for his release that created an alliance with England instead of France. Falling into a depression after she leaves, he is visited in a dream by the goddesses Venus, Minerva, and Fortune. After having been instructed on the nature of free will and endowed with wisdom, he is reunited with his beloved and gives thanks to all who helped him, including a dedication to Chaucer and John Gower (ca. 1330–1408).
Codicology
Alternative Titles

Werke von Geoffrey Chaucer und das Kingis Quair

Type

Origin

Date

Ca. 1489

Epochs

Style

Genre

Language

Script

Late gothic secretary

Content

Troilus and Criseyde by Geoffrey Chaucer; poems by Geoffrey Chaucer, Thomas Hoccleve and John Lydgate; The Kingis Quair by James I of Scotland

Artist / School

Geoffrey Chaucer (author)
Thomas Hoccleve (author)
John Lydgate (author)
James I of Scotland (author)

Previous Owners

John Selden
---
Available facsimile editions:
Facsimile Editions
#1

The Works of Geoffrey Chaucer and the Kingis Quair: a Facsimile of Bodleian Library, Oxford, MS Arch. Selden. B. 24

Commentary:

1 volume by Julia Boffey, A. S. G. Edwards and B. C. Barker-Benfield
Language: English

1 volume: This facsimile is not complete.

Partially colored reproduction of the entire original document with 550 black and white plates and eight color plates. The pages are presented on a larger white background. The binding may not correspond to the original or current document binding.
You might also be interested in: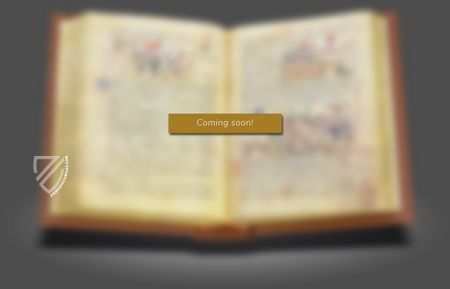 Ellesmere Chaucer
United Kingdom – Early 15th century
Stories of the Lady of Bath and many other exemplary figures from medieval society during a pilgrimage: one of the earliest copies of Geoffrey Chaucer's masterpiece of English literature
Experience More
Blog articles worth reading