Ellesmere Chaucer
Description
One of the most iconic and celebrated books in the world: the so-called Ellesmere Chaucer, the most beautiful manuscript of the famous Canterbury Tales by Geoffrey Chaucer (ca. 1343–1400). Created in the decade after Chaucer's death, it is also one of the most complete and authoritative specimens of the now-lost original manuscripts. The large-format manuscript is considered a masterpiece of late-medieval English illumination and features 200+ initials set in fantastic marginalia and rendered in rich shades of red and blue as well as gold leaf. Additionally, 23 miniatures depict the various story tellers as well as Chaucer himself, a truly special feature as portraits of medieval authors are extremely rare.
Ellesmere Chaucer
This early 15th century English manuscript it not only one of the most beautifully adorned Chaucer specimens, it is also one of the earliest, most complete, and authoritative because the original manuscripts are now lost. As such, it serves as the base text for most modern editions of the Canterbury Tales, by Geoffrey Chaucer (ca. 1343–1400), who wrote them between 1387 and 1400. Written in Middle English, the story revolves around a group of pilgrims on their way to Canterbury Cathedral to visit the tomb of Thomas Becket and participate in a storytelling contest during their travels. As such, it structurally resembles The Decameron by Giovanni Boccaccio (1313–1375), which Chaucer would have been exposed to during his Italian sojourns on behalf of the English Crown. Originating between 1400 and 1410, the Ellesmere Chaucer is named after erstwhile owner, the 1st Baron Ellesmere, Sir Thomas Egerton (1540 – 15 March 1617) who was also 1st Viscount Brackley and a member of the Privy Council of Queen Elizabeth I (1533–1607).
A Cornerstone of English Literature
It appears as though Chaucer died before he could complete the work – although 31 pilgrims are mentioned, only 24 tales are told and the return journey to London is missing. Juxtaposed between the tales are short scenes, usually taking the form of lively exchanges and even arguments between the pilgrims, who come from all walks of life: knight, prioress, monk; merchant, man of law, franklin, scholarly clerk; miller, reeve, pardoner; wife of Bath and many others. Works representing such a broad swath of society were almost unheard of. Their stories range from moralizing to downright bawdy and are open to interpretation, helping to account for their ongoing allure. The manuscript at hand is believed to be the work for the scribe Adam Pinkhurst, who had worked for Chaucer while he was alive. The revisions made in the Ellesmere manuscript suggest that they were made by someone who knew the author and his intentions, and may have had access to earlier drafts.
An Artistic Masterpiece
The Ellesmere Chaucer contains 22 of the 24 stories that make up the Tales as we know them, which are adorned with 200+ initials rendered in splendid red, blue, and gold leaf. It additionally features miniatures of the 22 pilgrims at the beginning of their respective stories, which are also adorned by wonderful marginalia of various tendrils, known as demi-vinet borders. These are distinguished by their great refinement and detail, as well as indicating that the artists responsible, perhaps as many as three, were from East Anglia. An additional miniature is a portrait of Chaucer, something truly special as depictions of medieval authors are extremely rare, even if it was made a decade after his death. The large format of the manuscript, which measures 40 x 28.4 cm, allowed both the scribe and the team of artists responsible for the illumination and miniatures plenty of room for an elegant and uncluttered design. This masterpiece is incredibly well preserved because it lay undisturbed in the library of the Barons of Ellesmere for 300 years before being professionally cared for in the Huntington Library, and was rebound in 1995 to ensure that the 240 leaves will maintain their excellent condition.
"Margery seynt John ys a shrew!"
Many illuminated manuscripts bear evidence of their ownership histories such as escutcheons from nobles who owned them or notes from librarians who catalogued them, but few have the kind of rich "graffiti" found in the fly leaves of the Ellesmere Chaucer. Most striking is the accusation written in 16th century script that someone named Margery St. John is a shrew. Poor Margery has been slandered in these fly leaves for centuries as a result, but her identity and that of the hand from which the insult came are not known. The outburst could just as easily be the result of a sibling feud as unrequited love. This and many other such entries in the flyleaves preceding and following the text include the names Robertus Drury, Thomas Calthorpp, and Edwarde Waldegrave, who coincidentally had two cousins named Margery St. John. Additionally, one finds a few lines of verse in Latin and English, other writing exercises, doodles, and pen trials. The manuscript came to the United States in 1917, a highlight in the collection of 8,000 early printed books and 13,000 manuscripts on manifold subjects dating from the Middle Ages to the 18th century sold by John Francis Granville Scroop Egerton (1872–1944), 4th Earl of Ellesmere to American railroad magnate Henry E. Huntington (1850–1927). Today it represents a highlight of the collections of the beautiful Huntington Library in San Marino, California.
Codicology
Alternative Titles

The Canterbury Tales. The New Ellesmere Chaucer




Ellesmere Manuscript of the Canterbury Tales




The New Ellesmere Chaucer

Size / Format

480 pages / 40.0 × 28.4 cm

Origin

Date

Early 15th century

Epochs

Style

Genre

Language

Script

Anglicana

Illustrations

22 figural illustrations, over 200 decorative initials with immense marginal extensions

Content

Canterbury Tales

Artist / School

East Anglian school

Previous Owners

John de Vere, 12th Earl of Oxford
Sir Thomas Egerton, 1st Baron Ellesmere
---
Available facsimile editions: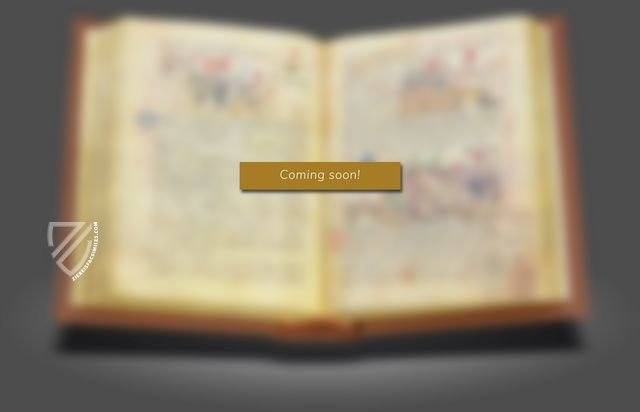 Maruzen-Yushodo Co. Ltd.
– Tokyo, 1995
Limited Edition:
150 copies
---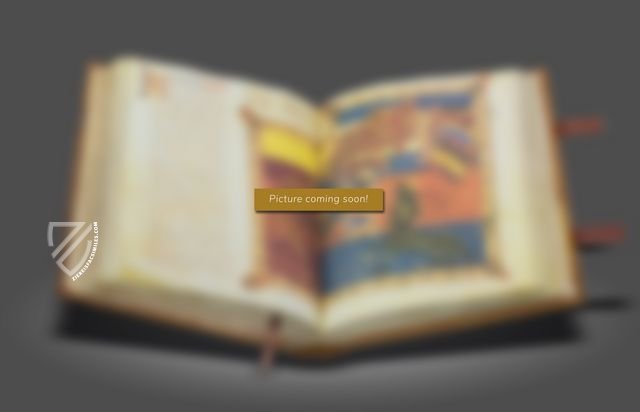 Maruzen-Yushodo Co. Ltd.
– Tokyo, 1995
Limited Edition:
100 copies
Facsimile Editions
#1

The Canterbury Tales. The New Ellesmere Chaucer

Limited Edition:

150 copies

Commentary:

1 volume by Daniel Holt Woodward and Martin Stevens
Language: English

1 volume: Exact reproduction of the original document (extent, color and size)

Reproduction of the entire original document as detailed as possible (scope, format, colors). The binding may not correspond to the original or current document binding.

Facsimile Copy Available!

Price Category: €€€€
(7,000€ - 10,000€)
---
#2

The Canterbury Tales: the New Ellesmere Chaucer (Unbound Edition)

Limited Edition:

100 copies

Facsimile Copy Available!

Price Category: €
(under 1,000€)
You might also be interested in: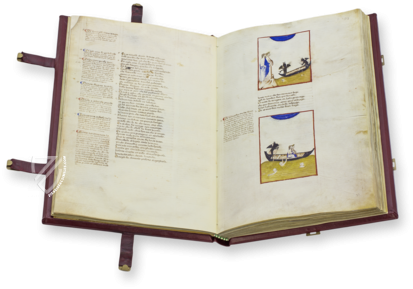 Divine Comedy - Gambalunga Manuscript
Venice or Bologna (Italy) – 1392–1393 or 1399–1400
A masterpiece of the Italian Trecento: the Dante manuscript illuminated by Cristoforo Cortese, the most important Venetian illuminator of the late Gothic period
Experience More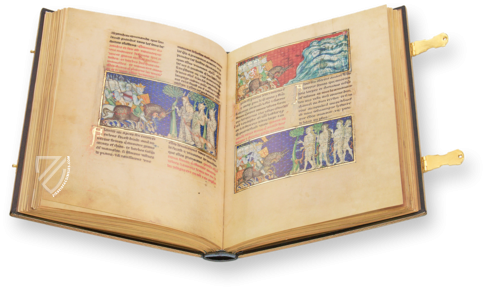 Berlin Alexander Romance
Northern France – Late 13th century
Glorified as an ideal ruler and admired as a military commander: The legendary story of Alexander the Great, told in over 100 gold-embellished French Gothic miniatures
Experience More
Blog articles worth reading