York Gospels
Add. 1
Minster Library (York, United Kingdom)
Description
The York Gospels are counted among a small number of manuscripts produced before the Norman Conquest of 1066 that have survived to the present. They were created ca. 990 by monks from Saint Augustine's Monastery in Canterbury and were then taken ca. 1020 to York, where they have been in continuous use at the York Minster for the last 1,000 years. The gorgeously illuminated Gospel Book also has a letter from King Cnut the Great (r. 1016–1035) and records concerning the church's property in York. It is the only surviving English Gospel Book containing the oaths taken by archdeacons, canons, and vicars choral between the 14th and 16th centuries. In recent years, it has been the subject of scientific research and the DNA analysis of the manuscript has produced numerous important findings for both the study of the manuscript itself and broader fields of study.
Codicology
Alternative Titles

Evangeliar in York

Size / Format

334 pages / 27.0 × 20.5 cm

Origin

Date

Late 10th century and mid-11th century

Epochs

Genre

Language
Facsimile Editions
#1

The York Gospels
Commentary:
1 volume by Nicholas Barker and Jonathan J. Alexander
Language: English
1 volume: This facsimile is not complete.
Reproduction of the entire original document as detailed as possible (scope, format). The majority of the pages are monochrome facsimiles, some miniatures have been reproduced in color. The binding may not correspond to the original or current document binding.
You might also be interested in: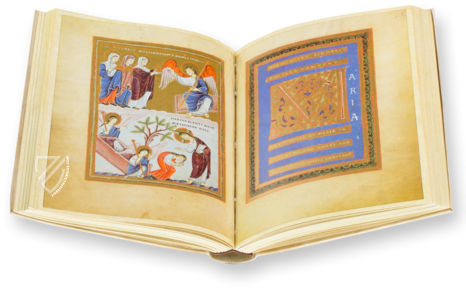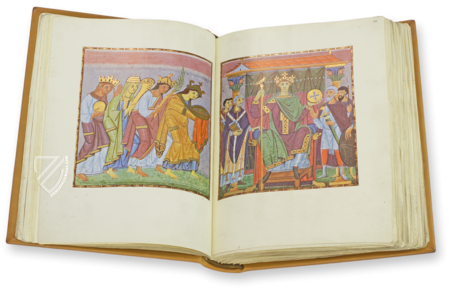 Gospels of Otto III
Monastery of Reichenau (Germany) – Shortly after 997
Golden miniatures and a famous portrait for the Emperor: an opulently decorated Ottonian masterpiece from the famous scriptorium of the Reichenau monastery
Experience More
Blog articles worth reading