Abu Mansur Muwaffak ibn Ali al-Harawi: The Foundations of the True Properties of Remedies
Description
Abu Mansur Muwaffak ibn Ali al-Harawi: The Foundations of the True Properties of Remedies
Rigorous science already in the 10th century: Abu Mansur Muwaffaq was a dedicated and highly learned physician and pharmacologist in Herat, the third largest city in modern Afghanistan. His work "The Foundations of the True Properties of Remedies" became famous. In order to write this fundamental work, he not only studied the scientific works of his predecessors, as he writes in the introduction, but, driven by the thirst for knowledge, traveled throughout Persia and India. The result is the strictly categorized presentation of 585 remedies, how they can be obtained mainly from plants, but also from minerals and animals (for example, the depilatory effect of calcium oxide was known to him). This textbook is also significant from a linguistic point of view: it is the oldest preserved prose work in Persian.
Abu Mansur Muwaffak ibn Ali al-Harawi: The Foundations of the True Properties of Remedies
The Foundations of the True Properties of Remedies by Abu Mansur Muwaffak ibn Ali al-Harawi, a 10th century Persian physician, is of special value because it is the oldest preserved manuscript in the Persian language. After Persia was conquered by Muslim Arabs in the 7th century, Arabic was the only written language until the 10th century. It was then that feelings of national identity began to reemerge in the courts of Persia's dynasties, and works of poetry and science began to be written in Persian once more. It was in this time that Harawi undertook the project of creating a Persian translation of the De materia medica by Pedanius Dioscorides, a 1st century Greek physician serving in the Roman army. This original manuscript was likely created between 968 and 977. The specimen at hand was made by Asadi Toosi ca. 1026 according to a note in the introduction, which also wishes the author good health and claims that he is still alive at the time. Little is known about the manuscript's origins, but it found itself in the collections of the Imperial Library in Vienna by 1820. The codex presents 585 remedies: 466 plant-based remedies, 75 mineral-based, and 44 animal-based.
Codicology
Alternative Titles

Abu Mansur Muwaffak ibn Ali al-Harawi: Das Buch der Grundlagen über die wahre Beschaffenheit der Heilmittel

Size / Format

438 pages / 19.0 × 15.0 cm

Origin

Date

Between 960 and 980

Epochs

Style

Language

Illustrations

Calligraphically highlighted headings, partially red
---
Available facsimile editions: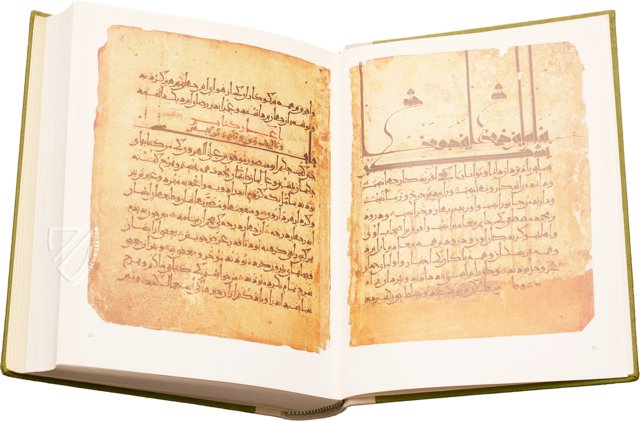 Akademische Druck- u. Verlagsanstalt (ADEVA)
– Graz, 1972
Facsimile Editions
#1

Abu Mansur Muwaffak ibn Ali al-Harawi: Das Buch der Grundlagen über die wahre Beschaffenheit der Heilmittel

Commentary:

1 volume (116 pages) by F. R. Seligmann and C. H. Talbot
Languages: English, Latin

Reprint of the English translation by F. R. Seligmann (Codex Vindobonensis sive Medici Abu Mansur Muwaffak Ibn Ali Heratensis Liber fundamentorum pharmacologiae, Pars I, Vienna 1859) with a modern introduction by C. H. Talbot.

1 volume: 16 pages will be reproduced in colour, the other pages in black-and-white.

Reproduction of the entire original document as detailed as possible (scope, format, colors). The binding may not correspond to the original or current document binding. 16 pages in color, the other pages facsimiled in black and white.

Facsimile Copy Available!

Price Category: €
(under 1,000€)