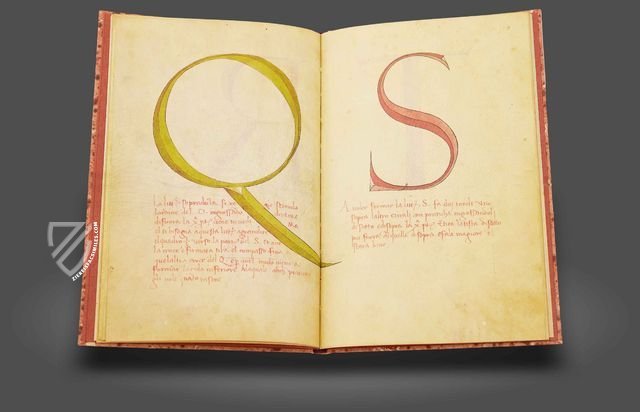 Alphabetum Romanum
Verona (Italy) — 1460
This 15th century manuscript is of utmost importance for the history of script

Felice Feliciano (1433–1479) constructed the alphabet using geometric shapes

The basis for the font "Felix Titling" used for modern typewriters and computers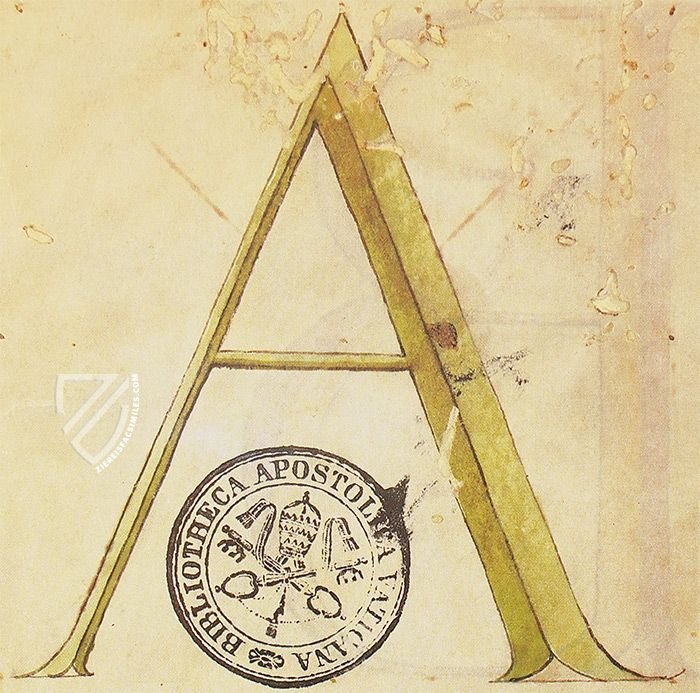 Alphabetum Romanum
Alternative Titles:
Alphabetum Romanum of Felice Feliciano
Alphabetum Romanum des Felice Feliciano
Short Description
The Alphabetum Romanum is a manuscript by the Italian humanist Felice Feliciano. By the use of epigrams, 25 letters of the alphabet were reconstructed, which were depicted in their original form with the help of geometric forms. The colored codex is a historically significant work and had a great influence of the history of script.
Alphabetum Romanum
Around 1460, a codex arose in Italy that was of utmost importance for the history of script. The Alphabetum Romanum was the first handwritten treatise, in which the alphabet was reconstructed on the basis of Roman epigraphs. With the help of geometric forms, more precisely of circles and squares, the capital letters of the Roman language were correctly reproduced.
Feliciano the Polymath
The paper was authored by Felice Feliciano, an Italian calligrapher, alchemist, and expert of Roman history. Feliciano was born near Verona around 1433 and died in Rome in 1479, shortly after the discovery of Italian book printing was achieved. His alphabet is the basis for the font "Felix Titling", which was programmed by the American company Monotype for typewriters and computers.
Significant Studies on Writing
Feliciano depicted 25 letters. Every letter is found inside of a circle, which is bordered by a square. He achieved symmetry and perfect form with the help of these geometric ledger lines. The handwritten letters are colored differently. Beneath every character is a short passage in red letters, which contains studies and explanations by Feliciano. The historically significant original edition resides today in the Apostolic Library of the Vatican.
Codicology
Alternative Titles

Alphabetum Romanum of Felice Feliciano




Alphabetum Romanum des Felice Feliciano

Size / Format

42 pages / 18.0 × 12.5 cm

Origin

Date

1460

Epochs

Style

Language

Content

25 capital letters of the Latin alphabet with instructions on their proper execution; colored ink recipes, Latin poem by Paolo Ramusio

Artist / School

Felice Feliciano (1433–1479)
1 available facsimile edition(s) of "Alphabetum Romanum"
Alphabetum Romanum of Felice Feliciano Facsimile
Alphabetum Romanum of Felice Feliciano Facsimile
1 volume: Exact reproduction of the original document (extent, color and size)
Publisher

Belser Verlag – Zurich, 1985

Binding

Marbled paper

Commentary

1 volume by Giovanni Mardersteig
Language: German

More Information

Reproduction of the entire original document as detailed as possible (scope, format, colors). The binding may not correspond to the original or current document binding.
Matching Works
Gladiatoria
With wonderful illustrations and descriptions: the fencing techniques from the "father of the German fencing school"
Experience More
Ars Magna
Two centuries on the index of banned books: a scientific treatise with a machine that can distinguish truth from lies
Experience More
Matching Background Articles
Renaissance

What does the word "Renaissance" bring to mind for you? Art, science, and culture of course! It was a "rebirth" and...

Experience more

15th Century

Come and explore an age of stark contrasts as Europe comes back from the brink: calamities like the Fall of...

Experience more