Ambrosian Virgil of Francesco Petrarca
Description
Ambrosian Virgil of Francesco Petrarca
Aside from being a prolific author, Petrarch was also a bibliophile who amassed one of the finest private libraries of his day, which included many works from classical antiquity. The most famous manuscript in his library was the so-called Ambrosian Virgil, which contains the most important works by the famous Roman author as well as works by Publius Papinius Statius, Horace, and various grammatical works. Petrarch commissioned the work for his own use, and it was made in Avignon ca. 1300–25. However, the manuscript was soon stolen and Petrarch could not recover it until 1338. The manuscript is also famous for its allegorical frontispiece representing the Aeneid, Georgics, and Eclogues, which was created by his friend Simone Martini ca. 1340.
Codicology
Alternative Titles

Petrarca: Vergilianus-Codex




Francisci Petrarcae Vergilianus Codex




Virgilio ambrosiano

Size / Format

538 pages / 41.0 × 26.5 cm

Origin

Date

Ca. 1300–1325

Epochs

Style

Genre

Language

Content

Vergil's Bucolics, Georgics and Aeneid; Servius' exegesis; Statius' Achilleid including accessus and commentary; 4 odes by Horace (II 3, II 10, II 16, and IV 7) with the commentary of Pseudo-Acron and some medieval glosses; two exegeses of the third book

Artist / School

Simone Martini

Previous Owners

Francesco da Carrara
Visconti Library at Pavia
Cardinal Federico Borromeo
Facsimile Editions
#1

Francisci Petrarcae Vergilianvs codex

Publisher:

Hoepli

– Milan, 1930

Commentary:

1 volume by Achille Ratti and Giovanni Galbiati
Language: Italian

1 volume: Exact reproduction of the original document (extent, color and size)

Reproduction of the entire original document as detailed as possible (scope, format, colors). The binding may not correspond to the original or current document binding.
You might also be interested in: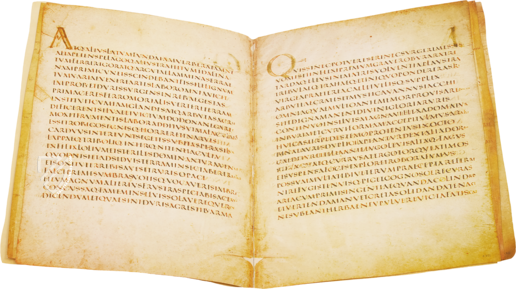 Vergilius Augusteus
Rome (Italy) – Second half of the 4th century
Pioneering the art of the initial: the oldest evidence of Virgil's Work in a Late Antique manuscript from the 4th Century
Experience More
Petrarca Queriniano
Venice (Italy) – 1470
The Canzoniere, created for an unknown noblewoman: Petrarch's love for Laura and mourning for her death adorned with touching marginal illustrations
Experience More