Les Triomphes de Petrarque
Description
Les Triomphes de Petrarque
Petrarch's Trionfi counts among the most popular works of the great poet of the early Renaissance. The six chapter allegorical poem regarding the triumphs of good and beauty stands squarely in the tradition of his time and is simultaneously an expression of Petrarch's literary creativity. In Vienna today, this manuscript originated from Rome at the turn of the 16th century, the Triumphs are presented and illustrated with gorgeous, large-format miniatures in the French translation.
Les Triomphes de Petrarque
Francesco Petrarca (1304–74), famous humanist, poet, and politician of the Italian Renaissance, is considered to be one of the most significant representatives of 14th century Italian literature. Petrarch – completely in the spirit of the Renaissance – took antiquity as a model and depicted man in the center of his worldview. The famous Trionfi, an allegorical poem, stand squarely in this tradition.
The Victory of the Good and Beautiful
This is a six-part verse poem in the form of triumphal depictions, a well-loved motif of Renaissance art as well, to be found e.g. in the countless triumphal processions. Here Petrarch extols the triumph of love, chastity, and glory, the triumph of time, the triumph of death over time, and the triumph of eternity. Intimate autobiographical references alternate with moralizing sections, and the Laura who Petrarch profoundly revered naturally stands at the center of the work.
The Masterful Poem in a Masterful Manuscript
The Vienna Trionfi-manuscript is a testimonial to the broad distribution of Petrarch's poem. The Triumphs, this wonderfully allegorical Italian poem, is certainly not considered to be his most significant work, but is one of his most popular nonetheless. In this ambitious French translation of the Italian text – titled Les Triomphes de Petrarque – the significance of the Triumphs is made apparent. The gorgeous manuscript is a work of French illumination: originating in Rouen from the years 1500–1510, it presents itself as a fantastic work of the so-called Rouen school.
Famous Lovers in Grandiose Painting
86 miniatures of Petrarch's Trionfi are illustrated on 590 pages. These are gorgeously framed by impressive architectural decorative frames and are supplemented by 1,800 golden initials. The scenes present depictions of the content, e.g. Petrarch, dreaming in a chariot before Amor, and again Amor, the god of love. Additionally, numerous ancient myths were taken up, e.g. the tales of Pyramus and Thisbe, Salome, or Bathsheba.
Codicology
Alternative Titles

Petrarca: Triumphe




I Trionfi di Francesco Petrarca




Petrarch's Triumphs




Franciscus Petrarca Trionfi gallice cum explicationibus

Size / Format

597 folios / 32.5 × 21.0 cm

Origin

Date

ca. 1500

Epochs

Style

Genre

Language

Illustrations

84 large miniatures in frame and 1,800 golden initials

Artist / School

Rouen school

Previous Owners

René II, Duke of Lorraine (1451–1508)
Anthony II Duke of Lorraine (1489–1544)
Prince Eugene of Savoy (1663–1736)
Emperor Charles VI (1685–1740)
Napoleon Bonaparte (1769–1821)
---
Available facsimile editions:
You might also be interested in: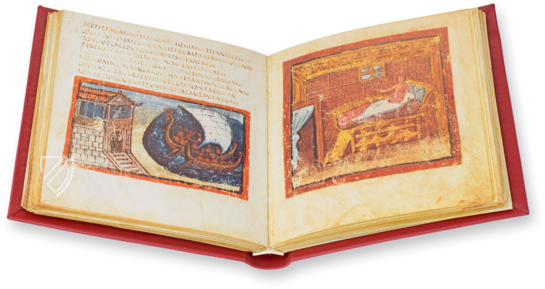 Vergilius Vaticanus
Rome (Italy) – Around 400
Like murals from Pompeii: the oldest Vergil manuscript from antiquity and the most important example of an illustrated book of the period
Experience More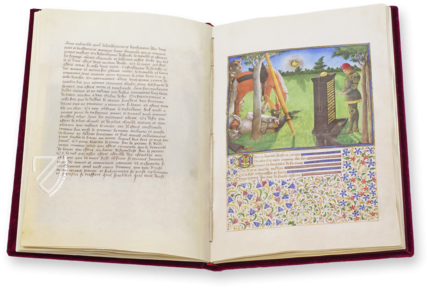 King René's Book of Love
France – 1460–1467
Inspired by a tragic loss, illuminated with the most beautiful twilight scenes of illumination: an allegorical chivalric romance written by Duke René d´Anjou and illustrated by Barthélemy d'Eyck
Experience More
Blog articles worth reading