Petrarca: Trionfi - Spain Codex
Description
Petrarca: Trionfi - Spain Codex
Petrarch's Trionfi are among the most popular literary works of the Renaissance. In it, the great poet of the early Italian Renaissance sings of the triumph of Love, Chastity, and Glory, the triumph of Time, the triumph of Death over Time, and the triumph of Eternity, thus setting forth his humanistic worldview entirely in the spirit of his time. Each of the Triumphs is introduced by a magnificent full-page miniature and the codex received a splendid red velvet binding with a cardinal's hat from its last owner, the famous bibliophile and Vatican librarian and archivist Cardinal Francesco Saverio de Zelada. However, the identity of the artist who illuminated this small masterpiece in 15th century Italy remains a matter of debate among researchers.
Petrarca: Trionfi – Spain Codex
Despite its small side, this outstanding manuscript is furnished with extraordinarily refined miniatures as well as historiated initials and frames with an unbelievable level of detail that were made from refined color palette and plenty of gold. The seven full-page miniatures appear at the beginning of each Triumph, the titles appear in gold, and blue and gold initials mark the beginning of new sections. Aside from the text of the Trionfi, this manuscript also contains a Vita concerning Petrarch, a poem written in terza rima with examples of some of the Triumphs and descriptions of biblical and historical figures. These figures serve as examples for the universal themes that Petrarch explores in the text, such as the nature of time and what the true meaning of love is. This small manuscript unites one of the most important literary works of the 14th century with the magnificence of Italian Renaissance art!
Journey to Spain
The manuscript came into the possession of Cardinal Francesco Saverio de Zelada (1717–1801) during his time at the Papal Curia in Rome, but its history before remains mostly a mystery. It is assumed that it was at his behest that the codex was rebound and given its current binding of sumptuous red velvet with gold and silver threads forming a cardinal's hat, which is kept close by strands of silk that can be tied. Zelada was not known for his piety but rather for his fines tastes as an antiquarian and collector of books, coins, medals, various works of art, and even scientific machines. He was appointed Librarian of the Holy Roman Church on the 15th of December 1779, a position he held for the rest of his life. This copy of the Trionfi was sent to Spain along with the rest of his collection of manuscripts in the late-18th century. After being part of the collections of the Toledo Cathedral Library, it found its way into the National Library in Madrid, where it remains today.
Debate Concerning the Artist
The identity of the talented master responsible for this gem of 15th century Italian book art remains a topic of debate. Some point to artistic similarities in another Trionfi manuscript that was illuminated by Francesco di Antonio del Chierico (1433–1484) for Lorenzo de Medici (1449–92) in 1475. These scholars to speculate that the favorite illuminator of the greatest art patron of Renaissance Italy was responsible for this manuscript as well. However, some of their colleagues have recently begun to put forward the name of another, less famous candidate: Riccardo di Nanni (fl. 1449–80). They argue that the technical details of the seven outstanding full-page miniatures are more indicative of the Florentine artist's work. What everyone can agree on is that this is a small book treasure.
Codicology
Alternative Titles

Triunfos de Petrarca




Il Trionfi di Francesco Petrarca




Petrarch's Triumphs




Les Triomphes de Petrarque




Trionfi. Petrarca




Petrarca. Trionfi

Size / Format

158 pages / 11.5 × 7.5 cm

Origin

Date

15th century

Epochs

Style

Genre

Language

Script

Humanist

Illustrations

7 full-page miniatures, numerous decorative borders and historiated initials

Content

Petrarch's Triumphs

Artist / School

Author: Francesco Petrarca (1304–74)
Miniaturist: Ricciardo di Nanni (fl. 1449–80) or Francesco di Antonio del Chierico (1433–84)

Previous Owners

Cardinal Zelada (1717–1801)
---
Available facsimile editions:
Detail Picture
Petrarca: Trionfi - Spain Codex
Triumphus Mortis: Triumph of Death
The personification of Death stands atop a column adorned with skulls and bat wings in an elaborate triumphal chariot drawn by two black draft horses, precisely the kind used in funerary processions. Instead of flowers, his Via Triumphalis is strewn with the corpses of proud people from across history including emperors, popes, and great warriors. Although Petrarch only ascribes an actual triumphal chariot to Love, most illustrators chose to apply the device to all of the Trionfi.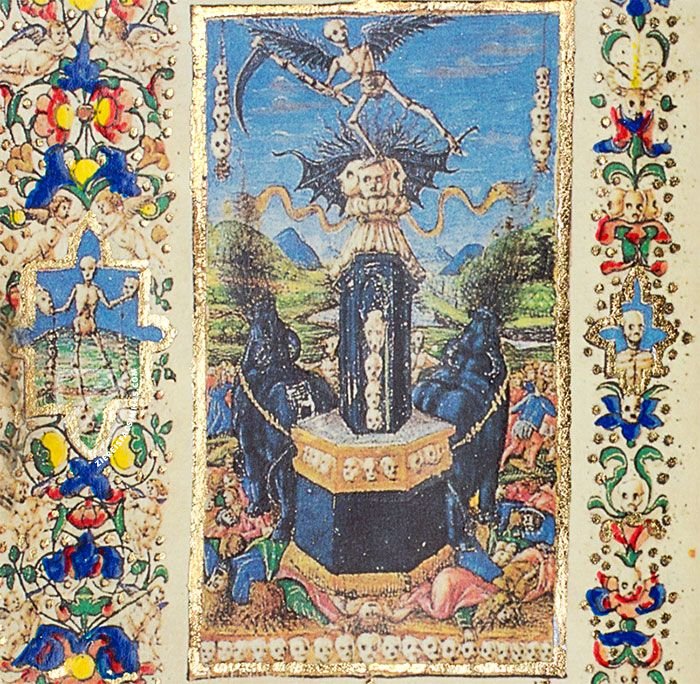 Single Page
Petrarca: Trionfi - Spain Codex
Triumph of Chastity
Surrounded by a frame of medallion miniatures, fruits, flowers, cherubs, and birds rendered in rich primary colors and gold leaf, this miniature shows the personification of Pudicitia, the goddess of sexual virtue and Petrarch's second triumph. Like in the rest of the codex, she is portrayed as though partaking in a Roman triumph, the procession enjoyed by victorious generals.
The maiden carries the bow and arrow of Cupid in her right hand as a spoil of war with the god himself handcuffed at her feet. In her left hand she raises a banner with an ermine on a green field – the color of the background symbolizes youth, the animal, innocence, the gold collar that leads to the neck, purity, and the topazes, temperance. Two unicorns draw the carriage.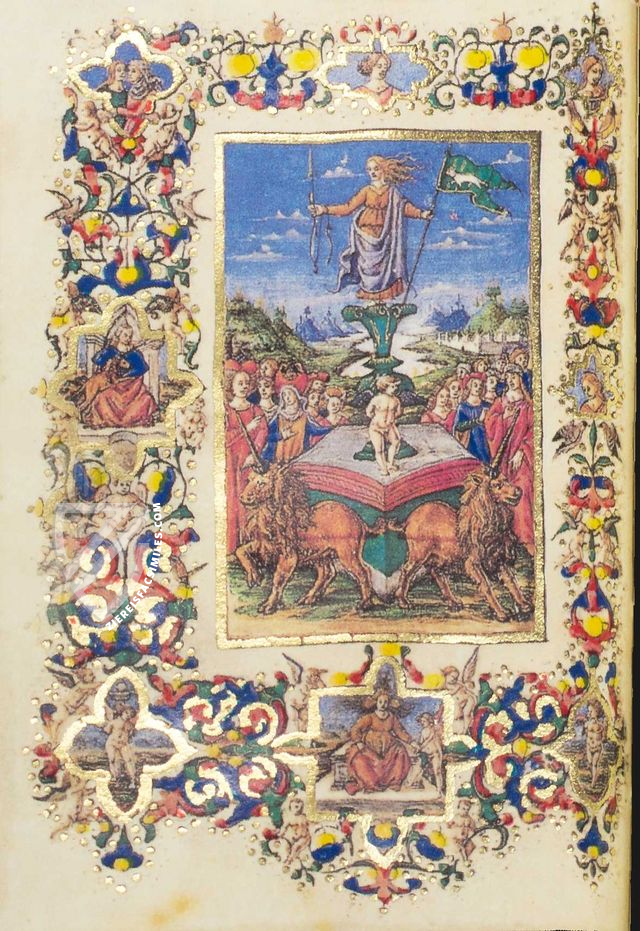 Facsimile Editions
#1

Petrarca: Trionfi

Limited Edition:

1380 copies

Binding:

Red velvet with gold and silver thread embroidery

Commentary:

1 volume (160 pages) by Asunción Madinaveitia, Manuel Sánchez Mariana, Elisa Ruiz de Elvira, Robert Hilgers, Ludwig Fürst von Anhalt-Köthen, Hernando De Hoces, and Harald Binde
Languages: Spanish or German or English

1 volume: Exact reproduction of the original document (extent, color and size)

Reproduction of the entire original document as detailed as possible (scope, format, colors). The binding may not correspond to the original or current document binding.
You might also be interested in: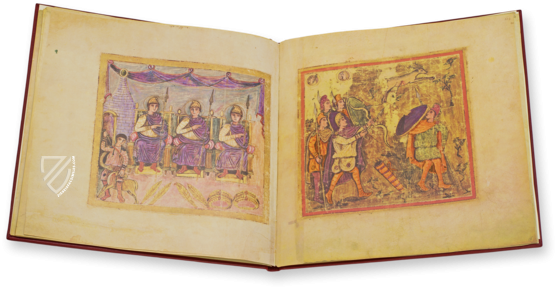 Vergilius Romanus
Rome (Italy) – Around 500
The bridge between the art of antiquity and the Middle Ages: Virgil's most famous works in one of the most magnificently illuminated manuscripts of Late Antiquity, furnished with 19 gold-framed miniatures
Experience More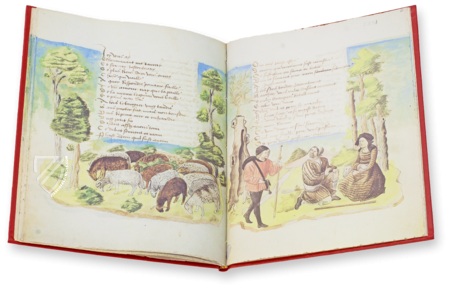 Blog articles worth reading