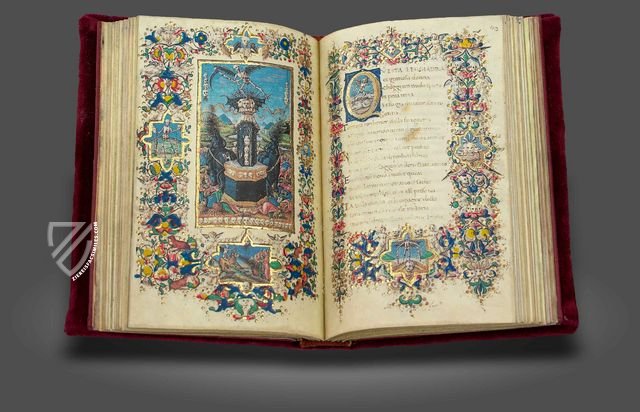 Petrarca: Trionfi - Spain Codex
— 15th century
One of Petrarch's greatest literary works extols the Triumphs of Time, Love, Chastity, Fame, Death, and Eternity

Zanobi Strozzi and Francesco d'Antonio del Chierico collaborated on a gem of 15th century illumination

Del Chierico was employed by the Medici and Federico da Montefeltro (1422–82) among other famous art patrons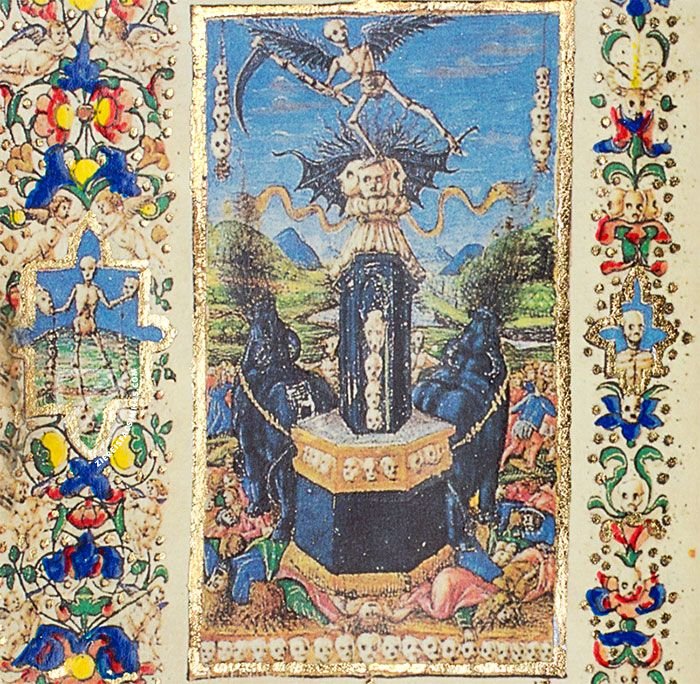 Petrarca: Trionfi - Spain Codex
Alternative Titles:
Triunfos de Petrarca
Il Trionfi di Francesco Petrarca
Petrarch's Triumphs
Les Triomphes de Petrarque
Short Description
Petrarch's Trionfi counts among the most popular literary works of the Renaissance. The great poet of the Early Italian Renaissance extols the Triumphs of Time, Love, Chastity, Fame, Death, and Eternity, thus representing his humanistic world view in line with his time period. With the help of Zanobi Strozzi, the famous miniaturist Francesco d'Antonio del Chierico adorned a precious 15th century manuscript of this great work of Italian literature and culture with gorgeous pictorial adornment.
Petrarca: Trionfi
This manuscript, known as the Roman Trionfi Codex, is housed in the Biblioteca dell'Accademia Nazionale dei Lincei e Corsiniana in Rome. Originating from the second-half of the 15th century, it simultaneously reflects the spirit of Humanism during the Italian Renaissance and offers an inside view into the overwhelming artwork of Italian illumination at this time. The man responsible for this pictorial adornment was Francesco d'Antonio del Chierico (1433–1484), one of the greatest miniatures in Florence during the 15th century.
A Miniaturist for Princes and Monarchs
Del Chierico was employed by the Medici and Federico da Montefeltro inter alia, but also worked for famous patrons outside of Italy. He made the illumination, consisting of six miniatures, wonderful frames, and decorative initials, presumably with the help of Zanobi Strozzi. Bright flowers and exuberant ornamentation fully in the style of the Renaissance adorn the manuscript's 120 pages, which are additionally furnished with precious gold and presented in a luxurious manuscript.
The Triumph of Good and Beauty
The six full-page primary miniatures of the Triumphs of Time, Love, Chastity, Fame, Death, and Eternity illustrate the Italian text of the Trionfi by Francesco Petrarca (1304–1374). This work by the great poet and humanist of the Early Renaissance stands in the tradition of its time and was also popular and widely-disseminated during the following centuries. The allegorical poem with six chapters on the Triumphs of Good and Beauty originated 1350–74. Strongly autobiographical references are also found next to generally moralizing sections in this significant text.
Doubly Significant
The manuscript at hand simultaneously unites two highpoints on its pages: a significant literary work by one of the most significant representatives of 14th century Italian literature and evidence of the grandiose art of a significant 15th century Florence miniaturist!
Codicology
Alternative Titles

Triunfos de Petrarca




Il Trionfi di Francesco Petrarca




Petrarch's Triumphs




Les Triomphes de Petrarque

Size / Format

184 pages / 11.5 × 7.5 cm

Date

15th century

Epochs

Style

Genre

Language

Artist / School

Author: Francesco Petrarca (1304–1374)
Miniaturist: Ricciardo di Nanni

Previous Owners

Cardinal Zelada
1 available facsimile edition(s) of "Petrarca: Trionfi - Spain Codex"
Petrarca: Trionfi
Petrarca: Trionfi
1 volume: Exact reproduction of the original document (extent, color and size)
Publisher

Vicent Garcia Editores – Valencia, 1996

Limited Edition

1380 copies

Binding

Red velvet with gold and silver thread embroidery

Commentary

1 volume (160 pages) by Asunción Madinaveitia, Manuel Sánchez Mariana,
Elisa Ruiz de Elvira, Robert Hilgers, Ludwig Fürst von Anhalt-Köthen and Harald Binde
Languages: Spanish or German or English

More Information

Reproduction of the entire original document as detailed as possible (scope, format, colors). The binding may not correspond to the original or current document binding.
Matching Background Articles
Literature

Much like today, medieval readers were looking for stories full of excitement and adventure that would take them out of...

Experience more

Renaissance

What does the word "Renaissance" bring to mind for you? Art, science, and culture of course! It was a "rebirth" and...

Experience more

15th Century

Come and explore an age of stark contrasts as Europe comes back from the brink: calamities like the Fall of...

Experience more