Art of the Moghul Era
Description
The Mughal (or Mogul) Empire ruled over most of South Asia for more than three centuries and aside from being the richest state of the period, it developed its own unique artistic style. Mughal painting blended indigenous Indian art with Islamic, Persian, and even Chinese influences to create a particularly refined and elaborate aesthetic. Mughal miniatures had a distinct influence on successive artistic styles, particularly in northern India.
Art of the Mughal Era
Founded in 1526, the Mughal Empire was an Islamic superpower that ruled over most of the Indian subcontinent and parts of Afghanistan for 325 years. The ruling class could trace their roots to both Genghis Khan (ca. 1162–1227) and Timur (1336–1405) also known as Tamerlane, but became increasingly Indian and Persian due to dynastic marriages. At its height, Emperor Aurangzeb (1618–1707) ruled over one quarter of the world's population as well as the largest economy in the world with a GDP ten times that of France under Louis XIV (1638–1715). This tremendous wealth, when paired with the massive polyglot population, produced a rich cultural and artistic heritage. It evolved from Persian miniature painting, which was itself heavily influenced by Chinese art, in addition to influences from the Hindu, Jain, Turkic, and Buddhist artistic traditions. It is distinguished from its Persianate predecessors by adopting a more realistic style for plants, animals, and portraits. Other elements of the Persian artistic tradition, especially richly-decorated borders, were continued and refined. Art from the Orient was a source of great fascination in Early Modern Europe. When Rembrandt's art collection was auctioned off in Amsterdam in 1656, the first album with Indian miniatures found in Europe was among them. The ten folios assembled here represent are from this historic and exotic collection. Each of the original facsimile edition pages consists of two parts: an interior piece with the actual scenic representation and matting richly ornamented with gold and silver.
The ten folios assembled here represent a splendid sample of this rich, diverse artistic tradition created between the 16th and 18th centuries:
1. Emperor Akbar Tames an Elephant, 1609/10
2. Imperial Hunting Falcon, 1st quarter of the 17th century
3. Mughal Ladies on the Lakeside Terrace, 3rd quarter of the 18th century
4. Loving Couple on the Harem Terrace, 2nd half of the 17th century
5. Mughal Lady in the Harem, 2nd half of the 17th century
6. Loving Couple at the Window, 1st half of the 18th century
7. Princess at the Fireworks, 2nd half of the 17th century
8. The Lady Minstrel, ca. 1580
9. The Resting Prince, ca. 1800
10. Emperor Akbar Gardening, End of the 16th century
Codicology
Alternative Titles

Kassette Kunst der Moghulzeit

Size / Format

10 leaves / 38.5 × 26.0 cm

Origin

Date

16th–18th century

Epochs

Style

Genre

Language

Illustrations

10 miniatures

Content

Ten leaves from important manuscripts
---
Available facsimile editions:
Detail Picture
Art of the Moghul Era
A Princess at the Fireworks
This festive miniature shows a princess seated in a golden chair with a Roman candle in hand and surrounded by attendants and other ladies of the court. The artist makes generous use of gold leaf to show fireworks being lit in the palace, on ships in the river, and on the opposite bank as well as rockets exploding in the distance during the celebration of Shab-e-Barat. The seated woman is Princess Zib an-Nisa (1639–1689), an interesting and well-educated personality of the Moghul court who was already a famous poet in her own lifetime.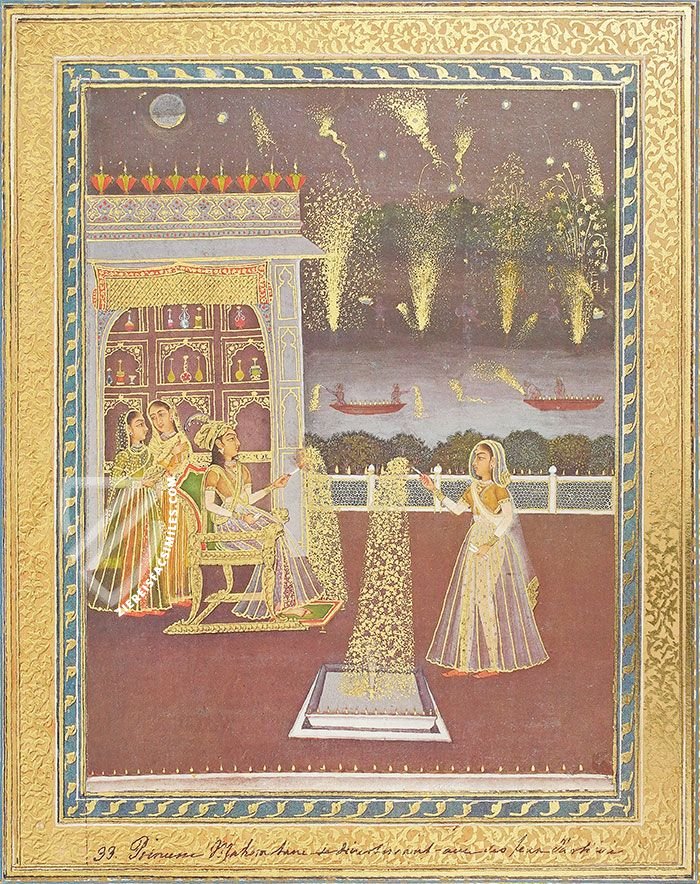 Single Page
Art of the Moghul Era
Lovers at the Window
Looking deeply into each other eyes, two royal lovers are pictured in an intimate embrace that is emphasized by the artist who depicts them in a "closeup" as though they were about to share a kiss in a modern movie. Covered in pearls, rubies, and other gems, both figures stand before a burnished gold background symbolizing the intoxicating feeling in which young lovers can often lose all their senses.
European influences can be discerned both in the construction of the scene itself as well the gorgeous purple frame with intricate floral patterns executed in gold leaf that surrounds it. Rather than depicting a specific pair, this is an idealized portrait of a prince with his lover, which is consistent with the traditions of Indian art.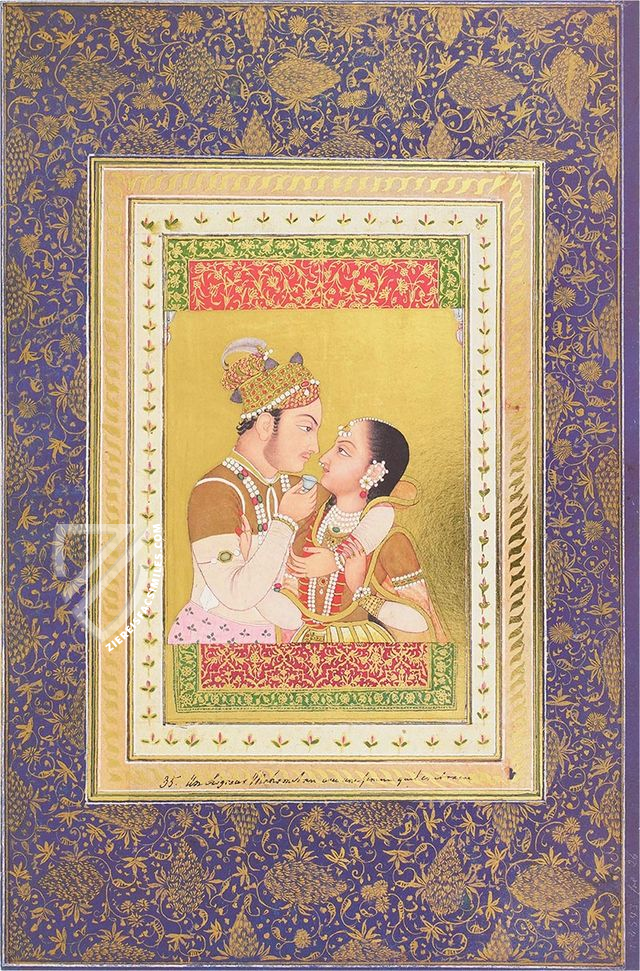 Facsimile Editions
#1

Kassette Kunst der Moghulzeit

Limited Edition:

1495 copies

Binding:

Ornate case; golden yellow cover with dusty blue side panels, light blue spine lettering, and a cover illustration.

Commentary:

1 volume
Language: German

1 volume: 10 leaves under passe-partouts: Exact reproduction of the original document (extent, color and size)

Reproduction of the entire original document as detailed as possible (scope, format, colors). The binding may not correspond to the original or current document binding.
You might also be interested in: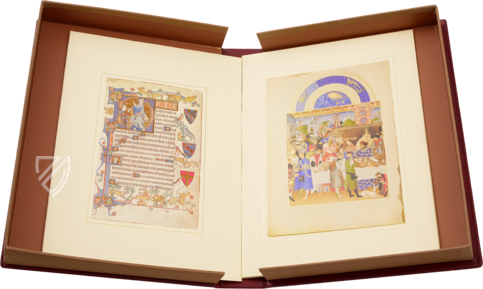 Leaves From Famous Books of Hours
Paris (France); Bruges (Belgium) and others – 14th–16th century
Stunning book art from libraries around the world: a diverse collection of masterful miniatures from some of the most famous and sophisticated books of hours of the Middle Ages
Experience More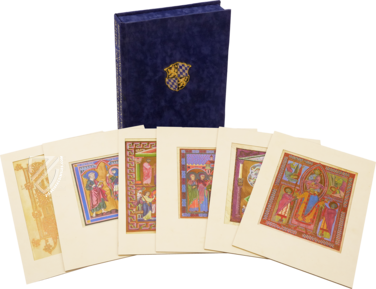 Blog articles worth reading