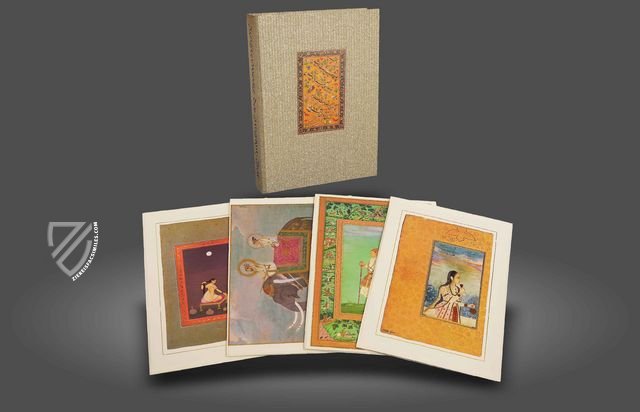 Masterpieces of the Moghul Era
India — 16th–18th cemtury
Founded in 1526, the Mughal Empire was an Islamic superpower that ruled over most of the Indian subcontinent

The Mughals were descended from Genghis Khan and Timur, but became increasingly Indian and Persian due to dynastic marriages

Created between the 16th and 18th centuries, these ten folios survey this rich, diverse artistic tradition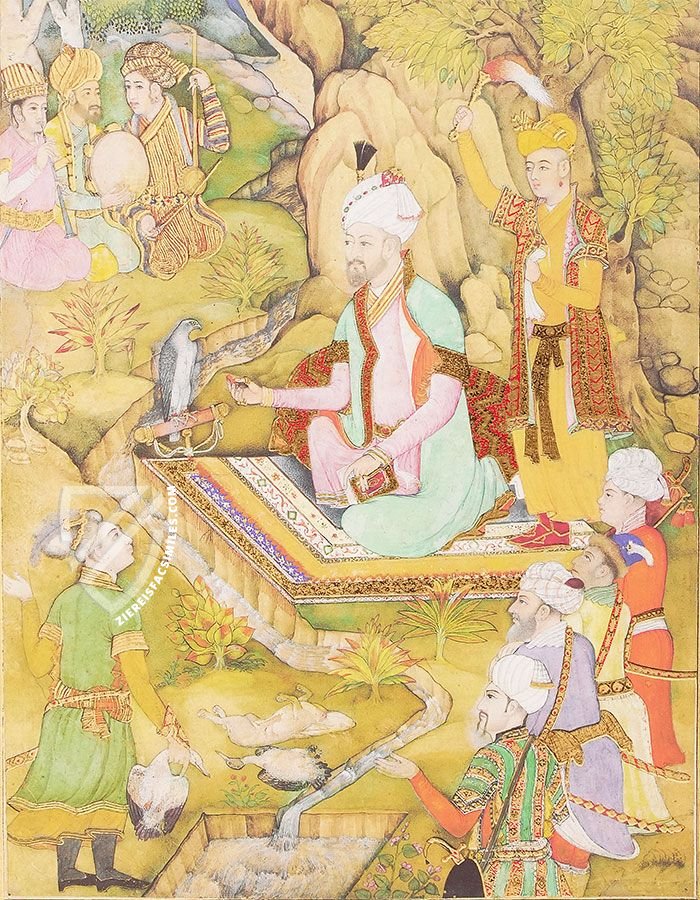 Masterpieces of the Moghul Era
Alternative Titles:
Kassette Meisterwerke der Moghulzeit
Meisterwerke der Mogulzeit
Short Description
The Mughal (or Mogul) Empire ruled over most of South Asia for more than three centuries and aside from being the richest state of the period, it developed its own unique artistic style. Mughal painting blended indigenous Indian art with Islamic, Persian, and even Chinese influences to create a particularly refined and elaborate aesthetic. Mughal miniatures had a distinct influence on successive artistic styles, particularly in northern India.
Masterpieces of the Mughal Era
Founded in 1526, the Mughal Empire was an Islamic superpower that ruled over most of the Indian subcontinent and parts of Afghanistan for 325 years. The ruling class could trace their roots to both Genghis Khan (ca. 1162–1227) and Timur (1336–1405) also known as Tamerlane, but became increasingly Indian and Persian due to dynastic marriages. At its height, Emperor Aurangzeb (1618–1707) ruled over one quarter of the world's population as well as the largest economy in the world with a GDP ten times that of France under Louis XIV (1638–1715). This tremendous wealth, when paired with the massive polyglot population, produced a rich cultural and artistic heritage. It evolved from Persian miniature painting, which was itself heavily influenced by Chinese art, in addition to influences from the Hindu, Jain, Turkic, and Buddhist artistic traditions. It is distinguished from its Persianate predecessors by adopting a more realistic style for plants, animals, and portraits. Other elements of the Persian artistic tradition, especially richly-decorated borders, were continued and refined.
The ten folios assembled here represent a splendid sample of this rich, diverse artistic tradition created between the 16th and 18th centuries:
Emperor Akbar Tames an Elephant, 1609/10

Imperial Hunting Falcon, 1st quarter of the 17th century

Mughal Ladies on the Lakeside Terrace, 3rd quarter of the 18th century

Loving Couple on the Harem Terrace, 2nd half of the 17th century

Mughal Lady in the Harem, 2nd half of the 17th century

Loving Couple at the Window, 1st half of the 18th century

Princess at the Fireworks, 2nd half of the 17th century

The Lady Minstrel, ca. 1580

The Resting Prince, ca. 1800

Emperor Akbar Gardening, End of the 16th century
Codicology
Alternative Titles

Kassette Meisterwerke der Moghulzeit




Meisterwerke der Mogulzeit

Size / Format

10 leaves / 38.5 × 26.0 cm

Origin

Date

16th–18th cemtury

Epochs

Style

Genre

Language

Illustrations

10 miniatures

Content

Ten leaves from important manuscripts
1 available facsimile edition(s) of "Masterpieces of the Moghul Era"
Kassette Meisterwerke der Moghulzeit Facsimile
Kassette Meisterwerke der Moghulzeit Facsimile
1 volume: 10 leaves under passe-partouts: Exact reproduction of the original document (extent, color and size)
Publisher

Coron Verlag – Gütersloh, 1993

Limited Edition

1995 copies

Binding

Elaborately designed jewelry box (dimensions: 31.5 x 43 cm), which is decorated with a calligraphy of the Crown Prince Dara Shokuh in the center. The interior of the cassette is lined with royal blue velvet and the exterior is adorned with a fabric interwoven with gold thread.

Commentary

1 volume
Language: German

More Information

Reproduction of the entire original document as detailed as possible (scope, format, colors). The binding may not correspond to the original or current document binding.
Matching Background Articles