Masterpieces of the Moghul Era
Description
Masterpieces of the Moghul Era
The Mughal (or Mogul) Empire ruled over most of South Asia for more than three centuries and aside from being the richest state of the period, it developed its own unique artistic style. Mughal painting blended indigenous Indian art with Islamic, Persian, and even Chinese influences to create a particularly refined and elaborate aesthetic. Mughal miniatures had a distinct influence on successive artistic styles, particularly in northern India.
Masterpieces of the Mughal Era
Founded in 1526, the Mughal Empire was an Islamic superpower that ruled over most of the Indian subcontinent and parts of Afghanistan for 325 years. The ruling class could trace their roots to both Genghis Khan (ca. 1162-1227) and Timur (1336-1405) also known as Tamerlane, but became increasingly Indian and Persian due to dynastic marriages. At its height, Emperor Aurangzeb (1618-1707) ruled over one quarter of the world's population as well as the largest economy in the world with a GDP ten times that of France under Louis XIV (1638-1715).
This tremendous wealth, when paired with the massive polyglot population, produced a rich cultural and artistic heritage. It evolved from Persian miniature painting, which was itself heavily influenced by Chinese art, in addition to influences from the Hindu, Jain, Turkic, and Buddhist artistic traditions. It is distinguished from its Persianate predecessors by adopting a more realistic style for plants, animals, and portraits. Other elements of the Persian artistic tradition, especially richly decorated borders, were continued and refined.
The ten folios assembled here represent a splendid sample of this rich, diverse artistic tradition created between the 16th and 18th centuries:
1. Emperor Babar Resting During the Hunt, 1st quarter of the 17th century, Mughal school.
2 Dara Shokuh with His Son, ca.1650 by Govardham, Mughal school.
3. Princess Zib an Nisa at the Fireworks, 2nd third of the 18th century.
4. Portrait of Mirza Rustam, 2nd half of 17th century, signed Mihr Chand.
5. Court Lady on the Garden Terrace, early-18th century, Mughal school.
6. Maiden Bathing in the Evening, ca. 1700, Mughal school.
7. Encounters at the Well, 2nd half of the 18th century, Mughal school.
8. Lovers on Horseback, mid-18th century, Mughal school.
9 The Magic Lion, 1st half of the 17th century, Mughal school.
10. Bouquet of Flowers, 1 half of the 17th century, Signed Mumin Muzahhib.
Codicology
Alternative Titles

Kassette Meisterwerke der Moghulzeit




Meisterwerke der Mogulzeit

Size / Format

10 leaves / 38.5 × 26.0 cm

Origin

Date

16th–18th century

Epochs

Style

Genre

Language

Illustrations

10 miniatures

Content

Ten leaves from important manuscripts
---
Available facsimile editions:
Detail Picture
Masterpieces of the Mughal Era
Emperor Babar Resting During the Hunt
The founder of the Mughal Empire is seated on an elaborate rug while feeding a falcon alongside a mountain stream that flows down from the rocks behind him. He is dressed in a kaftan, a long tunic worn as a symbol of royalty in some cultures, and surrounded by attendants, one of whom stands behind him with a horsehair fly-whisk, which is also a symbol of authority borrowed from Chinese Buddhism. Three musicians play music in the upper left corner as one of the emperor's huntsman approaches from below with a dead duck in his hand with another duck and a rabbit laid on the ground before him.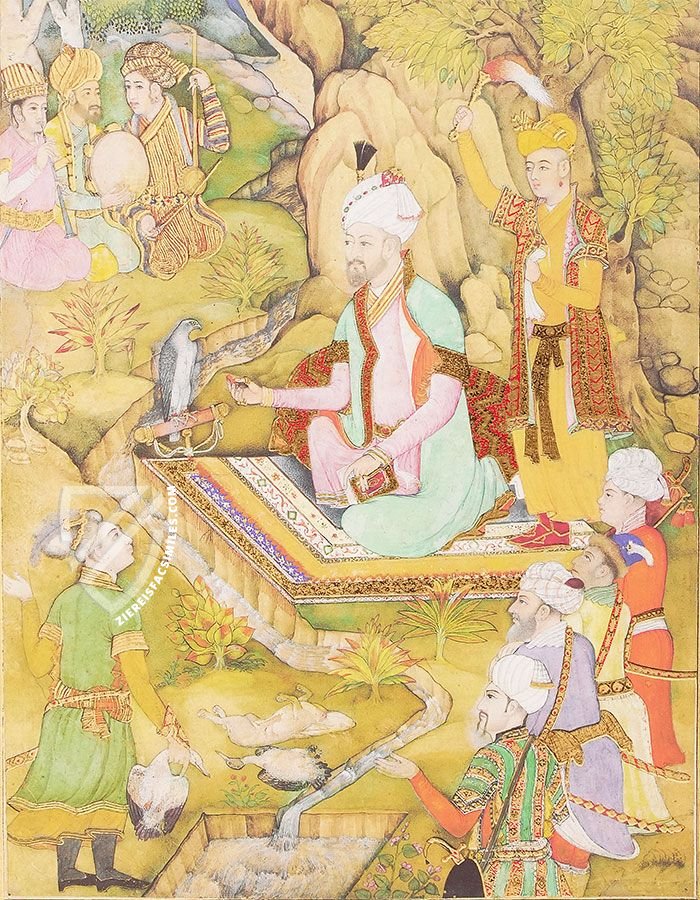 Single Page
Masterpieces of the Mughal Era
Sultan Dara Shikoh and his Son on the Elephant Manmurt
This regal 18th century miniature depicts Dara Shikoh, the eldest son and heir-apparent of the Mughal Emperor Shah Jahan as well as an enlightened patron of the arts, riding with his son on the back of their magnificently adorned elephant, Manmurt. Aside from being highly naturalistic, this image is magnificently detailed from the facial features, clothes, and jewelry of the two riders to the patterns of the rug to the almost sublime expression on Manmurt's face.
Unfortunately, the story of Dara Shikoh is not a happy one. After the death of his father in 1657, a dynastic crisis broke out and Dara Shikoh was defeated by his younger brother Prince Muhiuddin at the Battle of Samugarh on the 29th of May 1658. Dara Shikoh was then betrayed and handed over to his enemies, who put him in chains and paraded him through the streets of Deli on a filthy elephant in mockery of his former station before finally being assassinated in front of his terrified son on the 30th of August 1659.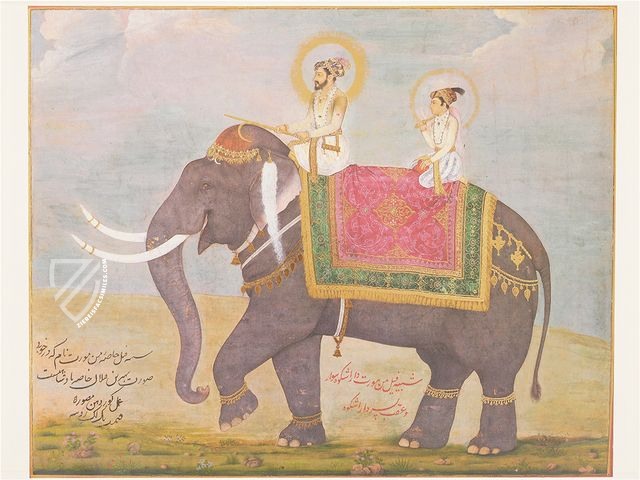 Facsimile Editions
#1

Kassette Meisterwerke der Moghulzeit

Limited Edition:

1995 copies

Binding:

Elaborately designed jewelry box (dimensions: 31.5 x 43 cm), which is decorated with a calligraphy of the Crown Prince Dara Shokuh in the center. The interior of the cassette is lined with royal blue velvet and the exterior is adorned with a fabric interwoven with gold thread.

Commentary:

1 volume
Language: German

1 volume: 10 leaves under passe-partouts: Exact reproduction of the original document (extent, color and size)

Reproduction of the entire original document as detailed as possible (scope, format, colors). The binding may not correspond to the original or current document binding.
You might also be interested in: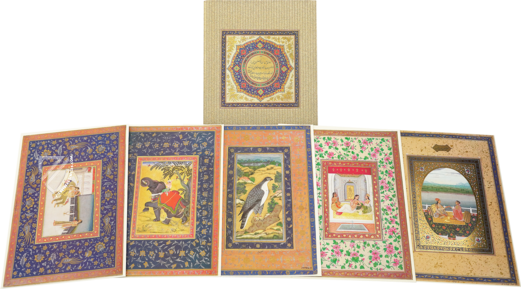 Art of the Moghul Era
India – 16th–18th century
From the realm of India's legendary rulers: a fascinating insight into the rich and varied artistic tradition of the exotic Mughals
Experience More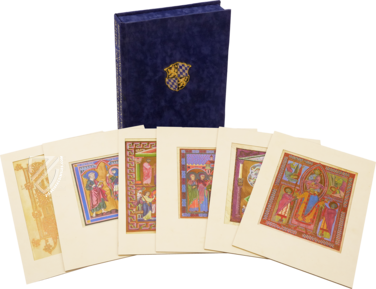 Blog articles worth reading