Persian Kama Sutra
Ms. 17
Private Collection
Description
The world's most famous treatise on the art of lovemaking – the Kama Sutra – is presented here in a rare Persian manuscript that may be as much as 600-years-old. The original text was appended by Persian love poetry and adorned with gold, silver, and the richest pigments. This is one of the few non-Islamic Persian manuscripts in the West and represents an incredibly rare and fascinating specimen.
Persian Kama Sutra
The Kama Sutra or "Treatise on Sexual Pleasure", is a 4th century Hindu text by Vātsyāyana intended to cultivate sexual pleasure independent of procreation. The author explains in the preface that it is a synthesis of various ancient texts. According to the ancient Hindus, there are four purposes in life: Dharma or religious piety, Artha or material success, Moksha or emancipation/enlightenment, and Kama or sexual pleasure. All four of these aims are equal and so the cultivation of sexual pleasure was itself seen as a mystical, religious act. More than a mere manual concerning sexual positions, the Kama Sutra is a general guide to living well and addresses the nature of love, how to find a partner, maintaining a happy marriage, and other pleasurable things in life. The text itself is a mix of prose and poetry addressing the philosophy of love, how desire is triggered and sustained, and discusses the difference between good and bad desires.
A Rare Specimen from a Private Collection
The Kama Sutra has enjoyed numerous translations, such as the magnificent Persian manuscript at hand, which originated sometime between the years 1,700 and 1,850 and is currently housed in the private collection of Miguel Huguet Viñas. Its 119 miniatures are of varied origin ranging from Persia to Kashmir to northern India and are splendidly embellished with two types of gold and silver and are also accompanied by Persian love poetry. The ban on trafficking in miniature paintings and non-Islamic manuscripts in Iran after the 1979 revolution and in Taliban-controlled Afghanistan has largely cut off trade in these works, making the specimen at hand all the more valuable to researchers and lovers alike.
Codicology
Alternative Titles

Persisches Kama Sutra




Kama Sutra Persa




Kamasutra persiano

Size / Format

120 pages / 25.0 cm × 20.0 cm

Origin

Date

Between 1700 and 1850

Epochs

Style

Illustrations

119 miniatures of various origin (Persia, (Northern) India, Kashmir)

Previous Owners

Miguel Huguet Viñas
---
Available facsimile editions: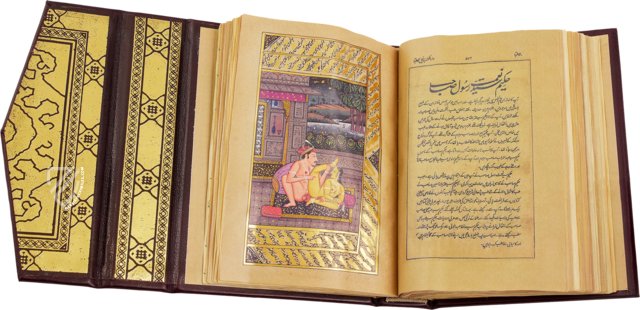 The Facsimile Codex
– Barcelona, 2011
Limited Edition:
600 copies (+ 100 copies in Roman numbers)
Detail Picture
Persian Kama Sutra
Lovers under a Full Moon
Lying on sumptuous carpets and fluffy pillows, two lovers – both adorned with pearls and depicted with realistic skin tones – embrace and stare deeply into one another's eyes as they make love next to a fountain outdoors, either in a garden or on a terrace. Above the flower bed in the background, a full moon, which is traditionally associated with a heightened sense of sexual arousal in women, hangs over the lovers in a sky full of silver stars.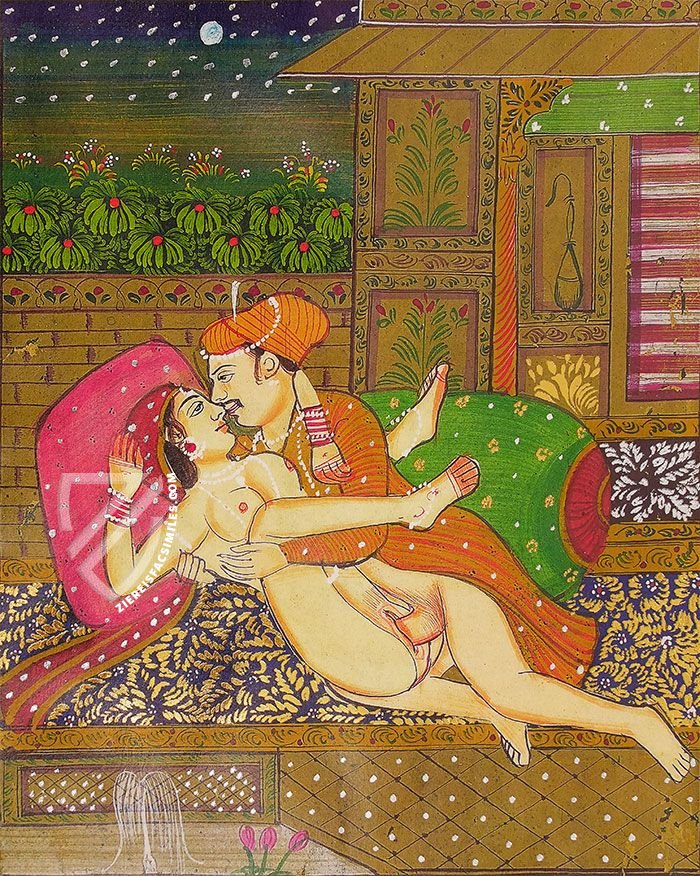 Single Page
Persian Kama Sutra
Making Love on a Table
This is one of the more unique and artistically interesting miniatures in the manuscript. Most of the others are two-dimensional garden scenes, but this shows the interior of a room that is either hexagonal or octagonal in shape and creates a sense of depth and perspective. It is particularly true of the door's diagonal shape and the gold-adorned corner behind the table.
What this miniature has in common with many others in the manuscript is the differing skin tones of the lovers: the men are usually depicted more naturally while the women have yellow skin as though they were characters on The Simpsons. It is unclear if this was done to clearly distinguish between their mingled flesh or to indicate a difference in class or race.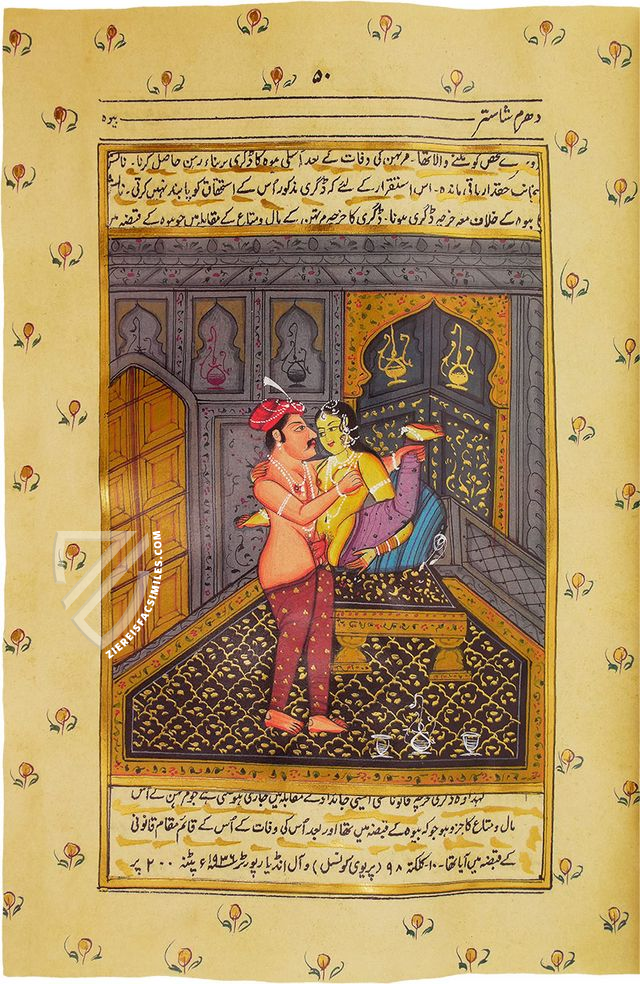 Facsimile Editions
#1

Kama Sutra Persa

Limited Edition:

600 copies (+ 100 copies in Roman numbers)

Binding:

The facsimile is bound in goatskin on wood and was sewn with hemp thread. The binding shows Persian-inspired gold embossing. Facsimile and commentary come in a decorative clamshell box.

Commentary:

1 volume
Language: Spanish

1 volume: Exact reproduction of the original document (extent, color and size)

Reproduction of the entire original document as detailed as possible (scope, format, colors). The binding may not correspond to the original or current document binding.
You might also be interested in:
Blog articles worth reading